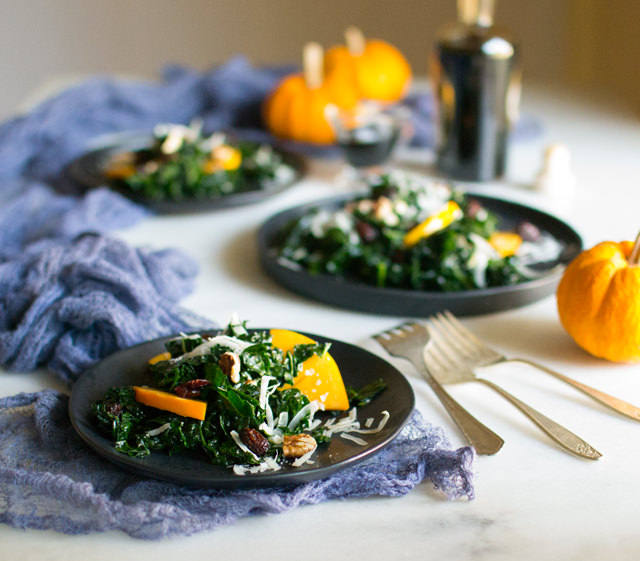 Kale Salad for Autumn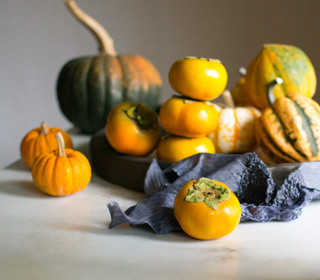 Adam took pleasure in the new life. When autumn touched the trees he had got as far as Omaha, and without question or reason or thought he hurried west and south, fled through the mountains and arrived with relief in Southern California."
East of Eden, John Steinbeck
Inspiration
Kale wasn't served, Brussels sprouts were cooked until mushy and sauerkraut came from a can. Don't get me started on what happened to broccoli. Some childhood food memories are best forgotten. Learning to cook vegetables with strong flavors is worth the effort. Of course brassicas are healthy, paired with the right ingredients they are scrumptious too. I'm on my way to finding the best raw kale salad. Kale Salad with Balsamic Dressing is really good, the best so far.
Kale Salad with Balsamic Dressing is super easy to make. The kale salad comes together quickly in one bowl. Even the balsamic dressing is tossed in with the kale, no separate bowl required. What makes the Kale Salad with Balsamic Dressing special is the layers of flavor and textures. To a base of softened kale the tangy and sweet Balsamic Vinegar of Modena is tossed with olive oil to dress the greens. After that it's all about adding pops of flavor and texture with persimmon, pecans, dried cranberries and parmesan cheese. Because it's a kale salad, it can be made ahead of time. I can confirm leftovers make an excellent lunch.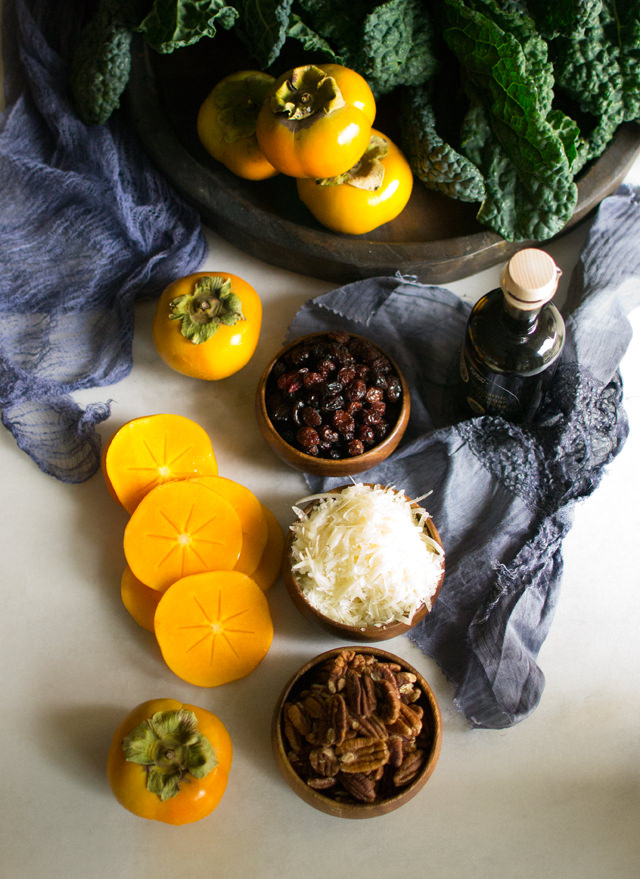 Persimmons are the sweet fruit of autumn. I'm not sure why persimmons aren't more popular, they are much sweeter than apples or pears and have all the orange color of autumn. There are two main types of persimmons available in the United States, the Fuyu and the Hachiya. The Fuyu is squat in shape and remains hard when it is ripe. It is best eaten raw. Use the Fuyu persimmon in this recipe for Kale Salad with Balsamic Dressing. The Hachiya is shaped like a large acorn and only becomes silky sweet when neon orange in color and squishy soft with almost translucent skin. This is the type of persimmon to use for baking. As a side note, I've seen lots of baking recipes that include Fuyu persimmons in the recipe. These Fuyu's are blitzed until their firmness gives up and agrees to a certain level of pulpiness, similar to what a carrot could endure. So yes, Fuyu's can be used in baking with excellent results. However, Fuyu puree will never have the silky smooth texture of a ripe Hachiya. And the moisture content between a Fuyu and Hachiya differ, which matters a great deal when baking. If the recipe doesn't specify the type of persimmon, perhaps the instructions for preparing the persimmons will give the needed clues. If you haven't discovered persimmons a crisp apple can be substituted in the recipe for Kale Salad with Balsamic Dressing. Both add crunch and color, playing well with the strong personality of the kale.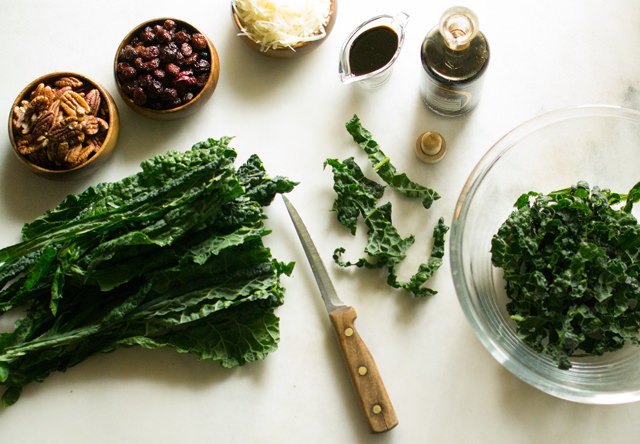 Essentials
I'd been testing this easy recipe for kale salad with sherry wine vinegar and wondered if Balsamic Vinegar of Modena was the spark of flavor I had overlooked. Once I tried Balsamic Vinegar of Modena the recipe testing was complete! Paired with Parmesan cheese, from the same region of Italy, the Balsamic Vinegar of Modena transformed my good kale salad into a fabulous salad for autumn.
I began to obsess about balsamic vinegar after attending the session on Balsamic Vinegar of Modena, the Original during The International Food Bloggers Conference. I couldn't wait to get home and secretly check the bottles in my cupboard for the Protected Geographic Indication, or PGI, seal to make sure my balsamic vinegar was authentic. Whew! Both bottles had the coveted PGI seals, confirming my balsamic vinegar is from the Modena region in Italy. Do yours? Both my bottles are labeled Balsamic Vinegar of Modena, which is best used in salad dressings. The sweeter balsamic vinegar will be labeled Aged Balsamic Vinegar of Modena.
Balsamic Vinegar shopping snippets and gems, from the IFBC session, Balsamic Vinegar of Modena, the Original.
Since 2016, authentic Balsamic Vinegar of Modena must carry the PGI seal, or Protected Geographic Indication seal. The seal may be in color, or in back and white. If there is no PGI seal it is not authentic to the Modena region of Italy.
The label on a bottle of Balsamic Vinegar of Modena also will include the bottling location or code. It might be in very small print.
There are only two types of Balsamic Vinegar of Modena. Balsamic Vinegar of Modena which is aged for over 60 days and Aged Balsamic Vinegar of Modena which is aged for over 3 years. Any numbers referring to the exact age of Balsamic Vinegar of Modena is forbidden.
On the label of an authentic bottle of Balsamic Vinegar of Modena descriptive words such as extra, fine, reserve and superior are forbidden.
I had no idea there was so much to learn about the original Balsamic Vinegar of Modena. Here's a link to learn more about the history and production of the authentic Balsamic Vinegar of Modena, it's fascinating.
| | |
| --- | --- |
| | Kale Salad with Balsamic Dressing |
| 1 bunch | Lacinato kale |
| 1/2t | fine grain sea salt |
| 2t | Balsamic Vinegar from Modena |
| 1t | olive oil |
| 1 | Fuyu persimmon or crisp apple, cut into thin slices or wedges |
| 1T | chopped pecans, toasted are best |
| 1T | dried cranberries |
| 1T | grated Parmesan cheese |
Rinse and pat dry the kale. Remove the tough center stem. Divide the kale into two piles. With each pile, stack the kale up, roll together tightly and cut into strips, no wider than 1/2". Place in a large bowl and sprinkle the salt on top of the kale. With your hands massage the salt into the kale. Massage until the kale wilts and softens, and is reduced to almost half of the original volume. Pour the balsamic vinegar and olive oil on top of the kale and throughly mix together.
To serve the salad, add the persimmon slices, pecans, cranberries and cheese and toss together. The Kale Salad with Balsamic Dressing holds well and can be made a day in advance if kept refrigerated.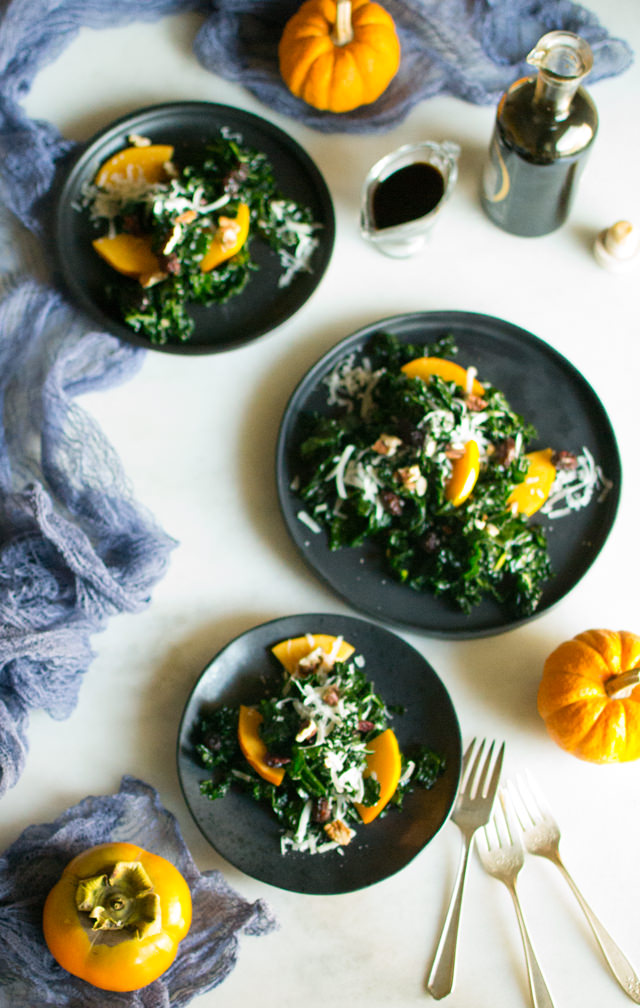 This is the second of three posts I am publishing as a citizen blogger to receive the reduced conference rate for the International Food Bloggers Conference 2017.
var _gaq = _gaq || []; _gaq.push(['_setAccount', 'UA-44220881-1']); _gaq.push(['_trackPageview']);
(function() { var ga = document.createElement('script'); ga.type = 'text/javascript'; ga.async = true; ga.src = ('https:' == document.location.protocol ? 'https://ssl' : 'http://www') + '.google-analytics.com/ga.js'; var s = document.getElementsByTagName('script')[0]; s.parentNode.insertBefore(ga, s); })();