SHARE: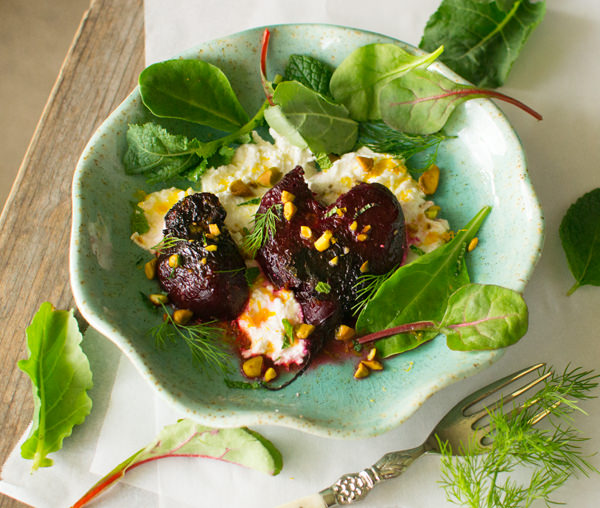 A Winter Salad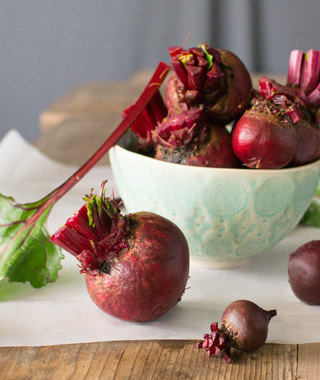 "Charles found that he could cook his fried and boiled meals more quickly and efficiently on the forge than he could on the kitchen stove. The bellows forced quick flaring heat from the coke. A man didn't have to wait for a stove to heat up. He wondered why he had never thought of it before."
East of Eden, John Steinbeck
Inspiration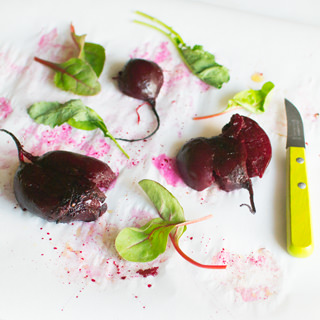 After those outrageous Lemon Ginger Sweet Rolls it must be time for something vegetables. With this recipe we have all the lemon and our vegetables too. Smashing the roasted beets and then crisping them in a hot skillet until the exteriors are crunchy and the insides stay soft and buttery is the kind of winter cooking I recommend. While hot dress the beets with a citrusy vinaigrette and a dollop of creamy ricotta. Fresh herbs, crunchy pistachios and a flurry of baby lettuce make a fabulous winter salad.
Essentials
My smashing skills were put to the test with this recipe. If possible use small beets, the smashing will result in a more uniform surface for crisping and the finished product will look more like a whole beet. I was so looking forward to crushing the roasted beets with the bottom of a small bowl that I forgot to think about how the beets would look after I smashed them from round to flat. After making the recipe several times I've learned that small beets hold their shape much better than larger beets. Or are summer beets softer and creamier than the heartier, thick skinned winter varieties?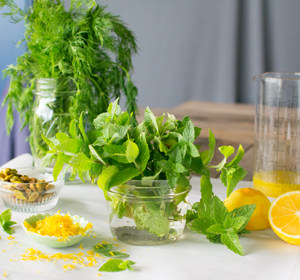 This recipe is adapted from June 2014 Bon Appetit. The original recipe includes Greek yogurt but whole milk ricotta offers a wonderful frontier of light and creamy sweetness that complements the earthy winter beets. Feta or goat cheese are always a good match with beets too. As much as I enjoy lemon, I was prompted to add something sweet to balance the very tangy, zest laced vinaigrette. Adding crunch with a shower of pistachios makes this winter salad recipe a keeper.
| | |
| --- | --- |
| | Roasted Beets |
| 2lbs | small beets |
| 5T | olive oil, divided |
| 1/2t | fine grain sea salt |
| 1/4t | ground pepper |
| | Lemon Vinaigrette |
| 2T | fresh lemon juice |
| 4T | olive oil |
| 1t | agave or honey |
| 2T | finely grated lemon zest |
| 1/2t | fine grain sea salt |
| 1/4t | ground pepper |
| | The Salad |
| 1/2C | fresh whole milk ricotta or Greek yogurt |
| 2C | salad greens, any kind |
| 2T | fresh mint leaves, torn or chopped if large |
| 2T | fresh dill, torn or chopped |
| 2T | chopped toasted pistachios or almonds |
Heat the oven to 400°. Scrub and dry the beets. Place them in a large bowl and rub them with 2 tablespoons of the olive oil, salt and pepper. Divide the beets between two pieces of foil in a single layer. Wrap them so no steam will escape during roasting. Place them on a sheet pan and roast until they can easily be pierced with a fork. Take care to avoid the steam when opening the foil packets. Tiny beets will take between 40-50 minutes. Larger beets will take longer. Carefully unwrap the beets and let them cool until they can be handled.
While the beets roast prepare the Lemon Vinaigrette. In a small bowl add the lemon juice, then slowly pour in the olive oil while continually whisking. Whisk in the agave, zest, salt and pepper.
Use paper towels to rub the skins off the beets. Place them on parchment or other surface that will not be stained by the beets and smash or crush them with the bottom of a small bowl or mug. The larger or thicker the beets, the more likely they will break into pieces. Heat a skillet on medium high heat with the remaining 3 tablespoons of olive oil. When the oil is hot add the beets in a single layer and cook until browned, 3-4 minutes per side. Plate the warm beets with a scoop of ricotta or yogurt and the salad greens. Drizzle with the vinaigrette and sprinkle with the herbs and pistachios. The beets are best served hot or when still warm.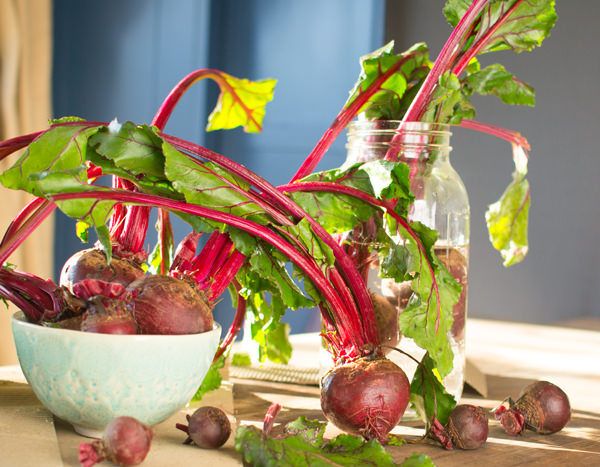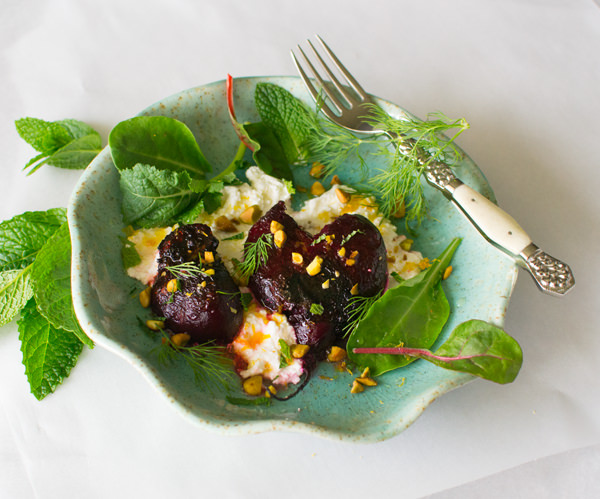 var _gaq = _gaq || []; _gaq.push(['_setAccount', 'UA-44220881-1']); _gaq.push(['_trackPageview']);
(function() { var ga = document.createElement('script'); ga.type = 'text/javascript'; ga.async = true; ga.src = ('https:' == document.location.protocol ? 'https://ssl' : 'http://www') + '.google-analytics.com/ga.js'; var s = document.getElementsByTagName('script')[0]; s.parentNode.insertBefore(ga, s); })();
FOLLOW:
SHARE: