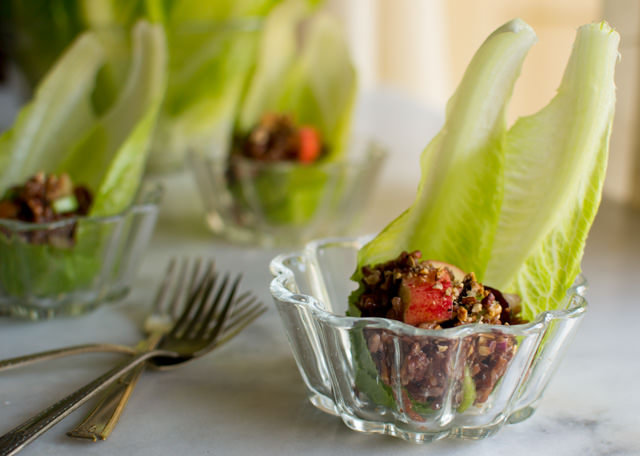 Early Autumn Light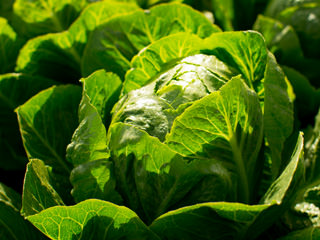 "Another man, but he was crazy, said that someday there'd be a way, maybe ice, maybe some other way, to get a peach like this here I got in my hand clear to Philadelphia."
East of Eden, John Steinbeck
Inspiration
The morning light had just climbed past the horizon. A patchwork quilt of chartreuse, emerald, scarlet and a violet tinged sage green blanketed the view from Spreckels to the south-western city limits of Salinas. The sheen of iridescent fall light lingered on Tanimura and Antle's fields of Artisan® Lettuces and Artisan® Sweet Broccoli. I was charmed by the vibrant fields bursting with stellar produce just ten minutes from my home. Tanimura and Antle is a company rich in the history of agriculture in the Salinas Valley. Leaders in agricultural innovation and growth three generations of the Tanimura and Antle families have farmed the valley making a strong contribution to the wide variety of fresh produce we enjoy at the grocery store today.
Although it will do in a pinch, I am not fond of bagged lettuces or pre-packaged salad kits. Lettuce that is still attached to it's core is fresher and retains more nutrients. Still flush with moisture these lettuces are more flavorful. And unlike bagged lettuce, freshly harvested head lettuce has not been rinsed in chlorine or placed in a MAP bag or container to lengthen shelf life. I was pleased to learn that Tanimura and Antle hand cuts and then packages their lettuce in the field. The freshly packaged lettuce is transported from the field to the cooler without any stops at a processing plant. The harvest of all things green in Salinas Valley winds down in the month of October. By Thanksgiving lettuce will be harvested further south in California and then later in Yuma, Arizona. There is no turning back; it is autumn.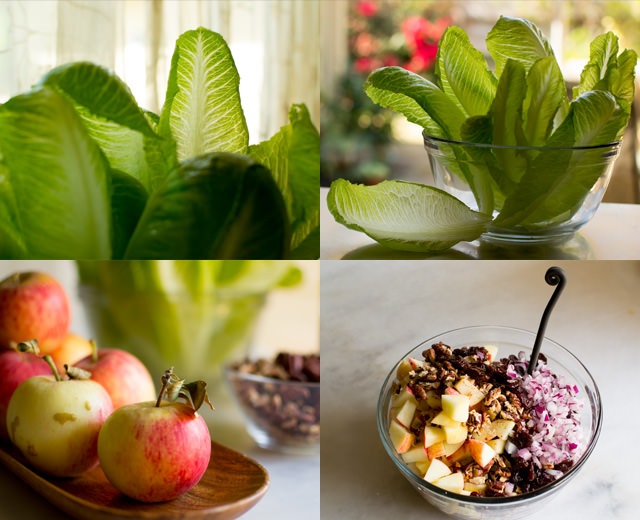 Essentials
I developed this recipe just for Tanimura and Antle's Artisan Romaine. These little heads of romaine are a spirited lettuce. With a nod to the Salinas Valley's heritage of crisp iceberg lettuce and flavor that is sweeter than regular romaine I have found a new favorite. Artisan Romaine makes a mighty fine updated wedge or chopped salad but it shines as a crunchy scoop or wrapper for all manner of savories. Dips, wraps, tacos and any type of scoopable salad would happily nestle inside a leaf of crisp Artisan Romaine.
The Red Rice and Apple Salad is fresh and filling without being heavy. With a light whisper of dressing from the Honey Mustard Vinaigrette and a serious variety of crunch from romaine, apple, celery and pecan, layers of flavor make this an enticing vegetarian meal. My jaded taste testers both recommend this salad. While Mr. R kept scooping more, picky daughter had leftovers for lunch the next day. Use very fresh, small leaves of romaine lettuce. It must be crisp enough to add crunch and to hold and eat the salad. Pack any leftovers on a bed of chopped romaine the next day for lunch; the salad will still be fresh and vibrant.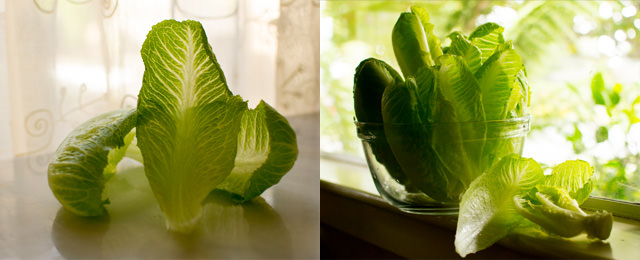 Red rice is a revelation in nutrition and color. It only takes twenty minutes to cook and has a sweet nutty flavor. At room temperature and even the next day the red rice retains it's firm texture. Cook the red rice until just a few of the grains begin to burst open, but not until the rice becomes mushy. Cool the red rice throughly before making the rest of the salad. With a red and green palette the Red Rice and Apple Salad in Romaine Spears would be a healthy and elegant addition to any holiday meal.
| | |
| --- | --- |
| | Honey Mustard Vinaigrette |
| 2T | apple cider vinegar |
| 2T | olive oil |
| 2T | grape seed or avocado oil |
| 1T | honey |
| 1t | French style mustard, such as Grey Poupon |
| 1/2t | fine grain sea salt |
| 1/4t | ground black pepper |
| | Red Rice and Apple Salad |
| 1/3C | pecans |
| 3 small | Gala or Honey Crisp apples |
| 1 | lemon, juiced |
| 2C | red rice cooked, cooled (1 cup uncooked) |
| 1/3C | finely minced red onion |
| 1/2C | thinly sliced celery |
| 1/2C | dried cherries |
| 1 head | Artisan Romaine lettuce or other small romaine lettuce |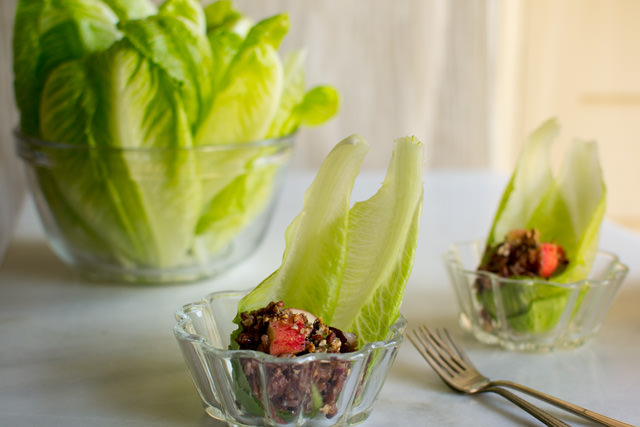 In a small bowl add the apple cider vinegar and while whisking; slowly pour in the olive oil and then the grape seed oil to emulsify. Whisk in the honey, mustard, salt and pepper.
Heat the oven to 350°. Spread the pecans across the surface of a sheet pan and toast for 8-10 minutes until they are fragrant and turn a deep mahogany brown. Cool and then chop.
Dice the apples in 1/3 inch small bite sized pieces. Place the chopped apples in a small bowl with the juice of a lemon and enough water to cover completely. Drain the apples just before mixing the salad ingredients together.
In a medium sized bowl add the cooled red rice, pecans, red onion, celery, dried cherries and drained apples. Fold together to combine. Add the Honey Mustard Vinaigrette and throughly mix together.
Remove the individual leaves from the head of romaine lettuce, rinse and spin or pat dry. Serve a small scoop of Red Rice and Apple Salad in each spear of lettuce. Or chop the romaine in 3/4" wide slices and serve the salad atop the bed of lettuce.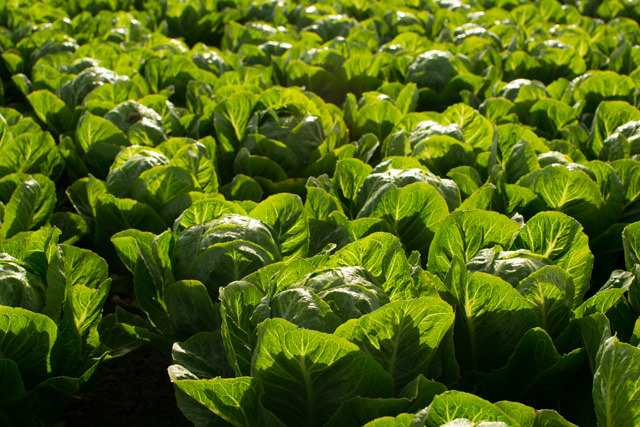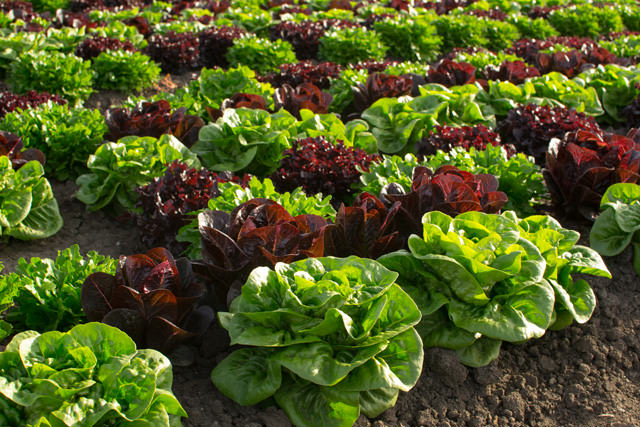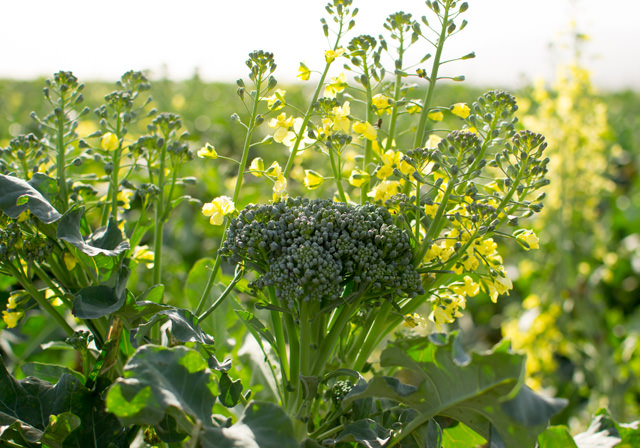 A visit to Tanimura and Antle's lettuce and broccoli fields between their home office in Spreckels and south-west Salinas was a magnificent morning adventure. I was given Artisan Romaine and Artisan Sweet Broccoli for recipe testing. This is not a sponsored post; the recipe and opinions are my own.
var _gaq = _gaq || []; _gaq.push(['_setAccount', 'UA-44220881-1']); _gaq.push(['_trackPageview']);
(function() { var ga = document.createElement('script'); ga.type = 'text/javascript'; ga.async = true; ga.src = ('https:' == document.location.protocol ? 'https://ssl' : 'http://www') + '.google-analytics.com/ga.js'; var s = document.getElementsByTagName('script')[0]; s.parentNode.insertBefore(ga, s); })();