SHARE: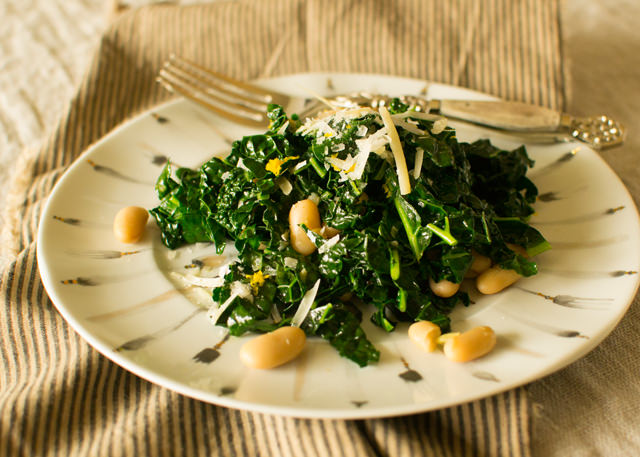 The Easiest of Recipes
"Charles placed seven eggs on top of the warming oven and built his fire carefully of small pieces of kindling until it burned fiercely. He put the skillet down next to the flame. His sullenness left him as he fried the bacon."
East of Eden, John Steinbeck
Inspiration
This is barely a recipe. It started, as many things do, with items from the pantry. There was the push to get dinner done and fresh kale that needed to be used. The first time I stirred together just garlic, kale and beans. It needed more and the red pepper flakes were added along with the garlic. Later lemon zest and a sprinkle of cheese made this into a recipe. It has become a favorite. Fresh, quick, full of healthy ingredients, an easy recipe like this deserves to be shared.
Kale is bossy, stern and stiff and not about to bend to anyone's will. With these types, its best to be assertive. Garlic, red pepper flakes, lemon zest and a strong cheese like Parmesan are happy to transform the kale into a memorable recipe. Slide an egg on top and call it dinner or a very good lunch. We very much enjoy the Garlicky Kale and Beans with grilled chicken or pork chops. Even our weekly turkey patty benefits from this side dish.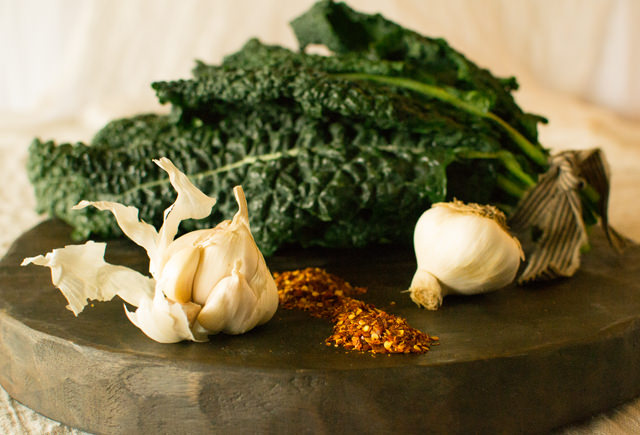 Essentials
I'm fussy about how kale is prepared. I don't like huge crunchy leaves that require a knife to wrestle into bite size pieces and I will refuse a pile of soggy wilted greens. I was shopping at a local upscale grocery store and it was getting close to lunch time. I saw a display of Mediterranean Kale Salad. It looked promising until I saw huge curly kale leaves, still crisp, shoved down inside clear plastic cups. I wasn't sure how it could be eaten out of the cup with a plastic fork. It looked like a serving of punishment for lunch. A terrible salad, with a price that matched.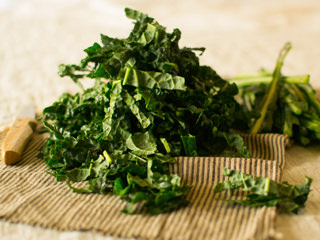 The combination of Lacinato kale, cannelloni beans and garlic has roots in Tuscany. Think minestrone and ribollita or this classic recipe. The volume of flavor can be moderated by reducing the garlic and red pepper flakes. With very strong insistence, the cheese can be omitted. The recipe is flexible enough to understand the desire of personal preference. Just remember the intense personality of kale needs its assertive friends. Lacinato or Dinosaur kale is my favorite but any variety can be used. Don't cook the kale for too long, it will become limp and lose its bold character. When the beans are added to the skillet, the kale will have time to soften just a bit more. Have all the ingredients ready, this recipe goes together quickly!
| | |
| --- | --- |
| | Ingredients |
| 1 bunch | lacinato or dinosaur kale |
| 2T | olive oil |
| 3 large | cloves of garlic, fined minced |
| 1/4t | red pepper flakes |
| 1 can/15 oz | cannelloni or garbanzo beans, drained |
| 1 | lemon, zested |
| 1T | grated Parmesan cheese or Romano or Feta |
Throughly rinse the kale and pat dry. Just dry enough that only a few drops of water fall unto the cutting surface. Remove the center ribs from the large leaves. Stack the leaves in bundles and cut into strips, 1/2" wide.
In a large skillet or other wide bottomed pan, heat the olive oil on medium heat until it shimmers. Add the minced garlic and the red pepper flakes. Stir for a minute or two until the aroma of the garlic and pepper is released. Do not let the garlic overcook and become brown. Add the kale to the pan and let it cook and sizzle for a minute. Then stir and fold all the ingredients together. Keep stirring until the garlic and red pepper flakes are intermingled with the kale. The kale will begin to wilt. Make sure all the kale is coated with the garlicky olive oil. Do not overcook the kale. As soon as all the kale is shiny with olive oil add the beans and lemon zest to the pan. Fold the beans and lemon zest into the kale. Cook only until the beans are heated. Serve with a sprinkle of assertively flavored cheese. That's it, done!
var _gaq = _gaq || []; _gaq.push(['_setAccount', 'UA-44220881-1']); _gaq.push(['_trackPageview']);
(function() { var ga = document.createElement('script'); ga.type = 'text/javascript'; ga.async = true; ga.src = ('https:' == document.location.protocol ? 'https://ssl' : 'http://www') + '.google-analytics.com/ga.js'; var s = document.getElementsByTagName('script')[0]; s.parentNode.insertBefore(ga, s); })();
FOLLOW:
SHARE: