SHARE: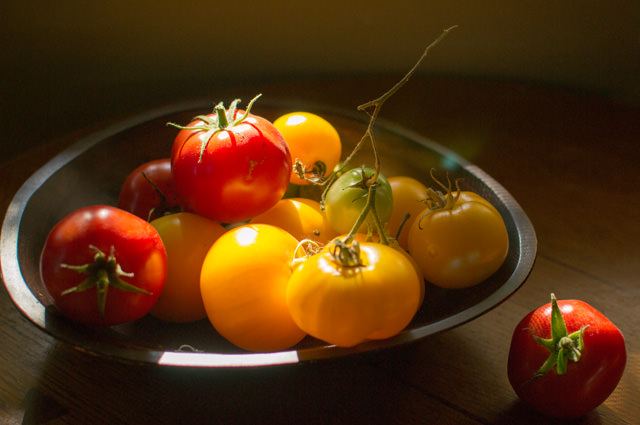 Summer's Bounty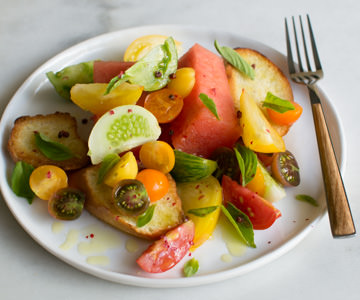 "Tom got up and went outside. He looked at the summer stars, at blue Venus and red Mars."
East of Eden, John Steinbeck
Inspiration
Often when we eat at a restaurant I am inspired to recreate a special dish from our dining experience. My recipe may only resemble the fantastic food we enjoyed at the restaurant but that doesn't quell my food memories or the drive to be inspired by professionals. Or the final outcome of creating a great new recipe from the inspiration. This panzanella recipe is one such inspiration from Chef Brendan Jones of Lokal in Carmel Valley. Voluptuous with the over abundance of late summer in California this panzanella shouts with vivid color and sumptuous flavor. It's just the the right mix of acid, sweet and crunch. This panzanella salad is Indian Summer on a plate. The salad ingredients of watermelon, heirloom tomatoes, lemon cucumbers, basil and toasted bread are similar to the Panzanella served at Lokal. I only wish I had the recipes for the Chef's dressing and foam that graced my spectacular salad. If you visit the Carmel area Lokal would be a phenomenal dining experience. All offerings are fresh, seasonal and locally sourced.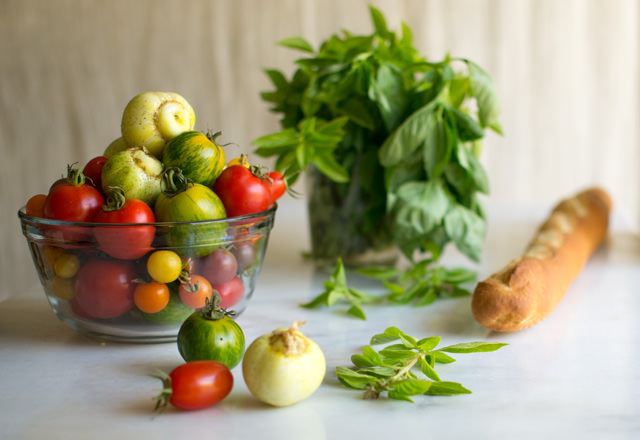 Essentials
Use the freshest produce possible to make this salad. Crunchy lemon cucumbers are a must. The original salad had both traditional Genovese basil and a spicy purple basil. If you can find both the medley of spice is incredible. My version of this panzanella has a light dressing to let all the bright flavors shine. The pop of crushed pink peppercorns pairs with the fresh basil for a burst of spicy contrast to the sweet end of summer produce. This is one recipe I urge you to make now before the sultry Indian Summer has vanished into crisp autumn. I scaled the recipe to make 4 individual salads but one large salad would be stunning.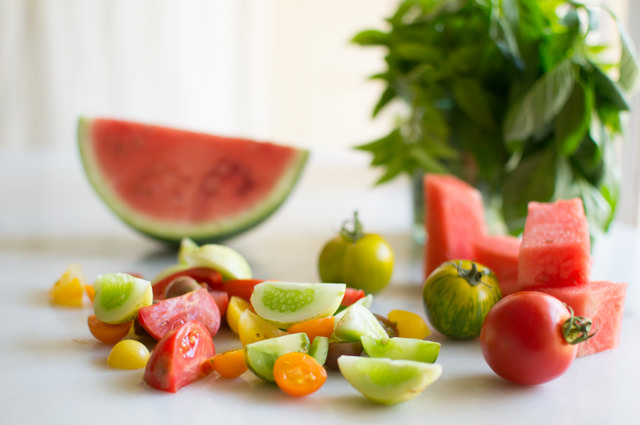 | | |
| --- | --- |
| | Ingredients |
| 2T | rice wine vinegar |
| 1T | olive oil |
| 1T | grape seed oil |
| 1t | agave nectar or honey |
| 1/4t | salt |
| 12 | small slices sourdough bread |
| 3T | olive oil |
| 8 | slices seedless red watermelon |
| 4C | cut or sliced mixed heirloom tomatoes |
| 3 | lemon cucumbers, cut in eights |
| 4 | sprigs basil |
| 1/2t | crushed red peppercorns or ground black pepper |
In a small bowl add the rice wine vinegar and while whisking; slowly pour in one tablespoon of olive oil and one tablespoon of grape seed oil to emulsify. Whisk in the agave and salt.
Heat a griddle or skillet to medium high heat. Brush both sides of the sliced sourdough with olive oil. Grill the bread on both sides until the edges of the bread are dry and crisp and have turned golden brown.
Arrange two slices of watermelon and three slices of bread on each plate. Divide the tomatoes and lemon cucumbers evenly among the four plates. Drizzle the dressing over the salad and garnish with basil leaves and pepper.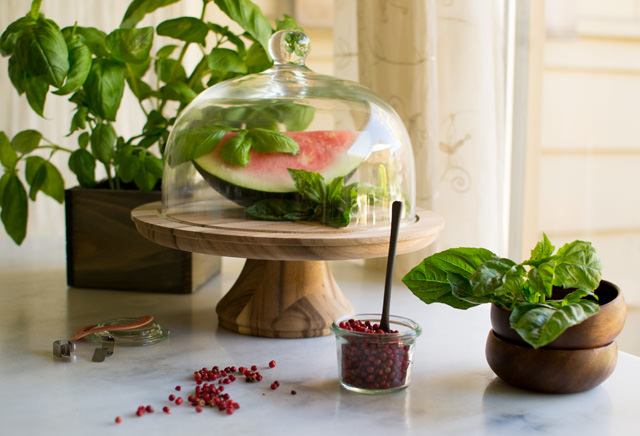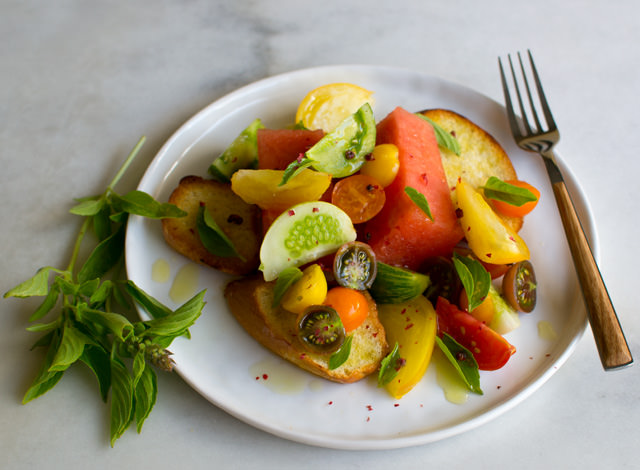 var _gaq = _gaq || []; _gaq.push(['_setAccount', 'UA-44220881-1']); _gaq.push(['_trackPageview']);
(function() { var ga = document.createElement('script'); ga.type = 'text/javascript'; ga.async = true; ga.src = ('https:' == document.location.protocol ? 'https://ssl' : 'http://www') + '.google-analytics.com/ga.js'; var s = document.getElementsByTagName('script')[0]; s.parentNode.insertBefore(ga, s); })();
FOLLOW:
SHARE: