SHARE: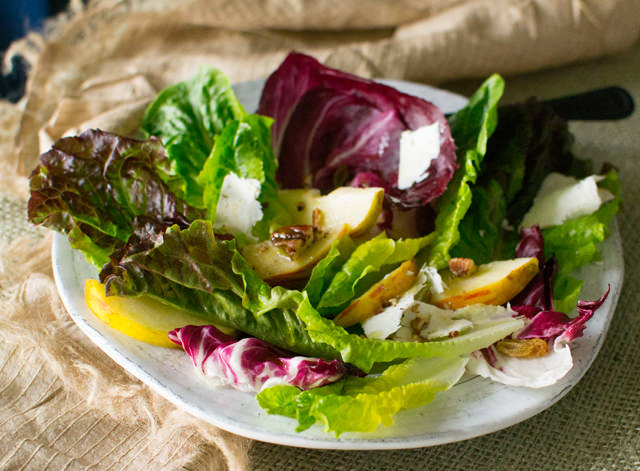 A favorite salad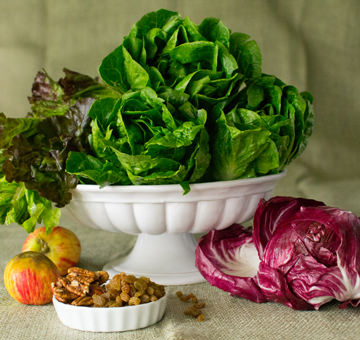 "Later Samuel and Adam walked down the oak-shadowed road to the entrance of the draw where they could look out at the Salinas Valley. Will you stay to dinner? Adam asked."
East of Eden, John Steinbeck
Inspiration
Need another salad recipe? I promise this one is worth sharing, it's become a favorite. This salad has it all– crunchy, sweet, tangy, salty, smooth and bitter. I find myself making it several times a month. Two of us pretty much eat the entire bowl. Sometimes there is enough left for my lunch the next day. Besides, I wouldn't want anyone to think I live on sweets!
In making the salad I prefer a ratio of 3/4 lettuces and 1/4 radicchio. For the full range of flavors and textures I use the three R's: romaine, red leaf and radicchio. Crisp, soft and spicy make the foundation of this salad. If radicchio is not a favorite this will be the salad that changes your mind. The bitter superfood plays well with the salty ricotta salata and sweetness from the golden raisins. There are crunchy apple slices and meaty pecans too. Apple season is just beginning, pick a favorite for this irresistible salad.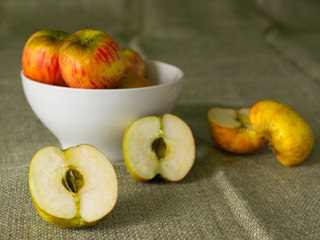 Essentials
If anyone hates making dinner in a hurry when tired and hungry it would be me. Any or all of these salad components can be prepped ahead of time. Lettuces cleaned, pecans toasted, apple sliced, cheese grated, vinaigrette made. The lettuce, cheese and vinaigrette will keep in the refrigerator for several days. I've prepped the apple in the morning and used it the evening of the same day. I toast a big batch of pecans, chop and keep them in the pantry. Just doing a few items of prep makes me feel more organized and lightens the list of things to do at the end of a busy day.
If you live in Salinas, Star Market carries ricotta salata. Fresh, crisp radicchio can be hard to find but both Nob Hill and Star might have it in stock. And of course ricotta salata, fresh radicchio and Hunza raisins can be found at Whole Foods in Monterey.
| | |
| --- | --- |
| | Vinaigrette |
| 1/4C | champagne vinegar |
| 1/2C | fruity olive oil |
| 1t | French style mustard, such as Grey Poupon |
| 1/2t | fine grain sea salt |
| 1/4t | pepper |
| | Three R Salad |
| 1 | lemon |
| 1 | large apple, or 2 small |
| 2-3T | pecans |
| 2 | heads little gem lettuce or other crisp romaine |
| 1 | small head of red leaf lettuce or other curly leafed lettuce |
| 10 | large leaves of radicchio |
| 2-3T | golden raisins, such as Hunza. |
| 1/2C | grated or shaved ricotta salata |
Juice the lemon and pour into a small bowl. Core and thinly slice the apple into the bowl with the lemon juice. Toss the apple slices to coat with lemon juice. Top the bowl with ice cubes and place in the refrigerator to keep the slices crisp.
Pour the vinegar in a small bowl. Slowly pour the olive oil into the bowl while continually whisking to emulsify. Whisk in the mustard, salt and pepper. Alternately, put all the vinaigrette ingredients in a jar, seal and shake until the mustard is thoroughly mixed into the vinaigrette.
Heat the oven to 350°. Spread the pecans across the surface of a sheet pan. Toast the pecans for 8-10 minutes. The pecans will become fragrant and turn a dark mahogany brown when done. Cool and then chop the pecans.
Clean the lettuces and radicchio and tear into bite sized pieces and place in a large salad bowl. Alternately arrange the lettuce and radicchio leaves on plates to make individual salads. Add apple slices, pecans, raisins and ricotta. Drizzle or toss with dressing.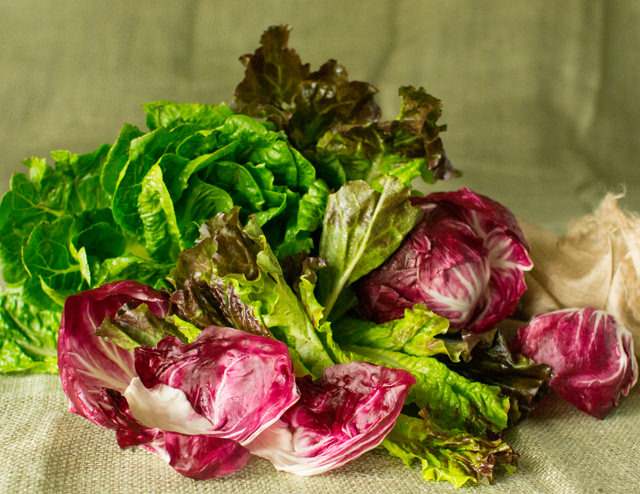 var _gaq = _gaq || []; _gaq.push(['_setAccount', 'UA-44220881-1']); _gaq.push(['_trackPageview']);
(function() { var ga = document.createElement('script'); ga.type = 'text/javascript'; ga.async = true; ga.src = ('https:' == document.location.protocol ? 'https://ssl' : 'http://www') + '.google-analytics.com/ga.js'; var s = document.getElementsByTagName('script')[0]; s.parentNode.insertBefore(ga, s); })();
FOLLOW:
SHARE: