SHARE: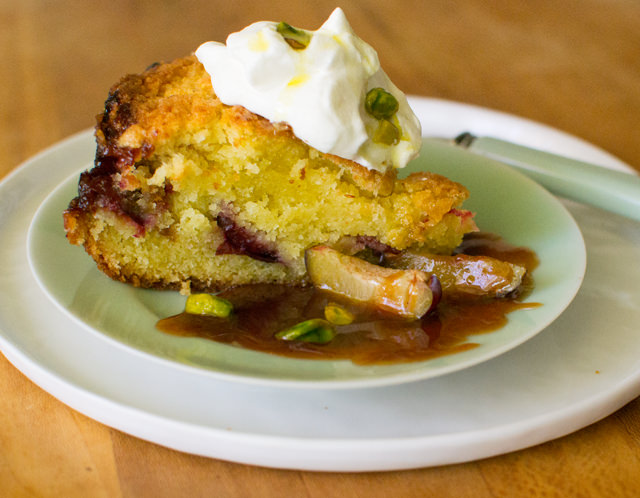 The excess of late summer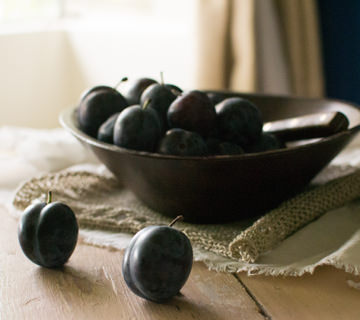 "And the books that came into the house, some of them secretly— well, Samuel rode lightly on top of a book and he balanced happily among ideas the way a man rides white rapids in a canoe. But Tom got into a book, crawled and groveled between the covers, tunneled like a mole among the thoughts, and came up with the book all over his face and hands."
East of Eden, John Steinbeck
Inspiration
When the recipe for Creme Fraiche Cake with Plum Caramel landed in my in-box I went to my bookshelf and found my copy of the A.O.C. Cookbook by Suzanne Goin to discover what the fuss was all about. I realized the original recipe had two more components, whipped cream and pistachios in olive oil. Raves about the plum cake made with plum caramel had me wondering, what if the cake was smothered in caramel, pistachios AND whipped cream? I just had to make this cake and everything else.
I was introduced to the the A.O.C. Cookbook by fellow California blogger In Media's Recipe. After Carol's stellar review the cookbook found a spot in my collection. I made the fabulous Lamb Meatballs with spiced Tomato Sauce, Mint and Feta and the cookbook was returned to my bookshelf. Now I'm digging deeper and have bookmarked more recipes. Before the end of summer there is Corn, Summer Squash, and Avocado with Chile-Lime Dressing and Peach and Arugula Salad with Burrata, Cumin, and Toasted Almonds. As soon as persimmons arrive at the market I'll be making Persimmon Cake with Creme Fraiche and Maple Pecans. Butterscotch Pot de Creme with Salted Cashew Cookies would be the perfect fall treat.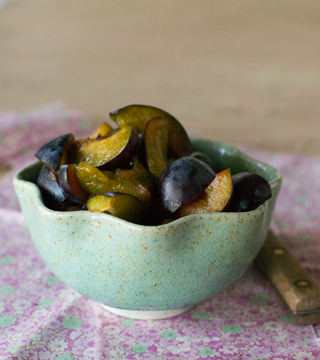 Essentials
The Creme Fraiche Cake with Plums and Pistachios in Olive Oil is for those who do not hesitate about dessert. Banish regrets and make this cake. All the excess of late summer is captured in this decadent cake. There is the allure of sun drenched ripe fruit nestled in a decadent buttery cake. A layer of plum caramel gets cozy with the plums inside the cake and of course is drizzled over each and every slice of finished cake. And if that's not enough, whipped cream and pistachios in olive oil move this dessert to a restaurant worthy indulgence that is easily made in a home kitchen.
I used Italian plum prunes instead of the Santa Rosa's in the original recipe. Their regal purple color was impossible to ignore. Any type of ripe, juicy plum or pluot would be wonderful in this recipe. Just be sure to make this cake before all the plums disappear and pumpkins and apples are the center of attention. The plum caramel is not to be ignored.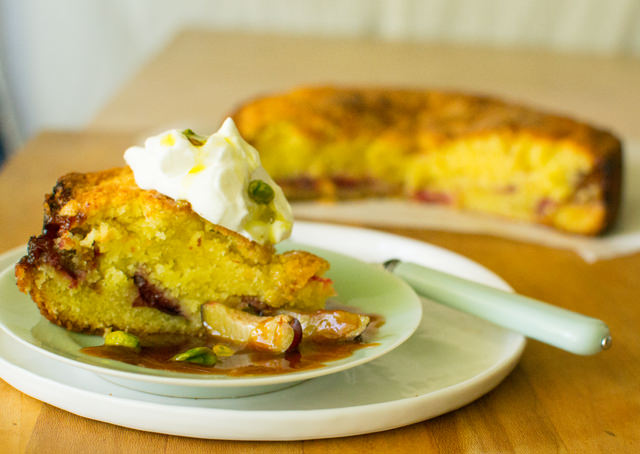 var _gaq = _gaq || []; _gaq.push(['_setAccount', 'UA-44220881-1']); _gaq.push(['_trackPageview']);
(function() { var ga = document.createElement('script'); ga.type = 'text/javascript'; ga.async = true; ga.src = ('https:' == document.location.protocol ? 'https://ssl' : 'http://www') + '.google-analytics.com/ga.js'; var s = document.getElementsByTagName('script')[0]; s.parentNode.insertBefore(ga, s); })();
FOLLOW:
SHARE: