SHARE:
A Salad to Remember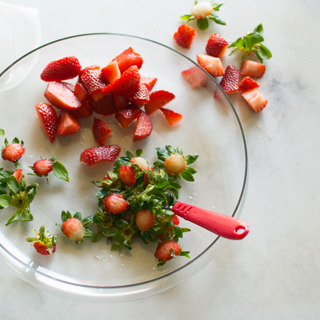 "The word got around when a girl really wanted to know."
East of Eden, John Steinbeck
Inspiration
More strawberries? Why yes, but savory this time. It's spring and local berries make me insanely happy. April's Food in Jars Mastery Challenge is quick pickling. All manner of vegetables can be pickled, with a variety of vinegars, spices and herbs. I've shared quick picking before, spicy red onions and earthy beets. But pickling sweet berries was an entirely new concept. When I read about Quick Pickled Strawberries I was intrigued. I had to give it a try. And wow, what a pop of flavor! Sweet and tangy, all at the same time. A salad to remember, Quick pickled Strawberries are perfectly matched to the robust flavor and texture of kale.
Essentials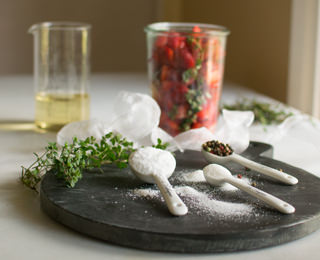 If you're losing interest in salads, listen up, quick pickling will have you not only making healthy salads again, but craving salads again. The time it takes to make quick pickles is minimal. The tangy flavor boost quick pickles offer is nothing short of amazing. Quick pickling is not hours spent in the kitchen, chopping tons of vegetables or using canning gear. Quick pickling can be fifteen minutes of meal prep to jump start a week of healthy salads. All that is needed is a spotlessly clean jar with a tight fitting lid, vinegar and salt. The barest hint of sugar and spice add to the intrigue. The choice of what to pickle is entirely up to you.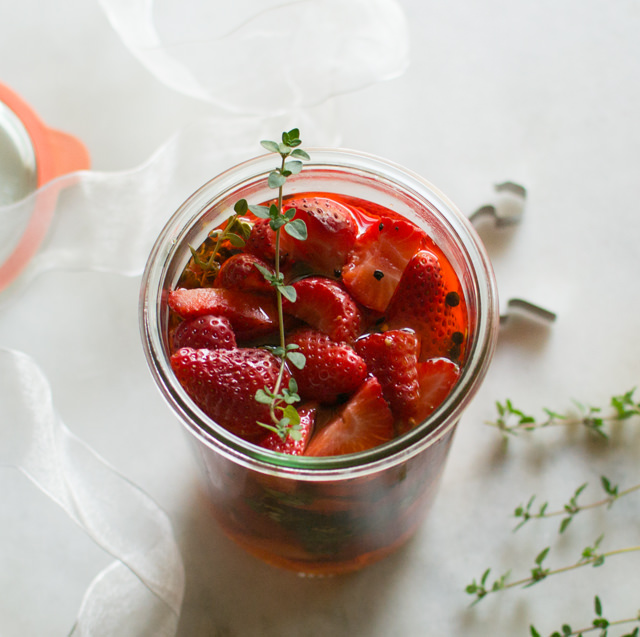 | | |
| --- | --- |
| | Quick Pickled Strawberries from Preserving by the Pint |
| 1-1/2 lbs | strawberries |
| 2 sprigs | fresh thyme |
| 3/4C | champagne vinegar |
| 1T | fine grain sea salt |
| 1T | sugar |
| 1T | cracked peppercorns |
| | Kale Salad with Quick Pickled Strawberries |
| 1 bunch | lacinato or dinosaur kale |
| 1t | fine grain sea salt |
| 2T | fruity olive oil |
| 1T | lemon juice |
| 1/3C | grated ricotta salata |
| 2T | chopped, toasted pecans |
Clean the kale and pat dry. Remove the tough part of the stem and slice the kale into 1/3" -1/2" wide strips. Place the kale in large bowl and add the salt, olive oil and lemon juice. With your hands, mix the salt, oil and lemon juice into the kale, massaging the leaves and making sure all the kale is covered with the dressing. At this point the salad can be refrigerated for up to 12 hours before finishing and serving.
Add the Quick Pickled Strawberries, ricotta salata and pecans, gently toss. Transfer the salad to a serving platter or individual plates to serve.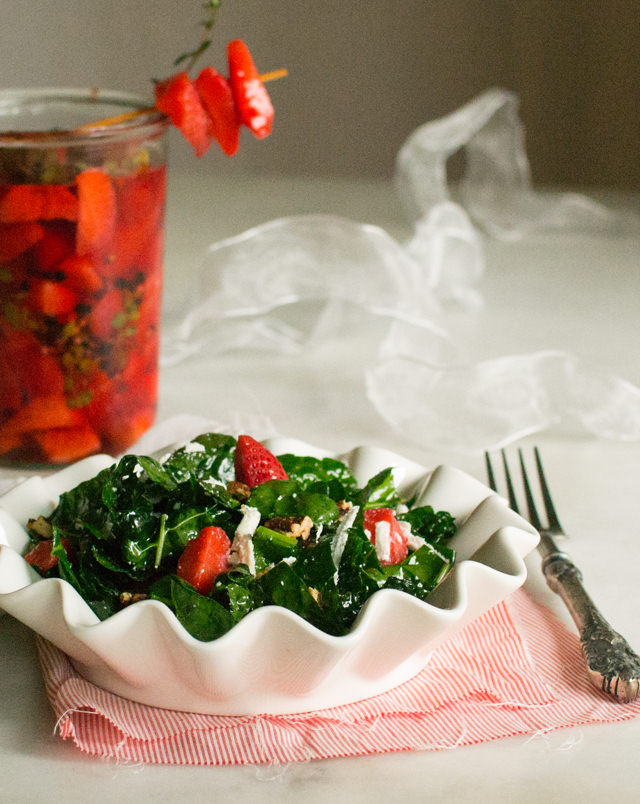 var _gaq = _gaq || []; _gaq.push(['_setAccount', 'UA-44220881-1']); _gaq.push(['_trackPageview']);
(function() { var ga = document.createElement('script'); ga.type = 'text/javascript'; ga.async = true; ga.src = ('https:' == document.location.protocol ? 'https://ssl' : 'http://www') + '.google-analytics.com/ga.js'; var s = document.getElementsByTagName('script')[0]; s.parentNode.insertBefore(ga, s); })();
FOLLOW:
SHARE: