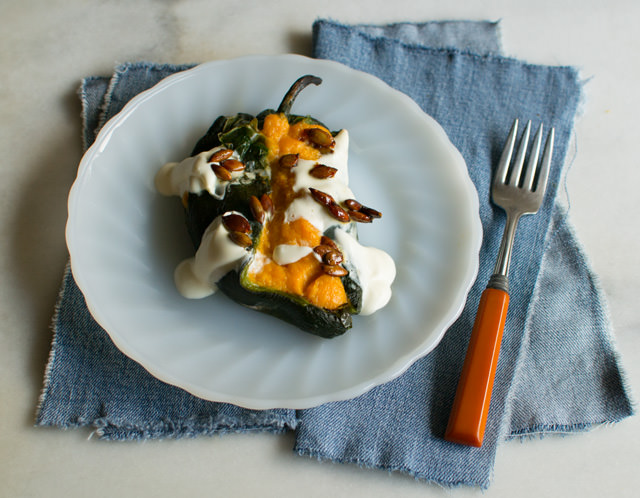 Chile Rellenos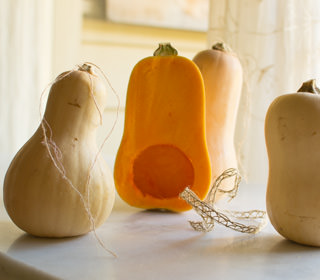 "When two events have something in common, in their natures or in time or place, we leap happily to the conclusion that they are similar and from this tendency we create magics and store them for retelling."
East of Eden, John Steinbeck
Inspiration
Stopping at Tweets cafe in Edison, Washington was pure serendipity. We had just left Breadfarm bakery and were looking for a place to stop for dinner before heading back to Burlington for the evening. It was just before 6:00 P.M. Saturday evening. Everything but the local bar was closing for the night. Our last stop was at Tweets and they also were closing for the night. Lucky for us, they stayed open to cook dinner for us. We enjoyed some very satisfying chile rellenos that I very much missed once we retuned home.
The only similarity to the chile rellenos we had at Tweets and what we find in central California is in the name, stuffed chiles. Locally a chile relleno is a charred and peeled anaheim or poblano chile stuffed with a mild white cheese such as Monterey Jack. The stuffed chile is rolled in flour, dipped in an egg batter and fried until golden and crispy outside with creamy melted cheese inside. Tweets stuffed a poblano with chile spiked pumpkin and wrapped the pocket of temptation in crispy bacon. The smokey chile and bacon melded with the creamy pumpkin filling for a sultry and flavor packed chile relleno.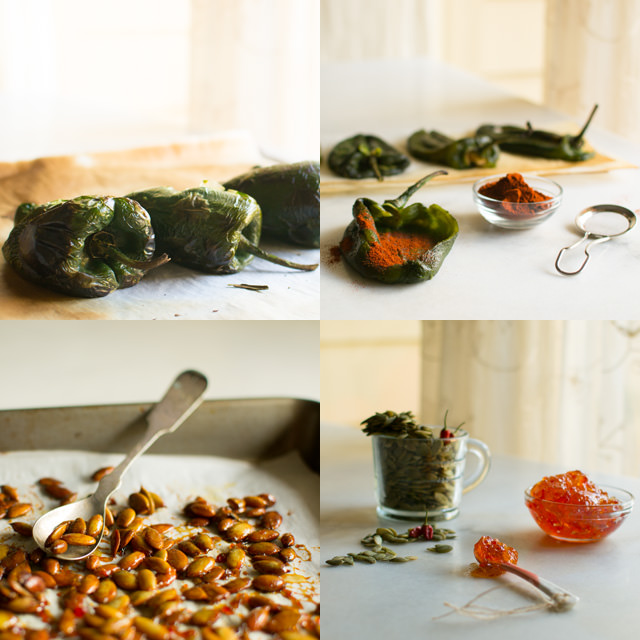 Essentials
My version of Tweets chile rellenos has maximum flavor seduction with a thick drizzle of crème fraîche topped with crunchy candied pumpkin seeds lacquered with a hit of jalapeño. And butternut squash because it just tastes better than pumpkin. Serve with rice and black beans. Add tortillas, salsa and guacamole to make a terrific feast. If crème fraîche or Mexican crema is too dazzling a sprinkle of ricotta salata will offer a crisper alternative.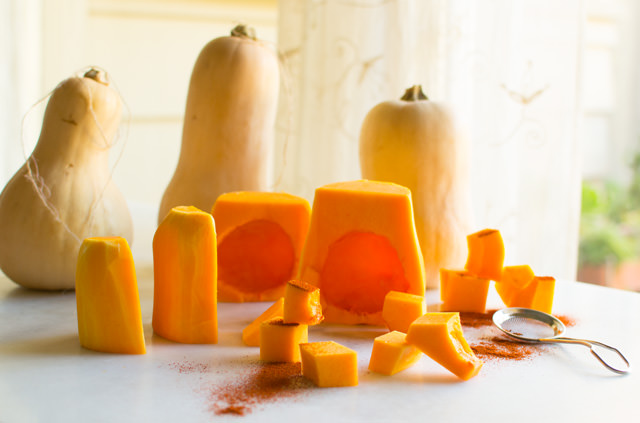 There is confusion in the type or name of the chile to use for this recipe. I used poblano chiles, although they are labeled as pasilla at my local grocery store and fruit stand. An anaheim chile could be used. It's just that the poblano is bigger, which means more butternut filling can be stuffed inside the chile. I used mild California chile powder to allow the butternut to have a voice in the recipe. Add heat as your palate and cold dreary evenings desire. I did make a discovery. Jalapeños are absolutely amazing in this recipe. I found a fiery little appetizer for game day. Wrapped tightly to keep warm they would be a hot surprise for a winter picnic or tailgate party. I roasted the jalapeños and removed the seeds before stuffing with butternut. No need to peel the jalapeños as they have a thin skin.
| | |
| --- | --- |
| | Ingredients |
| 1/3C | avocado or olive oil |
| 6C | cubed butternut squash |
| 1t | mild chile powder |
| 1/2t | fine grain sea salt |
| 1/4t | ground black pepper |
| 1 | egg |
| 1/4C | raw pumpkin seeds |
| 1T | jalapeño jelly |
| 8 | poblano (pasalla) chiles |
| 1T | mild chile powder |
| 3/4C | crème fraîche or Mexican crema |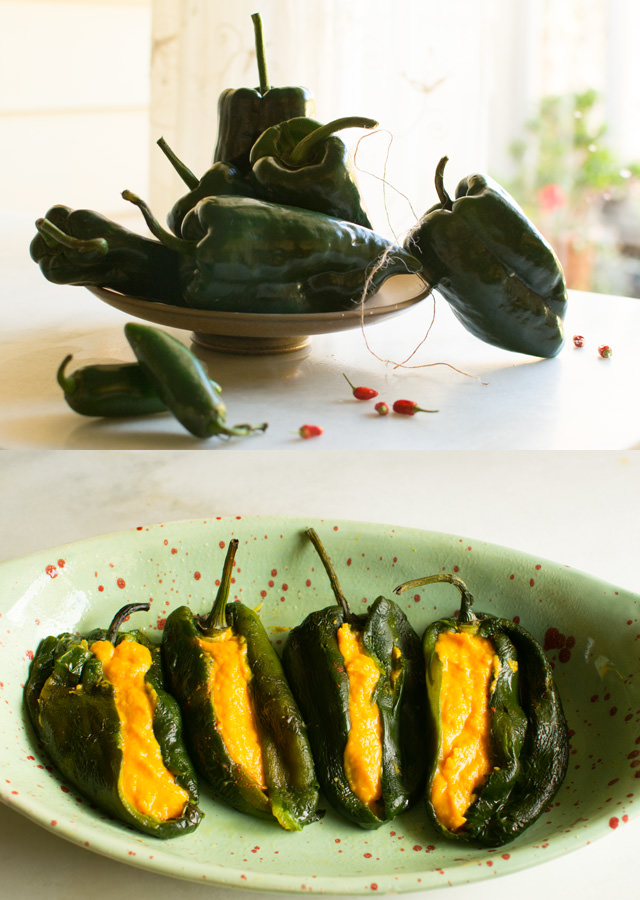 Heat the oven to 425°. Pour the oil on a large sheet pan. Add the cubed butternut, chili powder, salt and pepper and toss to coat all the squash. Roast for 20-30 minutes until the squash can be easily pierced with a fork. Turn the butternut once during roasting. Set aside to cool completely.
When the butternut has cooled transfer the squash and any oil left on the roasting pan along with the egg to the bowl of a food processor or blender. Process until there are no lumps and the butternut becomes a smooth puree.
Reduce the oven temperature to 375°. Line a small sheet pan with parchment or a Sil-pat. Pour the pumpkin seeds on the parchment and add the jalapeño jelly. Mix to coat all the seeds with jelly and then spread in one layer on the pan. Bake for 8-10 minutes. Watch the seeds carefully so they do not burn. When done the seeds will have turned a deep mahogany brown and be lacquered with sweet and spicy goodness.
Roast the chiles either over an open flame on the stove or in the oven with the broiler set on high heat. Turn the chiles so that each side blisters and browns as evenly as possible. Once the chilies have blistered place them in a closed paper or plastic bag to steam for ten minutes. Peel the blistered skin away from the flesh of the chile. Leave the stems on the chilies and slit them open on one side. Gently scrape out the interior membrane and all the seeds. Place on a paper towel to absorb any excess moisture.
Heat the oven to 350°. Grease an oven proof casserole dish. Gently open the chilies and dust the interiors with chile powder. Fill each chile with butternut puree and using a spatula transfer them to the casserole dish. Bake for thirty minutes. The butternut puree will just be starting to crisp around the edges and the moisture around the bottom of the chiles will be bubbling. Serve hot with a generous drizzle of crème fraîche and a sprinkle of candied pumpkin seeds.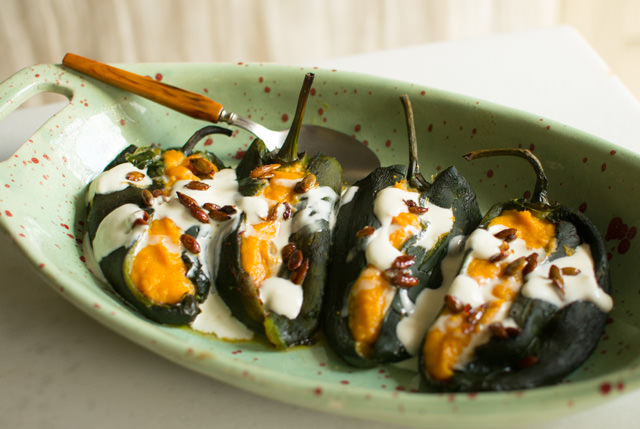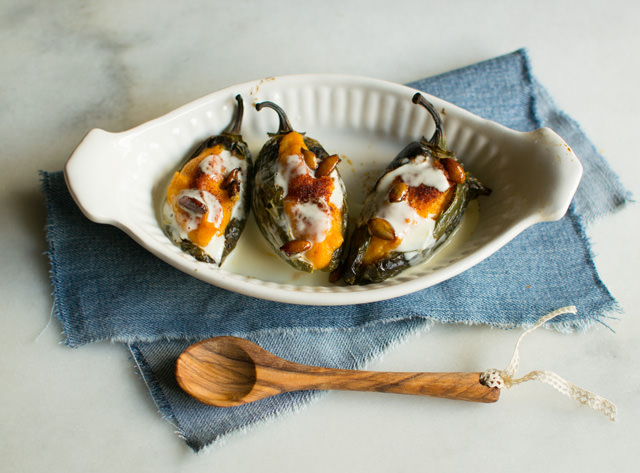 var _gaq = _gaq || []; _gaq.push(['_setAccount', 'UA-44220881-1']); _gaq.push(['_trackPageview']);
(function() { var ga = document.createElement('script'); ga.type = 'text/javascript'; ga.async = true; ga.src = ('https:' == document.location.protocol ? 'https://ssl' : 'http://www') + '.google-analytics.com/ga.js'; var s = document.getElementsByTagName('script')[0]; s.parentNode.insertBefore(ga, s); })();