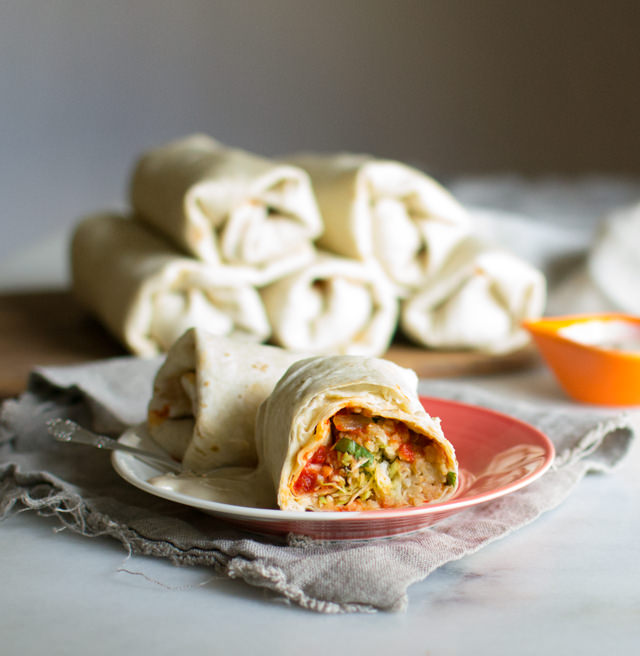 Vegan wraps filled with lentils and bulgur, red pepper spread, hummus and cabbage. A spicy tahini dipping sauce elevates these wraps to fabulous.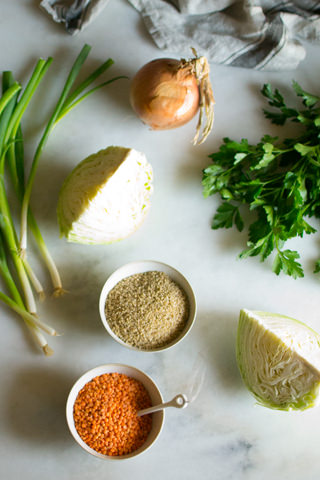 Have to keep up with the times, said Adam. I predict there'll come a time when you can't find a horse, Mr. Trask. Maybe so.
East of Eden, John Steinbeck
Inspiration
I've made these Spicy Lentil Wraps with Tahini Sauce for road and train trips, shared them with unsuspecting carnivores and served them for an executive board meeting luncheon. Spicy Lentil Wraps with Tahini Sauce are a wonderful make ahead dinner. Leftovers are the perfect grab and go lunch. These vegan wraps always get stellar reviews. I heard that "wraps" were out of style. Which immediately prompted me to share my favorite wrap recipe. Keeping up with food trends can be exhausting and downright silly. I'm here to share food that's vibrant with flavor and worth the investment in time and effort to make.
Essentials
There are several components to the Food 52 recipe for Spicy Vegan Lentil Wraps with Tahini Sauce. Don't let all these pieces to the recipe discourage your wrap making. The sauce and spreads can be made ahead of time. While the lentil and bulgur filling cooks, gather together all the components and get ready to roll the Spicy Lentil Wraps with Tahini Sauce. The original recipe can be found on Food 52. Below are the tips and hints for how I make the Spicy Lentil Wraps with Tahini Sauce.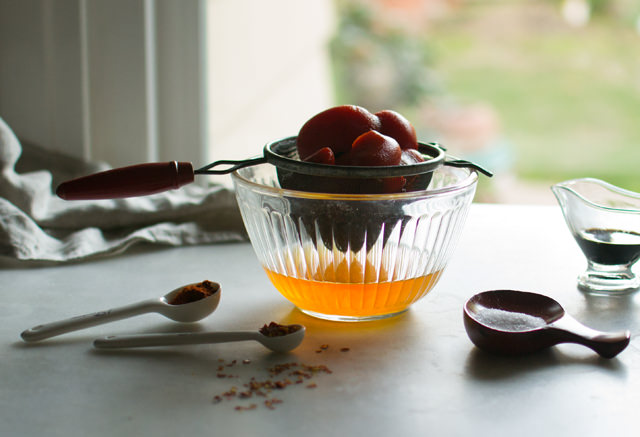 Red Pepper Spread: I take a short cut to make the Red Pepper Spread using roasted peppers from a jar. The recipe is below. It makes a large batch of Red Pepper Spread, more than will used for one batch of wraps. This is a wonderful condiment to have waiting in the refrigerator. With a pop of bold, sassy flavor that is fat free, use the rest on sandwiches, eggs, salads, or stirred into any tomato based sauce.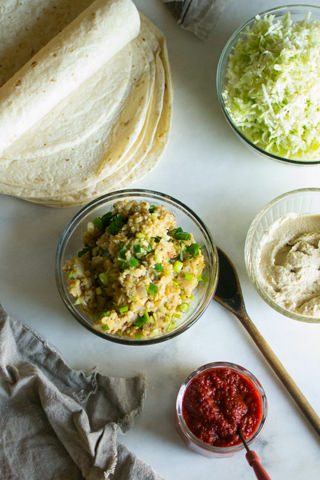 Lentils and Bulgur Filling: The filling should be a little on the soft side. It needs to hold together for shaping and staying inside the wrap. I've tried both red and brown lentils, neither take 20 minutes to cook. Start testing the lentils after 8 minutes of simmering. The lentils should be soft, but not mushy when the bulgur is added to the pan.
Hummus: While hummus is not part of the original recipe, I suggest spreading it on half on the wrap, with the Red Pepper Spread on the other half. It makes it easy to seal up the wrap and adds another layer of flavor. I'm partial to the recipe from Jerusalem to make my own hummus, but store-bought works just fine.
Tahini Sauce: The tahini sauce just takes a few minutes to stir together and elevates the wrap to fabulous. A friend (who shall remain nameless) finished all the tahini sauce—after the wraps were gone.
| | |
| --- | --- |
| | Red Pepper Spread |
| 2-12 oz jars | roasted red peppers in water, drained |
| 1t | smoked paprika |
| 1/2-1t | red pepper flakes, depending on the preferred level of spicy |
| 1/4t | fine grain sea salt |
| 1t | balsamic vinegar |
In the bowl of a food processor or blender, blitz the drained red peppers until they are smooth and lump free.
In a small saucepan add the red pepper puree, smoked paprika, red pepper flakes and salt. Bring the mixture to a boil and reduce the heat to a low, quiet simmer. Stir occasionally. Cook until the spread mounds on a spoon and is reduced in volume by half, about one hour. As the moisture evaporates and the spread reduces in volume, stir more often and reduce the heat to keep a low, quiet simmer. When ready, remove from heat and stir in the balsamic vinegar.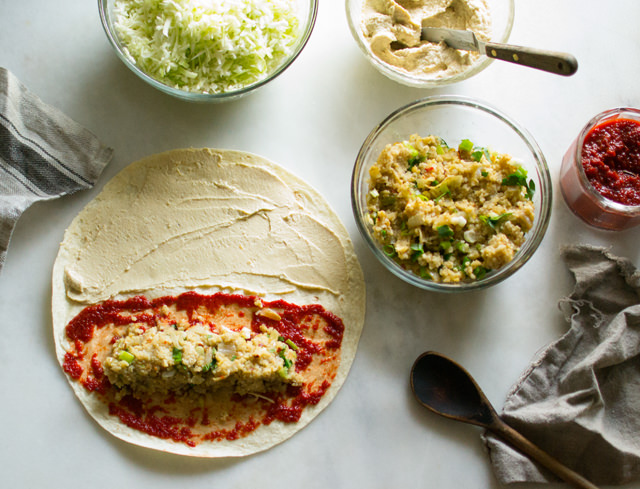 var _gaq = _gaq || []; _gaq.push(['_setAccount', 'UA-44220881-1']); _gaq.push(['_trackPageview']);
(function() { var ga = document.createElement('script'); ga.type = 'text/javascript'; ga.async = true; ga.src = ('https:' == document.location.protocol ? 'https://ssl' : 'http://www') + '.google-analytics.com/ga.js'; var s = document.getElementsByTagName('script')[0]; s.parentNode.insertBefore(ga, s); })();