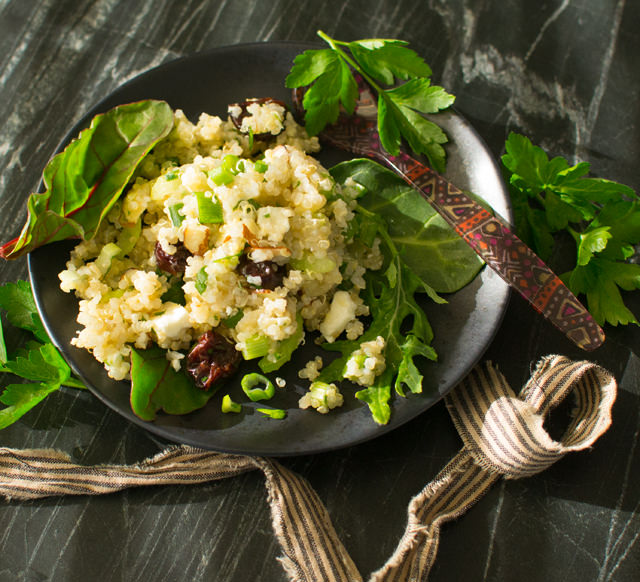 Kindness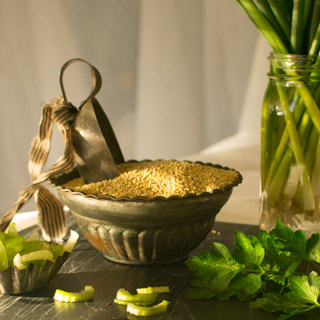 "After awhile, said Cyrus, you'll think no thought the others do not think. You'll know no word the others can't say. And you'll do things because the others do them. You'll feel the danger in any difference whatever—a danger to the whole crowd of like-thinking, like-acting men. What if I don't? Adam demanded."
East of Eden, John Steinbeck
Inspiration
Did you pick a word for this year? It's a resolution for the new year, in a word. It's another avenue for self-improvement. A mantra, a meditation in mindfulness, in just one word. To be better than before, to do better than before. To keep trying. I have chosen gratitude and forgiveness before. This year I chose kindness. I don't think of myself as unkind, but I can be. Often it is a protection to cover that fragile place of vulnerability. I can find it tantalizing as a replacement for anger. A reward for getting even after a petty misunderstanding. The always unjust places of pride and arrogance can spew unkindness. How can being unkind be so right, when later it feels so wrong. It's so borderline, the knife blade is sharp, it can cut. The blade slices while the rest of the knife just follows along. I'm trying not to follow along, to break the pattern. To keep the knife dull, it makes it more difficult for a fast, clean cut.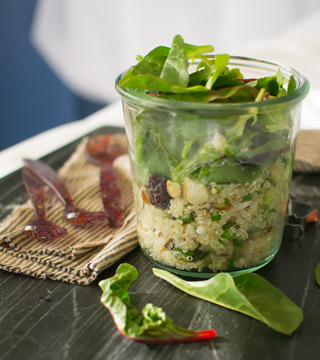 The power of one word. A forceful reminder to stop and think before jumping. To be kind. Most of all, be kind to yourself. If we expect others to be kind to us, it would be best to set the example of how we want our lives to be. This recipe is all about being kind to ourselves. I'm good at making breakfast and dinner. Making lunch is such an interruption. Except I get hungry and need something nutritious to eat. I just want lunch to appear without any effort on my part. Since that rarely happens the next best thing is having something ready before I get hungry. Packing some greens with Almost Miss Spoon's Quinoa Salad is just the kind of make ahead lunch I need. This is one way I'm being kind to myself. To recognize my hunger and find a nutritious answer. There is ample protein from the quinoa, feta and almonds, for more add an egg, tofu or chicken.
Essentials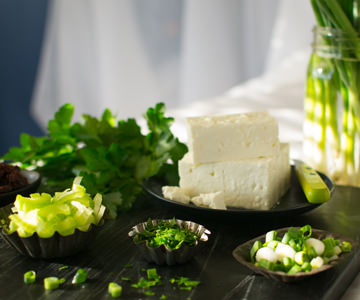 Have you heard of Gayle's Bakery and Rosticceria in Capitola? If you are local or in the area it is a fantastic place to stop for lunch or a pastry. Gayle's is so popular and busy that it is best to take a number upon arriving and before making any selections. By the time choices have been made it might be close to your turn to order. I often meet Gerlinde at Gayle's and picky daughter and I always stop there when we go to Santa Cruz. While I get lost in the pastry case daughter inspects the seasonal salad offerings. The plan is to share something for lunch so we can justify having dessert too. Dessert is a must at Gayle's!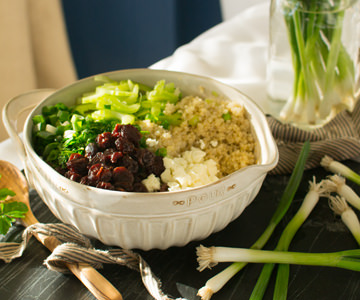 Daughter has been raving about Miss Spoon's Quinoa Salad for months. I didn't think much about the quinoa salad until I realized she wanted to stop at Gayle's specifically for Miss Spoon's Quinoa Salad. There was some mention of cookies but there was this quinoa salad that had to be obtained. That was when I paid attention and decided to make the recipe at home. This is not Gayle's recipe for Miss Spoon's Quinoa Salad, but my attempt to make Miss Spoon's Quinoa Salad. I've come close. The salad has an insane amount of green onions, make sure to add the entire cup to the salad. Galyle's uses dried cranberries, I used dried tart cherries for this post. Either one is fabulous. The salad has lots of crunch from celery, I added almonds too. If omitting the almonds, add an entire cup of celery for maximum crunch. If you can't get to Gayle's anytime soon you can still make Almost Miss Spoon's Quinoa Salad. Serve it with a side of kindness and resolve to try one more time.
| | |
| --- | --- |
| | Quinoa Salad |
| 1C | quinoa, uncooked |
| 1/2t | fine grain sea salt |
| 1C | thinly sliced green onion |
| 1/2C | thinly sliced celery |
| 1/2C | dried tart cherries or cranberries |
| 1/2C | crumbled feta cheese |
| 1/2C | sliced almonds |
| 2T | finely minced parsley |
| | Lemon Vinaigrette |
| 2T | fresh lemon juice |
| 4T | almond or olive oil |
| 1t | agave or honey |
| 1/4t | fine grain sea salt |
| 1/4t | freshly ground pepper |
Throughly rinse the quinoa. In medium sized saucepan, bring two cups of water to a boil. Add the quinoa and salt. Reduce the heat to low, so that the quinoa is barely simmering. Cover the pan and simmer for 15 minutes, until the water is absorbed and some of the quinoa has burst open. Remove the pan from the heat. Keep the lid on the pan and let the quinoa sit for 5 minutes. Cool the quinoa to room temperature before making the salad. The hot quinoa can be spread across the surface of a sheet pan to accelerate the cooling.
While the quinoa cooks and cools prepare the vinaigrette. In a small bowl add the lemon juice, then slowly pour in the oil while continually whisking. Whisk in the agave, salt and pepper.
In a large bowl add the cooled quinoa, green onions, celery, dried cherries or cranberries, feta, almonds and parsley. Fold the mixture together until all the ingredients are combined. Add the vinaigrette and fold the mixture together until all the ingredients are covered with the dressing .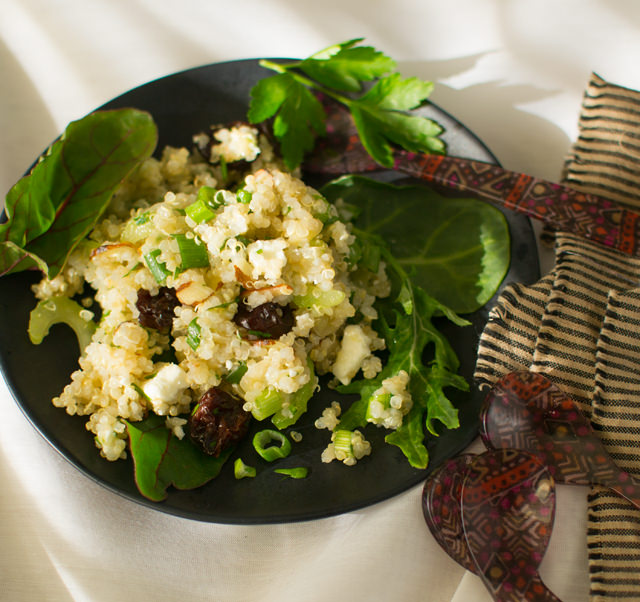 var _gaq = _gaq || []; _gaq.push(['_setAccount', 'UA-44220881-1']); _gaq.push(['_trackPageview']);
(function() { var ga = document.createElement('script'); ga.type = 'text/javascript'; ga.async = true; ga.src = ('https:' == document.location.protocol ? 'https://ssl' : 'http://www') + '.google-analytics.com/ga.js'; var s = document.getElementsByTagName('script')[0]; s.parentNode.insertBefore(ga, s); })();