SHARE: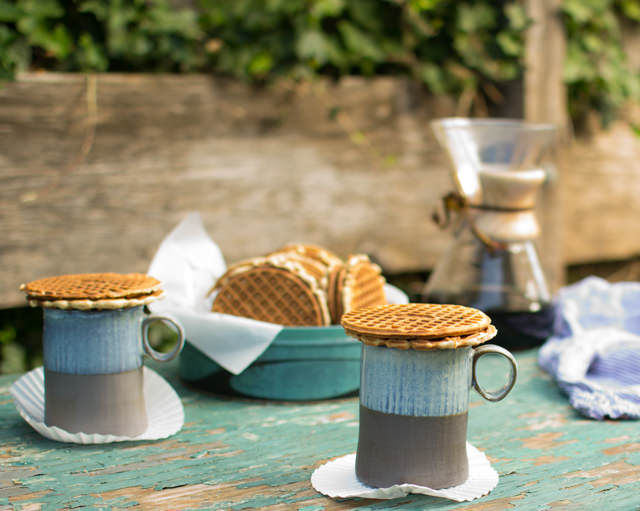 Always about the Caramel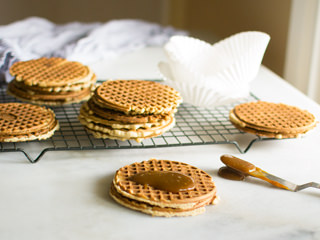 "Then there was his education and reading, the books he bought and borrowed, his knowledge of things that could not be eaten or worn or cohabited with, his interest in poetry and his respect for good writing."
East of Eden, John Steinbeck
Inspiration
I arrived early for an appointment in Monterey. Traffic between Salinas and Monterey can be easy or horrendous, I got lucky and had time to spare. Instead of heading to the shopping mall, I made a stop at a Monterey thrift shop, Branches. There was a time I made the rounds of thrift stores every week, now I drop in every once in a while. I'm never looking for anything in particular, it's more about finding something fabulous, especially vintage cookbooks. This trip, there was a Toastmaster, Pizzelle and International Cookie Maker. Although it wasn't in its' original box, it looked new. Along with the instruction manual, there was a Baking with Julia booklet, Program #112 with Nick Malieri, titled Italian Specialty Cookies. I certainly didn't need another kitchen appliance and went to my appointment.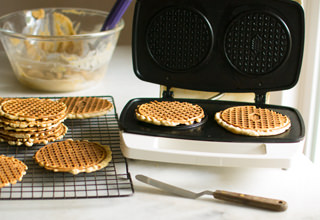 While I was waiting I searched for the Toastmaster Pizzelle maker on E-bay and looked up the PBS Baking with Julia series. And yes, after my appointment I went back and bought the Pizzelle maker. The Pizzelle and International Cookie Maker came with a booklet that makes a variety of cookies, Pizzelle, Cialde and Cannoli-Italian, Krumkake-Scandinavian, Gaufrette-French, Almond Cookies-Chinese and tiny ice cream cones. In my usual baking fashion I went rogue and made something else, Stroopwafels, which have their origins in the Netherlands.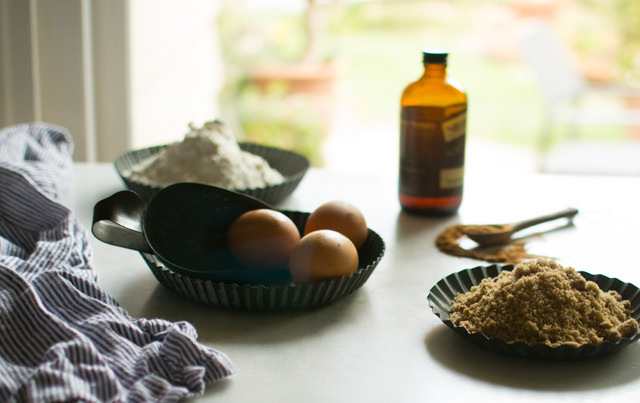 Essentials
These aren't authentic Stroopwafels, those are found in New Holland, the Netherlands. The King Arthur Flour recipe I used isn't even a yeasted dough like a real Stroopwafel. But we do have crisp, buttery cookies filled with a cinnamon laced caramel. Which is more than enough, it is wonderful. In reading about stroopwafels it is said that the cookie can be placed on top of a steaming hot cup of coffee or tea to warm and soften the cookie. Gleaned from serious cookie advocates this is stellar snacking advise.
The recipe is easy enough, the batter is quickly mixed by hand. Learning to use the Pizzelle maker took a few tries. Determining exactly how much batter to use in the cookie mold was challenging. I wanted the cookies to be perfectly shaped. When I finally gave up on perfection the cookie making was more fun. Baking always is a metaphor for life. Perfection is an ever changing destination. A reminder that it's perfectly fine to enjoy the journey.
My test cookies revealed that trimming the edges to a uniform size have no bearing on their satisfying crunch. The cookie trimmings are soft, yet compelling enough for snacking. To keep the cookies of an even thickness, that were thin and crisp, I pressed down the handle of Pizzelle maker for 30 seconds after filling the molds. The caramel filling is what drew me to this King Arthur Flour recipe. It was impossible to resist the brown sugar and cinnamon. Caramel is very hot and can easily burn cookie making hands. Take extra care when filling and handling the Stroopwafels, as the lush caramel can glide right out of the cookie.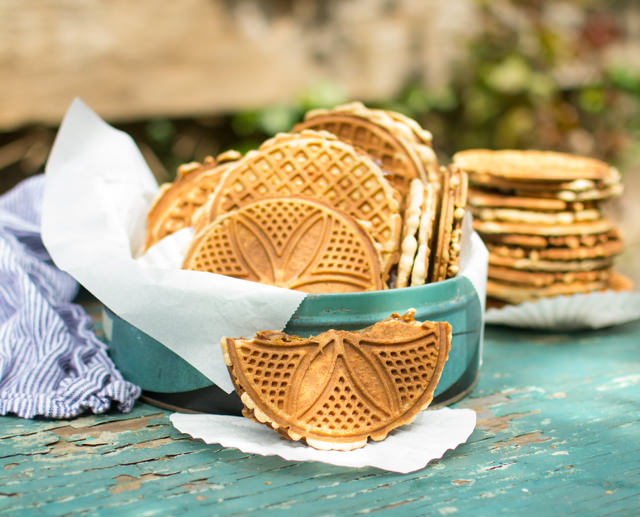 var _gaq = _gaq || []; _gaq.push(['_setAccount', 'UA-44220881-1']); _gaq.push(['_trackPageview']);
(function() { var ga = document.createElement('script'); ga.type = 'text/javascript'; ga.async = true; ga.src = ('https:' == document.location.protocol ? 'https://ssl' : 'http://www') + '.google-analytics.com/ga.js'; var s = document.getElementsByTagName('script')[0]; s.parentNode.insertBefore(ga, s); })();
FOLLOW:
SHARE: