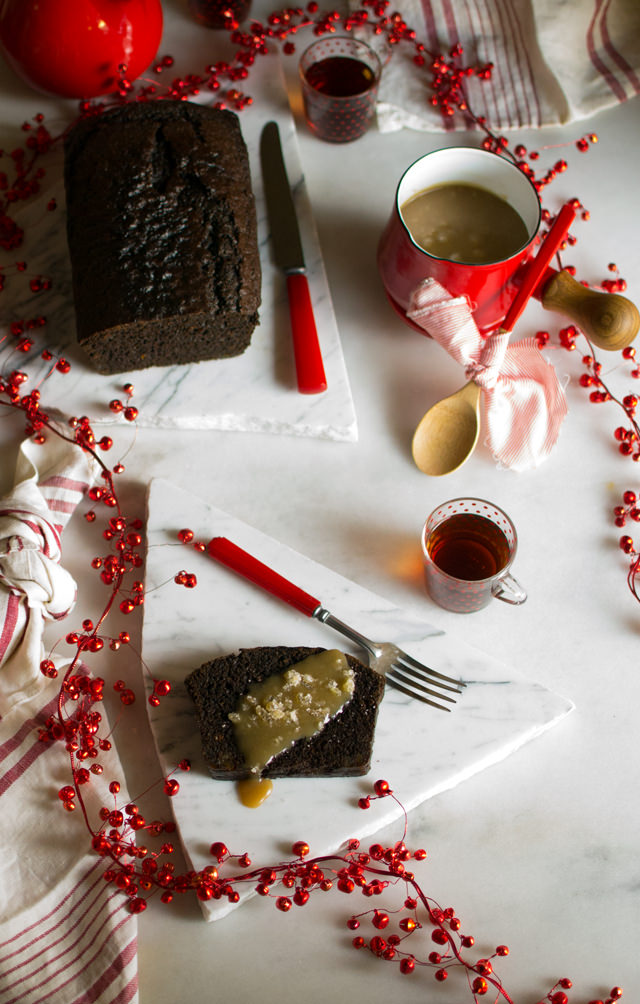 Dizzy with holiday warmth, three kinds of ginger update this old-fashioned Gingerbread recipe. An Easy Caramel Sauce completes this classic dessert.
It was a good time for Adam, the best time. He was the king of his wide and spacious life. East of Eden, John Steinbeck
Inspiration
Triple Gingerbread with Easy Caramel Sauce was inspired by an unassuming tray of gingerbread samples at Gayle's Bakery in Capitola. The dark chunks of cake were heaped in a pile near the ultra busy checkout. Until I read the gingerbread sign I thought the samples were a chocolate something. I wasn't interested in chocolate or gingerbread, I was waiting on a bear claw. I read the sign again, Triple. Ginger. Bread. Since everything at Gayle's is wonderful, I tried a sample. What a revelation in flavor, the backdrop of dusky molasses gives way to cascading layers of gingery warmth from ground, fresh and candied ginger. I had to make my own Triple Gingerbread.
While I was searching through The Fannie Farmer Baking Book I stumbled upon the introduction to "About Sauces" and found that early American cakes were served with sweet sauces rather than frosting. That was all the momentum I needed to try the recipe for Easy Caramel Sauce with the Triple Gingerbread. The soothing sauce is silky smooth, sweet, divine. The recipe is super easy, melt the butter, then whisk in the brown sugar and cream, done. Easy Caramel Sauce will keep in the refrigerator, gently warm the leftovers. READ MORE . . .