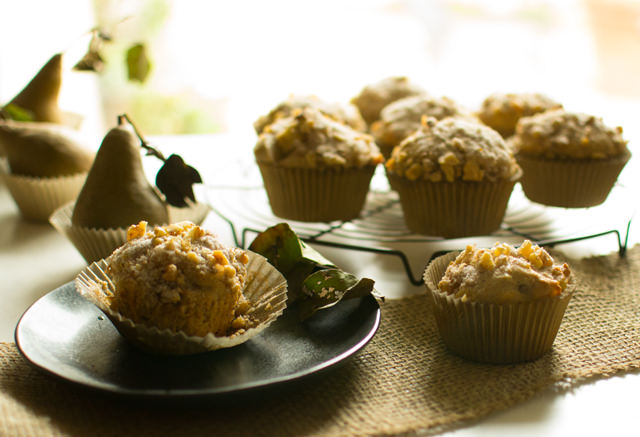 It's Still Summer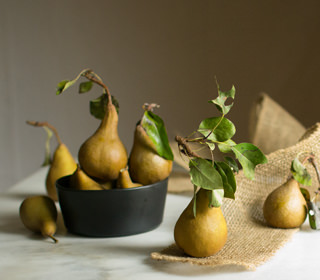 "The floor of the Salinas Valley, between the ranges and below the foothills, is level because this valley used to be the bottom of a hundred-mile inlet from the sea. The river mouth at Moss landing was centuries ago the entrance to the long inland water."
East of Eden, John Steinbeck
Inspiration
The fabulous pears are from Gerlinde's birthday party, a gift from Judy and Mark. Gerlinde gathered her friends together to celebrate a momentous date, a marker of time past and times to come. Nostalgia, a longing for the past came rushing and blowing. Straightforward, direct, reminiscent of the afternoon wind in the Salinas Valley. The only escape was to go inside, the place where introverts hide. It was a sensory thing, the winding county road, the sweetness of a summer forest in bloom, the gathering of Gerlinde's long time friends. It arrived, settled in and took me back, I felt summer.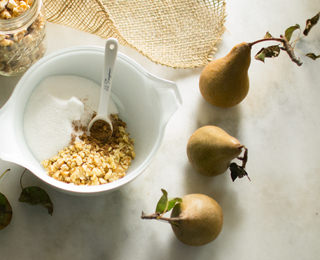 I was overcome with a cascade of summer memories, camping in the heat of Arroyo Seco, s'mores and peach ice cream. Berries so ripe, cobbler was the only option. Freezing in the fog at Moss Landing while hovering around a fire. We wrapped potatoes in foil and buried them in the hot coals. It's hard to say if potatoes ever tasted better than in my memories. Packing a picnic lunch and trekking all the way to Sand Dollar Beach, often we'd only make it to Point Lobos. Maybe we'd picnic near the tide pools in Pacific Grove. These were the good memories of my childhood summers. I let them in, soaking them up like a parched summer garden. The coastal fog bank hovered, waited, high atop a mountain in Corralitos, just as fall waits for summer to loosen its grip, to let go. For now, it's still summer.
Essentials
These pears came to me from a garden in Santa Cruz, a memento from a wonderful summer day. I wanted to make something special to remember. Sweet, but not overly so, and easy, just like summer should be. A muffin filled with freshly harvested pears, with just enough spice to nudge flavors toward thoughts of fall. Muffins are a wonderful way to enjoy baking without all the time and fuss in the kitchen. My mom was a muffin maker, her favorite was bran with a heavy dose of molasses and banana-nut for my dad. This recipe is adapted from the Williams Sonoma Baking Book. I found that the recipe makes 20 standard size muffins, not 14!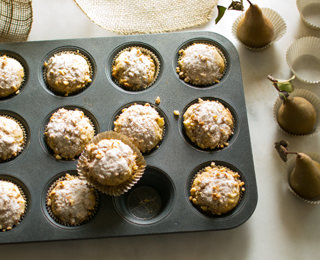 Pears are often ignored, apples seem to get most the attention. Pears have a floral flavor, lighter than apples, quite worthy of a celebration too. I always thought pears were harvested in fall, but in California they begin ripening in August, September is peak pear season. The pears you find on sale at the grocery store this month are newly harvested, this year's crop, perfect for snacking and baking.
A few recipe tips: Muffins can become tough, take care not to over-mix. For a tender crumb, make sure and use buttermilk in the recipe. If you have them, toasted walnuts are best. The nutty flavor is much deeper, stronger after toasting. Crisp pears can be either grated or finely chopped in this muffin recipe. With very ripe, juicy pears chopping is the best. I'm fond of this chai spice mix paired with pears and apples, although cinnamon and nutmeg (of the original recipe) would be fabulous. The sugary walnut topping stays crisp and toasty. Adding a touch of orange zest rounds out the flavor of the Pear Walnut Muffins, they're quite irresistible.
| | |
| --- | --- |
| | Topping |
| 1/2C | very finely chopped walnuts |
| 1/2C | sugar |
| 1/2t | chai spice mix or cinnamon and nutmeg |
| | Pear Walnut Muffins |
| 2 | eggs |
| 1/2C | canola oil |
| 3/4C | low fat buttermilk |
| 1T | vanilla paste or extract |
| 2t | orange zest |
| 1/2C/125 gr | sugar |
| 2C/315 gr | all-purpose flour |
| 2t | chai spice mix or cinnamon and nutmeg |
| 2t | baking powder |
| 1/2t | baking soda |
| 1/2t | fine grain sea salt |
| 2C | finely chopped or grated pears |
| 1C | chopped walnuts |
Heat the oven to 350°. Line with cupcake wrappers, or grease 20 muffin cups.
In a small bowl mix the topping ingredients together.
In a large bowl mix together the eggs, canola oil, buttermilk, vanilla and zest until well blended. Over the top of the bowl sift or shake a sieve, the sugar, flour, spice, baking powder, soda and salt. Gently mix the dry and wet ingredients together. When they are almost mixed, fold in the pears and walnuts. Take care not to over mix, as the muffins will be tough.
With an ice cream scoop (or disher scoop), spoon or small measuring cup fill the muffin containers almost full with batter. Fill any unused muffin cups with ¼ -1/3 cup full of water to keep the pans from warping. Scoop the topping evenly on the tops of the muffins, making sure each one has some of the sugar and walnuts.
Bake the muffins for 20-25 minutes. When done a tester inserted into the muffin (not pears) will come out cleanly and the muffins will have pulled away from the sides of the pan. Let the muffins cool in the pan for 5 minutes and then remove them to a cooling rack to finish cooling.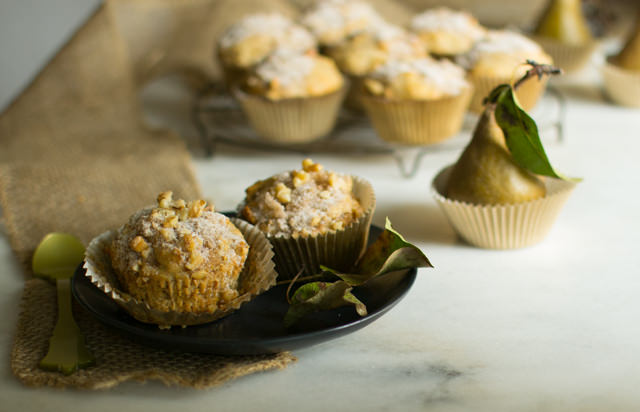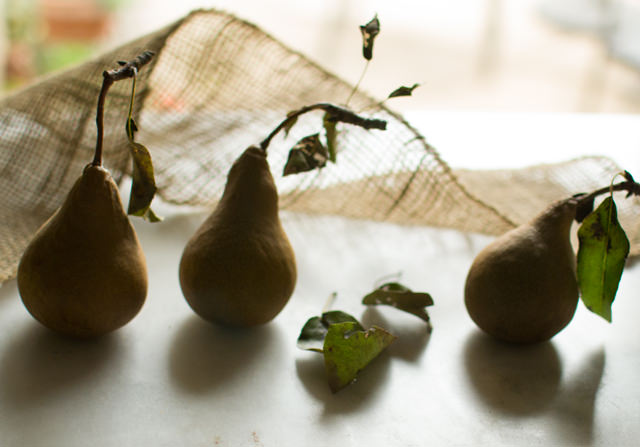 var _gaq = _gaq || []; _gaq.push(['_setAccount', 'UA-44220881-1']); _gaq.push(['_trackPageview']);
(function() { var ga = document.createElement('script'); ga.type = 'text/javascript'; ga.async = true; ga.src = ('https:' == document.location.protocol ? 'https://ssl' : 'http://www') + '.google-analytics.com/ga.js'; var s = document.getElementsByTagName('script')[0]; s.parentNode.insertBefore(ga, s); })();