SHARE:
var _gaq = _gaq || []; _gaq.push(['_setAccount', 'UA-44220881-1']); _gaq.push(['_trackPageview']);
(function() { var ga = document.createElement('script'); ga.type = 'text/javascript'; ga.async = true; ga.src = ('https:' == document.location.protocol ? 'https://ssl' : 'http://www') + '.google-analytics.com/ga.js'; var s = document.getElementsByTagName('script')[0]; s.parentNode.insertBefore(ga, s); })();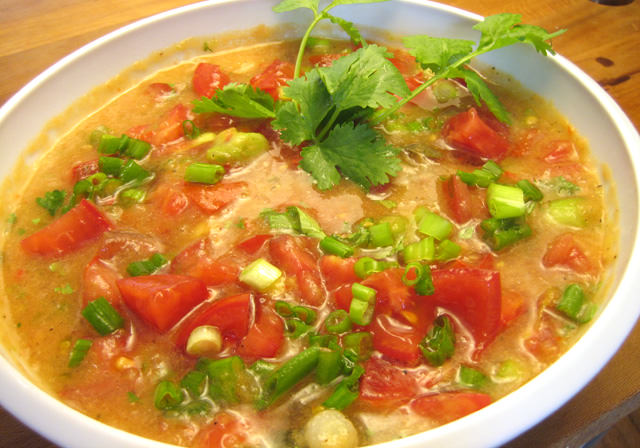 Mary's recipe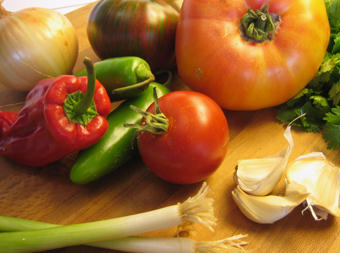 "On Saturday the fourteenth of October the first wild ducks went over Salinas. Faye saw them from her window, a great wedge flying south. When Kate came in before supper, as she always did, Faye told her about it. 'I guess the winter's nearly here,' she said."
East of Eden, John Steinbeck

Inspiration
It was late September; the traditional summer months were gone. Where were the ripe juicy tomatoes I had waited for? Early this spring I planted six tomato plants. With an unusually foggy summer my plants got confused and scraggly. Lots of sprawling growth with just a few of those precious yellow buds. Even the Early Girl and San Francisco Fog resisted the temptation to flower, hiding under the blanket of coastal fog. I was envious of all the beautiful tomatoes I was seeing, especially San Marzanos and Heirlooms. Not wanting to be left out of the summer tomato mania, we went to Mariquita's Hollister farm to pick tomatoes in late September. Hollister, California is only twenty-five miles away and perfect for growing tomatoes; inland from the coast with lots of sunshine and heat. I was waiting for the day. I had planned ahead with boxes, garden clippers, sunscreen and a hat. And yet, I faltered and was fraught with indecision, how many tomatoes did I want? What was I planning to do with them? How many tomatoes do you need for salsa? Will I harvest enough for canning? Do I really want to get involved with canning? These are excellent questions to answer before going to the farm to pick tomatoes. I brought home enough tomatoes for lots of salsa, but only enough to make three half pints of San Marzano tomato paste. Next year I will have a more strategic contingency plan for my coastal tomatoes! After my initial hesitation I purchased more heirlooms locally from The Farm: Early Cascades, Striped Germans, Brandywines, Carbons and Chocolate Stripes. I canned the heirlooms whole, and made sauce with them. The little Early Cascades were slow dried in the oven and are residing in my freezer. But the San Marzano's had slipped through my fingers.
Fresh ripe tomatoes are perfect for salsa and my favorite salsa recipe was shared with me by Mary. She has been my hairdresser and friend for many years. Mary has a large extended family with eleven children, twenty-seven grandchildren and seven great-grandchildren. (On my last appointment I double checked the count with her!) Mary had been a single mom for well over fifteen years when she married again. She had four children from her first marriage, her husband had adopted his sister's four children and three are from his first marriage. Since my family is small compared to Mary's I adore hearing her stories of holiday, birthday, graduation and all the other family celebrations she and her husband host at their home. And most enjoyable of all is enticing her to share her favorite family recipes with me. Mary and I both learned to cook the same way from our mothers; without any written recipes. Since Mary has worked full time while cooking for a large family her unrecorded recipes have evolved to include as many short cuts as possible while retaining all the vibrant fresh flavors she recalls from her childhood. These are the recipes that are of the most interest to me. Because with these recipes, the food will be great!
Essentials
Mary becomes animated when she tells me about a recipe. She moves her hands, as if cooking, recalling ingredients, steps and techniques. If I interrupt with too many questions she loses the rhythm of cooking, only to begin again. Mary had to convince me to try her salsa recipe. She begins the recipe by slightly cooking some of the vegetables, then adding more tomatoes and onions. I always had made salsa from only raw vegetables. I was resistant to change. Finally I realized I was missing a great salsa, after all when had Mary shared a bad recipe with me? This recipe is easy to prepare and the ingredients are flexible to suit the level heat you enjoy. After all this is (was) an unrecorded recipe from California by way of Mexico to share with you. And yes, juicy freshly picked tomatoes are best, yellow heirlooms impart a lovely soft sweet flavor but any ripe tomatoes will make an outstanding salsa!

| | |
| --- | --- |
| | Ingredients |
| 1 | medium onion, peeled and cut in half |
| 2 | large tomatoes (or 3 medium) |
| 1 or more | seeded jalapeno or Serrano peppers (or peppers of your choice) |
| 3 cloves | garlic, peeled |
| 3 | green onions, thinly sliced |
| 1/2 C | cilantro, very rough chop |
| 1/2 t | salt |
| 1/2 t | pepper |
| pinch | dried oregano |
Fill a medium sized sauce pan with 1 inch of water. Core and score the bottom of one of the tomatoes. Place the tomato in the saucepan. Next to the tomato, add the onion halves, cloves of garlic and seeded jalapeno. All the vegetables should be in a single layer touching the bottom on the pan, with water around them. Bring the saucepan of vegetables to a boil, turn the tomato over and reduce the heat to a simmer. As soon as the peel of the tomato breaks open and begins to come away from the flesh of the tomato, turn the heat off and remove the pan from the burner. You will need to watch the pan, it only takes a few moments for the tomato to pull away from its peel.
When cool enough to handle, remove the skin from the tomato and discard. (Mary leaves the skin in the salsa, I prefer to remove it.) Using a slotted spoon place all the vegetables from the saucepan into the bowl of a food processor or blender. Let cool a bit, until the mixture stops steaming. (The cooking liquid can be refrigerated to use later as a spicy stock; great in a pot of beans, soup or pasta sauce.)
While vegetable mixture cools, chop the remaining tomato and place in your salsa bowl. Add the sliced green onions to the bowl.
Whirl cooled vegetables in the food processor or blender, until roughly chopped, but not puréed. Stop processing and add cilantro, salt, pepper, and oregano. Whirl again until cilantro is finely chopped. Add cooled mixture to the salsa bowl, folding the ingredients into each other. Garnish with additional cilantro. Salsa will keep in refrigerator for several days.
FOLLOW:
SHARE: