SHARE:
var _gaq = _gaq || []; _gaq.push(['_setAccount', 'UA-44220881-1']); _gaq.push(['_trackPageview']);
(function() { var ga = document.createElement('script'); ga.type = 'text/javascript'; ga.async = true; ga.src = ('https:' == document.location.protocol ? 'https://ssl' : 'http://www') + '.google-analytics.com/ga.js'; var s = document.getElementsByTagName('script')[0]; s.parentNode.insertBefore(ga, s); })();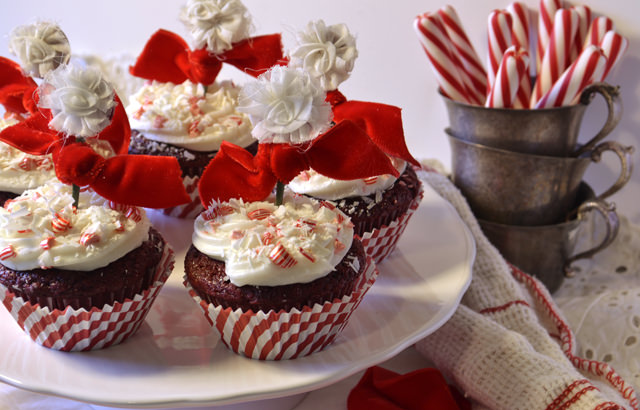 A Whimsical Dessert for the Holidays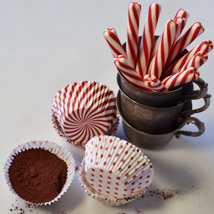 "The winter night blew in with frosty wind, and the street lamps with their sputtering carbons swung restlessly and made shadows dart back and forth like a runner trying to steal second base."
East of Eden, John Steinbeck
Inspiration
Lush red velvet was whispering Christmas to me. I was seduced by bold red and white peppermint stripes and a minty sharpness in the cold nights. Creamy white chocolate curled above the red velvet like wisps of steam from my hot morning coffee. I imagined a snowy Christmas portrayed in my velvet cupcakes.
I wish to attribute holiday mania to my whimsical cupcake toppers. Perhaps I wanted to convey how delicious these cupcake are by sharing my sweet winter DIY roses with you. But dear reader, at some point I must divulge my ribbon obsession. When making Red Velvet Cupcakes I was compelled to include red velvet ribbon. I just could not restrain myself. Add then there is my button collection…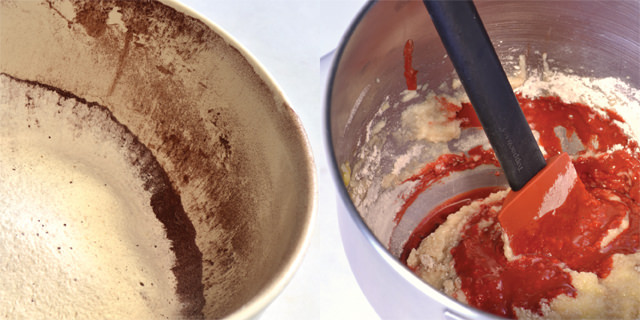 Essentials
Peppermint oil is bold and imparts a fresh minty coolness to the creamy white chocolate frosting. If you are not overly fond of mint, start with half the amount, stop and taste. Then decide if you wish to add the balance of the oil.
Cupcakes adapted from Barefoot Contessa, How Easy is That by Ina Garten. Frosting adapted from The Food Network by Jamie Nondorf.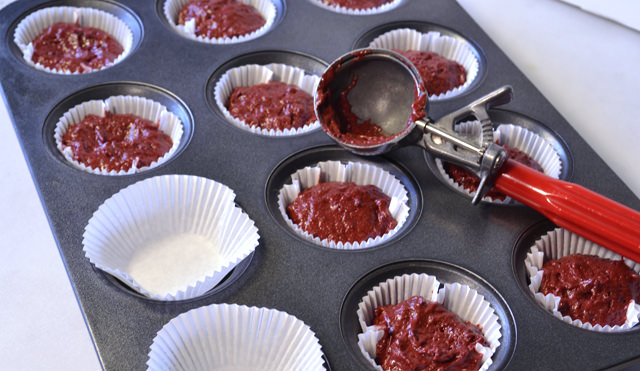 Red Velvet Cupcakes: Makes 18 cupcakes
2 1/2 C
all purpose flour
1/4 C
unsweetened cocoa powder, best quality I used E. Guittard Cocoa Rouge
1 t
baking powder
1 t
baking soda
1 t
kosher salt
1 C
buttermilk
2 T
King Arthur Flour Red Velvet Cake Flavor or 1 T red food coloring + 1 t white vinegar + 1 t pure vanilla extract
1/4
pound unsalted butter, room temperature
1 1/2 C
sugar
2
extra large eggs, room temperature
White Peppermint Chocolate Frosting
4 oz
white chocolate best quality, chopped
1/2 C
unsalted butter, room temperature
3 1/2 C
powdered sugar (if kept in freezer it will be lump free,
otherwise it will need to be sifted)
pinch
kosher salt
1/4 C
sour cream
1/2 t
pure peppermint oil or 1 t pure peppermint extract
To Decorate Frosting
4 oz
white chocolate best quality
1/2 C
Peppermint candies crushed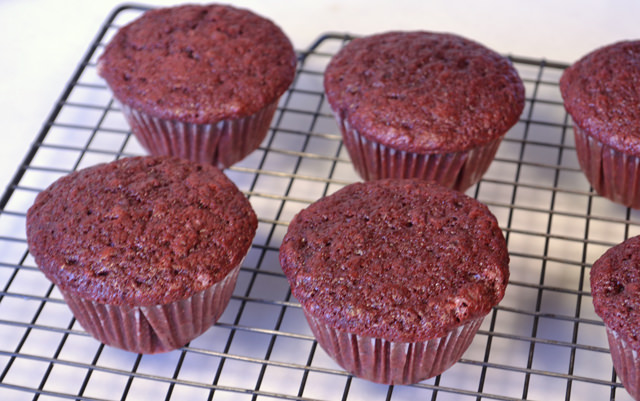 Preheat the oven to 350°. Line muffin tins with cupcake liners.
Dry ingredients: Into a medium size mixing bowl sift or shake through a large sieve flour, cocoa powder, baking powder, baking soda and salt. Set aside.
Wet ingredients: In a medium size bowl or measuring cup thoroughly combine the buttermilk and the Red Velvet Cake Flavor.
Prepare the batter: In an electric mixer fitted with the paddle attachment beat the butter and sugar until light. Add the eggs, one at a time, beating until thoroughly combined. Remove the bowl from the mixer stand. Gently finish mixing the batter by hand. Fold in the dry ingredients alternately with the wet ingredients in three additions. Be sure to scrape down sides and bottom of mixer to combine thoroughly. Do not over mix the batter.
Bake the cupcakes: Scoop the batter into the prepared muffin tins. Fill each cup 2/3 full using an ice cream scoop or large spoon to measure the batter in uniform amounts. Bake for 20 to 25 minutes. Check the cupcakes after 17 minutes. When done, cake tester will come out clean and the cupcakes will be a deep reddish brown. Let cool in the pan for 10 minutes before removing. Cool completely before frosting.
Prepare the white chocolate: In a double boiler or small heat proof bowl set over a pot of simmering water, melt 4 oz of the white chocolate. Stir with a spatula until just melted, remove from heat to cool.
In an electric mixer fitted with the paddle attachment beat the butter until light and fluffy. Reduce the mixer speed to low and slowly add the powdered sugar, mixing thoroughly. Add the peppermint extract, salt and sour cream mixing until very smooth. Add the melted white chocolate until just combined. If the frosting is not firm enough add more powdered sugar.
Frost the cooled cupcakes either by hand or pipe with your favorite design. If you are decorating with the chocolate curls and the crushed peppermint any frosting design will be lost under the garnishes. Garnish with crushed peppermint candies and white chocolate curls. Chocolate curls can be made by warming the chocolate a bit in your hand and using a vegetable peeler to make the curls.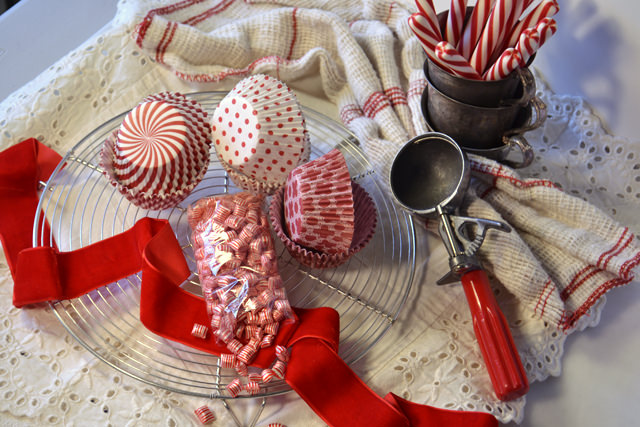 FOLLOW:
SHARE: