SHARE:
var _gaq = _gaq || []; _gaq.push(['_setAccount', 'UA-44220881-1']); _gaq.push(['_trackPageview']);
(function() { var ga = document.createElement('script'); ga.type = 'text/javascript'; ga.async = true; ga.src = ('https:' == document.location.protocol ? 'https://ssl' : 'http://www') + '.google-analytics.com/ga.js'; var s = document.getElementsByTagName('script')[0]; s.parentNode.insertBefore(ga, s); })();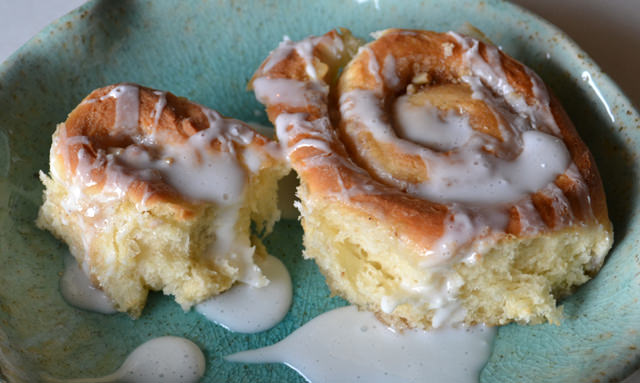 Simply Irresistible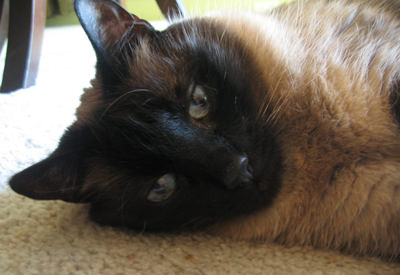 "I thought I heard someone on the stoop. Probably a cat."
East of Eden, John Steinbeck
Inspiration
Warm cinnamon rolls always bring a smile at our house. Best when warm and always decadent, yet comforting. But there is no sweet that can compete with our other warm smile maker Max, our cat. When we adopted him, I hadn't had a cat for over twenty years. Max had been a stray and was at his second post rescue home which wasn't working out for him. He was living with five other cats and was a big bully, standing guard at the food dishes and eating the other cats' food. At the time this boldness seemed highly unlikely. When we met Max he hid under a chair and would not come out. I found him irresistible. When his family drove him to our house; he yowled the entire drive of forty minutes. They were so worried about him they offered to take him back if he wasn't a good fit. As soon as they left, he darted into the fireplace, brushing the screen aside and hid in the ashes with his back to us. When I tried to get him out, he dashed past me with ashes flying everywhere. Max stayed under the bed, in our bedroom, for well over two weeks before he felt safe enough to venture out. Much later, we rejoiced when he stopped slinking about and began to walk with his lovely tail pointed up in the air. When he finally hopped up in our laps we were flattered he liked us. In the beginning, Max would sit on our laps with his back to us and purr. There were signs of abuse. Turning a page in the newspaper or any loud noise startled him and sent him into hiding. Slowly, ever so slowly, he began to trust us. Max has been with us for five years and still does not like to be picked up. He will tolerate it for a very, very short time. He still is easy to startle. Max will always have food issues. He is always hungry. He has many nicknames; Colonel Momo or just Momo are used regularly. But Max has become part of our family. He greets everyone when they come home, bringing a smile at the end of a busy day. Most nights he sleeps on our bed and looks for a warm lap after his breakfast and his dinner. Max may be a bit quirky, but he is perfect just as he is.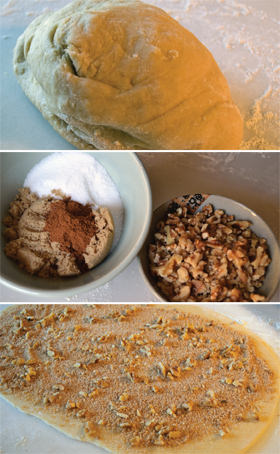 Essentials
This recipe is a family favorite. My hand written recipe card is titled "Gossipy Sweet Dough Buns". Other than the title, the recipe's origins have vanished. A web search revealed a reference to a 4-H cooking book from the 70s which is very likely the same recipe. My mom was making the recipe in the mid 60s and she was a 4-H leader at the time. She would double the recipe and the rolls would not last the day. To reaffirm, I will not eat any other cinnamon rolls. Don't even try to get me to order one from a bakery! When I was growing up we had these Cinnamon Rolls for Christmas and Easter morning. Although we always had gifts from Santa, none were ever as rich or dream fulfilling as these Cinnamon Rolls. With much anticipation, we came home from church and had a holiday feast. Scrambled eggs, sausage or bacon, orange juice and the Cinnamon Rolls! My mother showed me how to make these when I was 11 or 12. I make them now for my family for the same occasions. When our daughter is home for the holidays, she makes sure to request them. She has learned how to make them too. We prepare the Cinnamon Rolls the day before our indulgent breakfast. After assembling the Cinnamon Rolls we keep them overnight in the refrigerator and bake them the next day. In the morning you will need about an hour and a half to get them ready for your feast, but your prep will be already completed!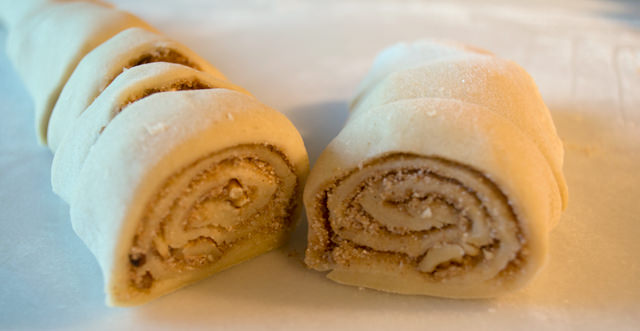 | | |
| --- | --- |
| | Sweet Roll Dough |
| 1 C | whole milk,warmed |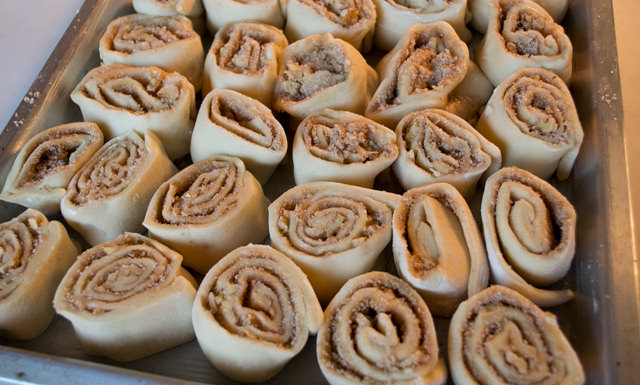 In the bowl of an electric mixer fitted with the whisk attachment add the milk, melted butter, eggs and yeast. Mix well, breaking up the eggs and incorporating them into the milk mixture. Stop to scrape down the sides of the bowl making sure all the yeast is mixed into the liquid. Mix in the sugar. Remove the whisk attachment and the bowl from the stand mixer. Add the flour and salt. Return the bowl to the stand mixer and attach the dough hook. Mix until the dough forms into a ball around the dough hook and all the flour is incorporated. Scrape down the sides and bottom of the of mixer bowl. Continue to knead the dough for 5 minutes on medium speed, until the dough is smooth, shiny and elastic. If the dough remains flat across the bottom of the bowl add flour a tablespoon at a time until the dough forms a ball around the dough hook. The dough should remain slightly sticky to touch, but not dry.
Place the dough in lightly buttered, large bowl, away from any drafts. Cover with a damp towel or plastic wrap. Let rise, until almost double in size, 1 to 1-1/2 hours.
Butter a 9"x12" baking pan with sides, or use two 8" square baking pans with sides. Or line the baking pan with parchment paper for easy removal of the Cinnamon Rolls. Any pan with sides will work. The smaller pan the taller the sweet rolls. Make the Cinnamon Sugar filling by mixing together the sugars and cinnamon.
When the dough has almost doubled in size, turn out on a lightly floured surface, deflate and knead into ball. Cut the ball in half. Set aside one half and roll the other piece into a rectangle, approximately 12" x 8" and 1/3" thick. It is not necessary, but to make uniform sized sweet rolls, make sure the dough is 12" long and 8" wide. Brush the rectangle with melted butter. Spread half the Cinnamon Sugar evenly, across the surface of the dough. Then sprinkle half of the walnuts evenly, on top of the jam covered dough. Starting with the widest side directly in front of you, roll the dough into a 12" log. Turn the log so that the open side of the log is facing downward, on the work surface. From the formed log, cut sweet rolls 1" inch wide. Place rolls, barely touching each other, in the buttered pan. Fit the rolls into the pan like a puzzle, with the largest rolls on the outside edges of the baking pan. If the rolls are of uniform size, they can be placed, 3 across the width of the baking pan, making four rows of sweet rolls, filling a 8" baking pan. Repeat with the second half of dough, filling a second 8" baking pan or a larger 9"x12" pan.
To Make the Cinnamon Rolls a day before baking them: After the rolls are formed and nestled in the baking pan, immediately cover them tightly with plastic wrap. Keep them overnight in the refrigerator. In the morning they will need to rise the second time. The Cinnamon Rolls can either rise at room temperature or they can be nudged along by placing them in a barely warmed oven. I warm my oven to 80°. (The yeast will die at temperatures above 110°.) Once they are almost doubled in size and puffy, bake as directed.
To freeze the Cinnamon Rolls: For best results, freeze the Cinnamon Rolls for no more than a month as some of the yeast has been activated and dies in the freezer, After the rolls are formed and nestled in the baking pan, immediately cover them tightly in two layers of plastic wrap, label and date them. Remove the Cinnamon Rolls from the freezer the day before baking and keep them overnight in the refrigerator to defrost. Once defrosted, the Cinnamon Rolls can either rise at room temperature or they can be nudged along by placing them in a barely warmed oven. I warm my oven to 80°. (The yeast will die at temperatures above 110°.) Once defrosted, and they are almost doubled in size and puffy, bake as directed.
Cover the Cinnamon Rolls with a damp towel or plastic wrap. Let double in size, 30-45 minutes.
While the Cinnamon Rolls proof, heat the oven to 350°. When the rolls are almost doubled in size and puffy bake for 25–30 minutes. The Cinnamon Rolls are ready when they have browned tops and have pulled away from the edges of the pan. A cake tester inserted in the dough, not the cinnamon sugar, will come out cleanly. Baking time will vary, depending on roll and pan size.
In a small bowl mix powdered sugar with half & half and the vanilla extract. Stir until well mixed with no lumps. Icing should be thick, yet drizzle off a spoon. Add more sugar or half & half to obtain desired consistency.
Drizzle icing over barely warn Cinnamon Rolls, making sure to coat the rolls on the outside edge of the pan. Gently remove individual rolls to serve.

This recipe has been updated to reflect changes made to the ingredients and technique, 11/26/16.

FOLLOW:




SHARE: