var _gaq = _gaq || []; _gaq.push(['_setAccount', 'UA-44220881-1']); _gaq.push(['_trackPageview']);
(function() { var ga = document.createElement('script'); ga.type = 'text/javascript'; ga.async = true; ga.src = ('https:' == document.location.protocol ? 'https://ssl' : 'http://www') + '.google-analytics.com/ga.js'; var s = document.getElementsByTagName('script')[0]; s.parentNode.insertBefore(ga, s); })();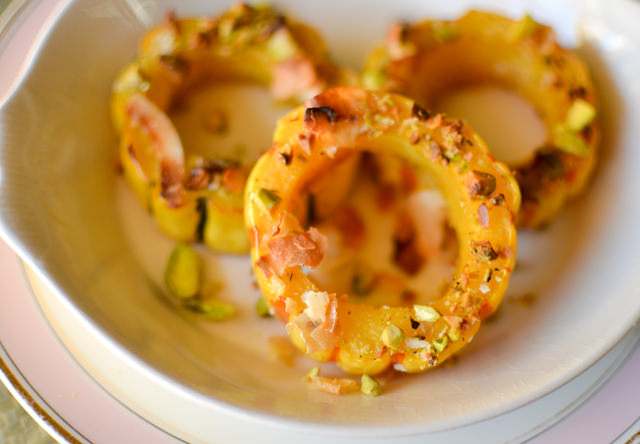 A Trip to the Pumpkin Farm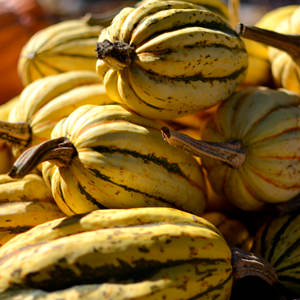 "Off to the sides, around Salinas and Blanco and Castroville and Moss Landing, the marshes are still there. And when one day those mashes are drained off, that will be the richest of all the land in the red world."
East of Eden, John Steinbeck
Inspiration
In the long shadows of early fall I sought refuge. I found ochre and moss mingled with tangerine and fawn. Rust and chartreuse flaunted their charm. A stroke of tawny gold, splashed. Vivid and intense, the last dance of indulgent color before the cavern of winter envelops.
While the berries and stone fruit of summer are capturing our imaginations Tom Borchard quietly goes about tending fifty varieties of pumpkin, thirty varieties of winter squash and thirty varieties of gourds at Borchard Farms located between Salinas and Castroville. That's an astounding one hundred and twenty varieties! Each year he peruses seed catalogs choosing his favorites and any other varieties that spark his curiosity. He is especially fond of thick robust stems on each pumpkin; adding a twist of rustic character while making them easy to transport. I went to purchase a few pumpkins and instead came home with an amazing variety of winter squash and gourds. I'm not sure what happened but I believe I was under the spell of the giant pumpkins all lined up for the annual weigh off.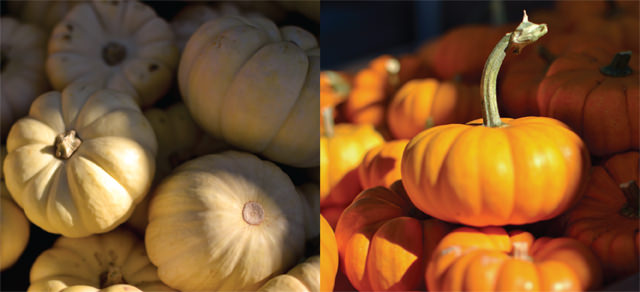 Tom was gracious enough to let me follow him to the field to take photographs while he loaded his truck with pumpkins. Down the road, between fields of strawberries and artichokes and then down a very, very steep hill we arrived at the pumpkin field. So steep, I used the low gear on my four-wheel drive vehicle both going down and coming back up the hill. The pumpkins, squashes and gourds shimmered in the afternoon light. Robust and fat from summers warmth they waited patiently for Tom's arrival and a trip back up the steep hill to the farm.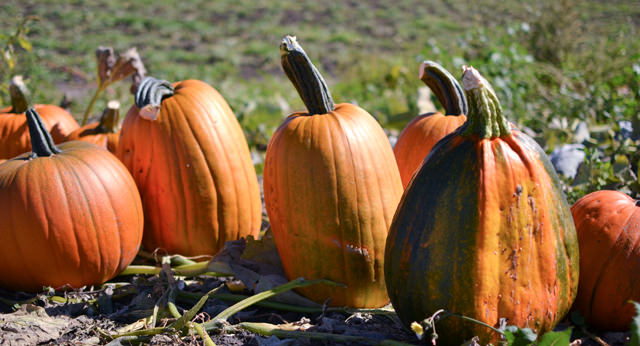 Essentials
This is a easy recipe without lots of steps, ingredients and measuring cups. The recipe measurements are rough estimates, depending on the size and amount of the squash you use. Delicata squash does not need to be peeled; what a treat! The seduction of autumn dances in this recipe. Slices of burnished gold Delicata splashed with the crunch of chartreuse pistachios and a hint of sweet toasty coconut will quickly disappear and you'll wonder why you didn't make them sooner.
| | |
| --- | --- |
| | Ingredients |
| 2 | Delicata squash |
| 2T | coconut oil or olive oil |
| 1/4t | salt |
| 1/8t | pepper |
| 1/4C | unsalted chopped pistachios |
| 1/4C | unsweetened coconut flakes |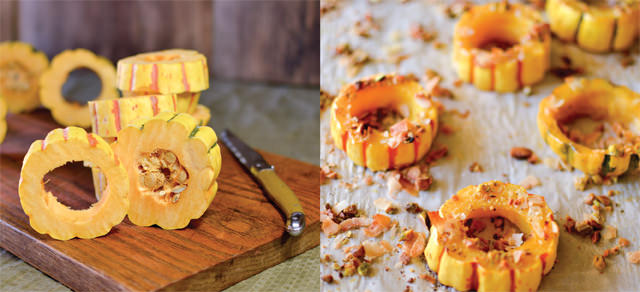 Heat the oven to 425°. Line a large sheet pan with parchment.
Clean the Delicata and dry thoroughly. Carefully slice into 3/4" thick rounds, discarding just the ends on each squash. Using a spoon or melon baller gently scoop out the seeds and pulp from the center of each slice.
Place the squash circles on the prepared sheet pan and brush with coconut oil. Bake for 25-30 minutes until the squash is almost cooked through. When the squash is almost done you will be able to pierce it with a fork, but the thickest center part of the squash will still remain hard. Sprinkle the pistachios and coconut over the rings of squash. Return to the oven to finish baking for 5 more minutes. The squash should be tender and the pistachios and coconut will be toasted.
Scooping up any pistachios and coconut that have fallen onto the parchment, serve the Burnished Delicata Squash Splashed with Coconut and Pistachios while hot. Garnishing with a few more pistachios is a splendid idea.