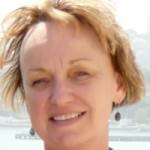 Seasonal delights, favorites we crave, everyday recipes, celebration whimsy, and lots of baking for pleasure.
My name is Deborah Ryan, I began East of Eden Cooking in 2011 to chronicle my cooking and baking adventures. Stitching time in the kitchen to the fabric of photography, food stories and recipe development nourishes my creativity. Learning to cook at an early age gave me the freedom to create without patterns. To cut and piece together meals from the pantry, forage in the garden, gather ingredients locally, to made do with what was.
"He discovered that cooking was something you couldn't learn. You had to feel it."
—East of Eden, John Steinbeck
I have muddied my hands in ceramics—stoneware, porcelain and raku. Taken up needle and thread to make luxurious treats with ribbon, buttons and lace. Returning home to the kitchen I am pulled by memories that are quilted to the seasons in the Salinas Valley. I am at my best when my hands are busy and my mind is buttoned securely to the moment. It is then that the threads of inspiration become real.
Education
My education includes a Bachelor's Degree in Management, Certificate in Baking and Pastry Arts, current ServSafe certification.
Published and Accolades
Holiday Recipe Contest 2013, Rumiano Cheese, First Place
Buttery Monterey Jack Cookies with Pepper and Cocoa Nibs
My Simple Recipe 2013, Finalist, Simple Rice Pudding with Jammy Balsamic Strawberries and Shortbread Crumbles.
National Festival of Breads 2013, Honorable Mention, Whole Grain Category.
Irresistible Wheat Berry Bread
Clean Eating Magazine 2013, I Can't Believe It's Clean Baking Contest, Second Place
Maple Apple Crisp, Recipe published: January/February 2013, Volume 6, Issue 1
Attune Foods, Healthy Holidays Contest 2013, First Place, Pie Category
Light and Easy Cranberry Pie
Anthology Magazine, Spring 2013, Issue 11
var _gaq = _gaq || []; _gaq.push(['_setAccount', 'UA-44220881-1']); _gaq.push(['_trackPageview']);
(function() { var ga = document.createElement('script'); ga.type = 'text/javascript'; ga.async = true; ga.src = ('https:' == document.location.protocol ? 'https://ssl' : 'http://www') + '.google-analytics.com/ga.js'; var s = document.getElementsByTagName('script')[0]; s.parentNode.insertBefore(ga, s); })();