SHARE: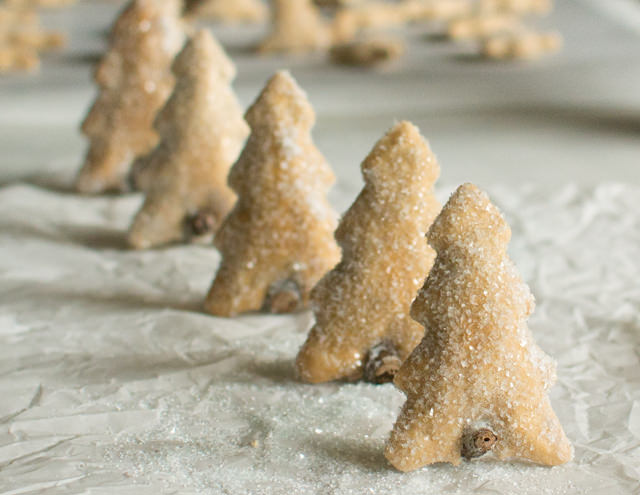 Good Bye, Zeus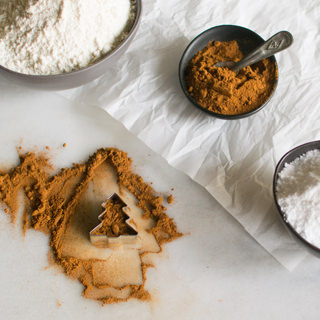 "It's one of life's great fallacies, it seems to me, said Lee, that time gives much of anything but years and sadness to a man. And memory. Yes, memory. Without that, time would be unarmed against us. "
East of Eden, John Steinbeck
Inspiration
We said good bye to Zeus, our 13 year old chow-chow, the day after Thanksgiving. It's been tough. We knew his time with us was coming to an end, but still. I'm a cat person who fell in love with a ten year old rescue dog. That says so much and yet so little. We knew he was old when he became a part of our lives. We adopted him anyway. We accepted him for who he was and he accepted us. We stayed with him every step of his journey. We navigated his challenges as he aged and loved him even more. We miss him.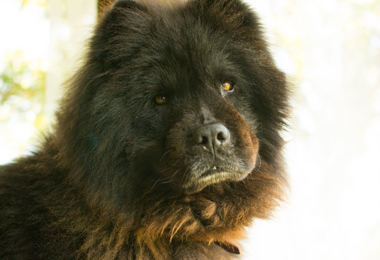 I believe Zeus came into our lives for a reason. He taught us so much. Reminded us of things we knew, important things that get pushed aside. Maybe we're all like that, punching our way though life. It would be nice if a bit of wisdom stuck to us as we flew though our days. In this overly busy life, he taught patience. In the glossy strive for perfection, he taught acceptance. In the temptation to anger and seek revenge he taught kindness. He was Zeus.
Essentials
I haven't felt ready for holiday baking, instead I'm revisiting an old crafting recipe. Please note, this dough is not for eating! It's easy, inexpensive and keeps our hands and minds busy in the kitchen. And is totally calorie free! This is a recipe that's entertained children for generations. My inner child found a bit of holiday spirit working with the salt dough. Kneading and shaping the dough soothed my grief, sprinkling the glitter brought smiles. It's the little things that bring joy during the holidays.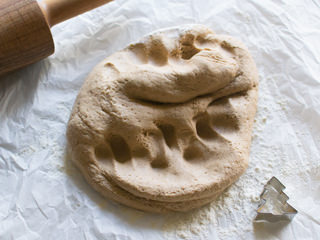 This recipe is infinitely flexible, food coloring will dye the salt dough, coffee or black tea gives the dough a rustic look. For a flecked and textured dough add used coffee grounds or tea leaves. The warming spices of winter, cinnamon, cloves and allspice, also will color and scent the dough. The salt dough can be imprinted with lettering or other shapes. It can be rolled countless times without fail and can be baked until it resembles the deep brown of stoneware. Rolled thinly the edges might pleasingly curl, thicker shapes often puff making the shapes more dimensional. Baking at a lower temperature, for a longer time, will keep the shapes flat.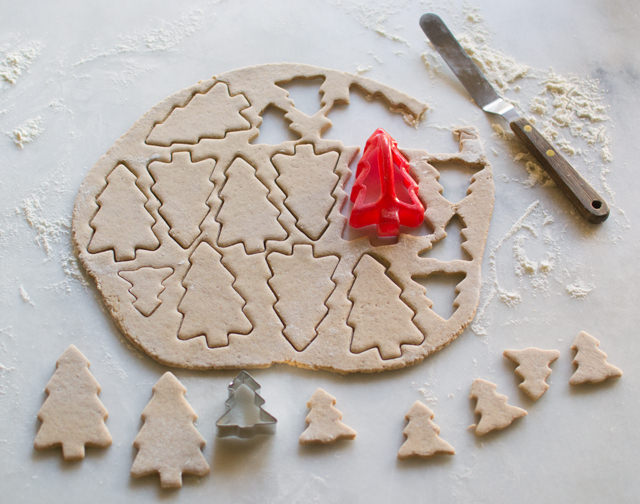 | | |
| --- | --- |
| | Salt Dough Trees |
| 4C | all-purpose flour |
| 1C | table salt |
| 1T | cinnamon |
| 1-3/4C | cold coffee or black tea |
| | Mod Podge |
| | glitter |
| | glue gun |
| | small sticks or tree branches |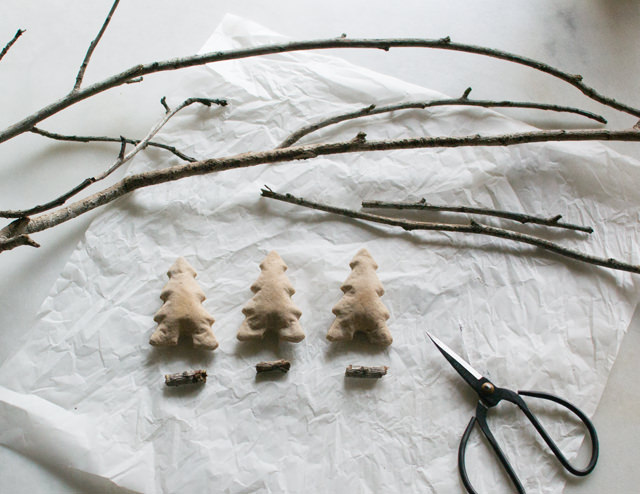 In the bowl of a stand mixer, fitted with the paddle attachment, mix together the flour, salt and cinnamon. Add the cold coffee and mix until the mixture comes together. Mix another two minutes and then turn the dough out on a lightly floured work surface. The dough should be moist but not sticky. Cut the dough into 3 pieces. Wrap the dough you are not working with in plastic wrap. The dough can be kept in plastic wrap for several days without any noticeable change in quality.
Keeping a lightly floured surface and rolling pin, roll the dough 1/8-1/4 inch thick. The dough can be rolled thinner or thicker. With a thinner dough the shapes will have crisper edges that may pleasingly curl. A thicker dough increases the chance of a puffy center. This is my favorite variation, the tree puffs and is more dimensional. Smaller shapes are easier to work with. They don't stretch, curl or crack as much and dry more evenly.
Heat the oven to 350°. Line a sheet pan with parchment. Lightly flour your cookie cutter and cut the dough into tree shapes. Leftover dough can be kneaded together and reused to make more trees. For standing trees, replace the tree stump on the bottom of the tree by cutting out a small half circle in the center of the bottom of the tree. This will make a place to add a tree stand. To make ornaments, garland or gift tags do not cut out the half circle, instead make small hole in the top of the tree with a straw or chop stick. The hole needs to be large enough for the twine or string to pass through. The dough shrinks in the oven as the liquid evaporates during baking.
Without stretching the trees use an off-set spatula to move the them to the prepared cookie sheet. The trees can be placed closely together as the salt dough doesn't spread like cookie dough. Bake for ten minutes and then turn the shapes. This helps the shapes dry evenly and stay flat. Keep checking and turning every ten minutes until the trees have firmed, turn brown, look dry and you can no longer bend them, approximately 30-40 minutes. The dough can be baked for even longer for a dark brown surface that resembles stoneware. Baking time will vary with size and thickness of the trees. Remove and cool completely.
Heat the glue gun. Cut 1/2"-3/4" lengths from the twigs to make the tree stumps. The twigs do not need to be an exact fit but need to nestle inside the cut out shapes so that the trees will stand evenly once the twigs are glued in place. Completely finish gluing one tree before beginning the next one. Place a small amount of hot glue only on the bottom edge of the cut out circle of a tree. Then nestle a piece of branch into the half circle. Hold the twig in place for a few seconds while the glue begins to harden. Place the tree upright to finish drying. Repeat the process for all the trees.
Paint the front surface and side edges of each tree with Mod Podge. Craft glue can be used if it is thinned with water to a consistency that can be easily painted in a thin layer. Sprinkle glitter on the wet surfaces. Dry thoroughly before threading strings or storing. I use a length of parchment underneath the glue and glitter. It makes for easy clean up.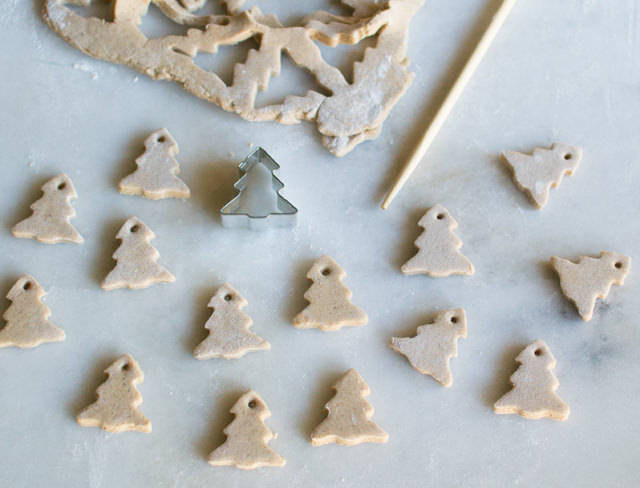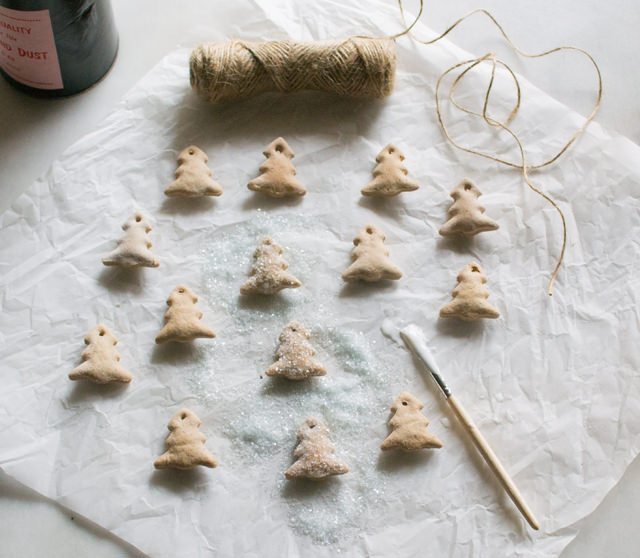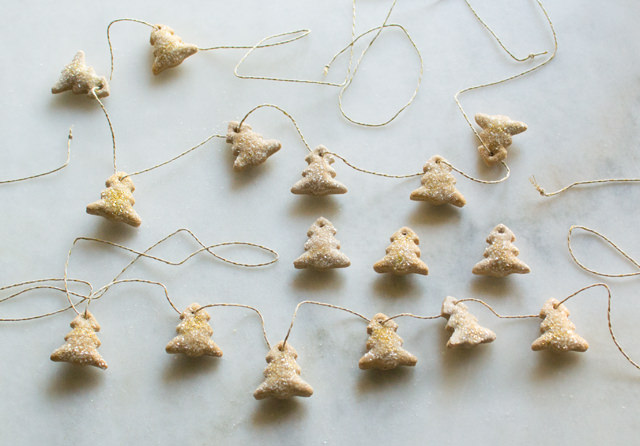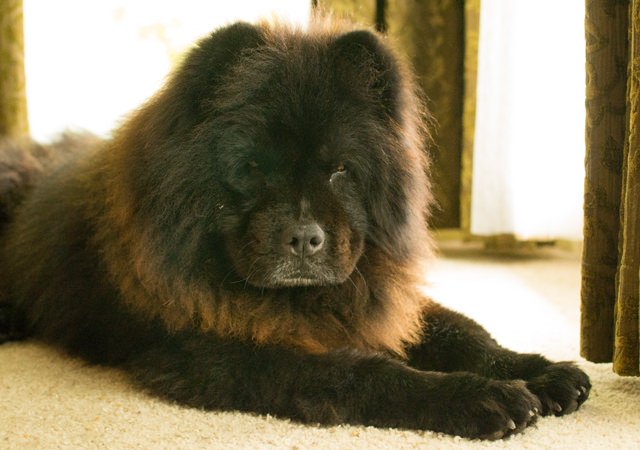 var _gaq = _gaq || []; _gaq.push(['_setAccount', 'UA-44220881-1']); _gaq.push(['_trackPageview']);
(function() { var ga = document.createElement('script'); ga.type = 'text/javascript'; ga.async = true; ga.src = ('https:' == document.location.protocol ? 'https://ssl' : 'http://www') + '.google-analytics.com/ga.js'; var s = document.getElementsByTagName('script')[0]; s.parentNode.insertBefore(ga, s); })();
FOLLOW:
SHARE: