SHARE: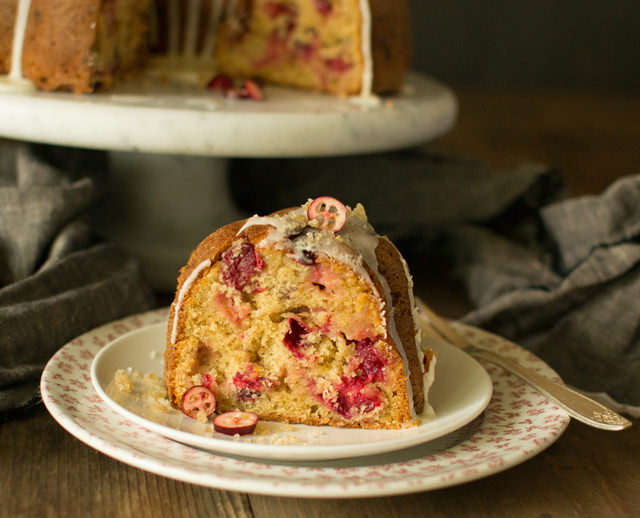 A Cake for Autumn
"But in California it does ordinarily rain at all between the end of May and the first of November."
East of Eden, John Steinbeck
Inspiration
It's raining today and I couldn't be happier. By the time I publish this post it will probably be sunny again. But such a nice big rain the first week in November is a very good thing. California is parched and ready for good news.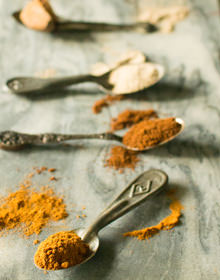 I first made this Bundt cake in the fall of 2011 and have made it at least once every autumn since then. I don't remember how I discovered Amiee's blog but once I made her recipe for the Spiced Cranberry Buttermilk Bundt Cake I was hooked. I adore everything about this recipe. After the ingredients are gathered and the mise en place is ready, the cake comes together in a flash. With cranberries there is no chopping, peeling or coring, yes! A tender crumbed cake gives way to the surprise of tangy cranberries. The Bundt is spiced to evoke autumn in every bite, cinnamon, cardamom, nutmeg and cloves. It's not too sweet, the cranberries make sure of that. Even the burst cranberries do not seem to stick to the pan like fruit often will in a Bundt. A perfect cake for autumn, especially since a Bundt cake recipe makes enough to share.
Essentials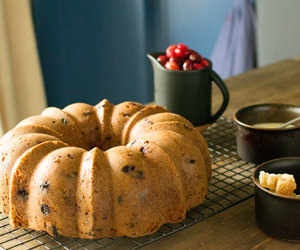 I switched up a few things in the recipe which are not at all necessary, this is a fabulous Bundt cake. I added ginger to the cake batter which pairs so nicely with cranberries, ground, ½ teaspoon and 3 tablespoons candied ginger. I prefer orange juice and zest instead of the tang of lemon with cranberries. Rather than a shiny glaze I kept the powdered sugar thicker and made more of a drizzle with a sprinkle of more candied ginger and tiny little slices of cranberries that peek out of the icing. The recipe doesn't seem to mind my tinkering, it's not at all fussy and so very festive.
A few baking details: 4 cups of fresh cranberries equals a 1 pound bag at the store. Butter and flour the Bundt pan with vigor, making sure no part of the pan is missed. Then put the prepped pan in the freezer while mixing up the cake batter. Following these steps go a long way toward having the baked Bundt slide out of the pan without mishap, even when it is loaded with fruit. Now I'm off to make my annual batch of cranberry sauce.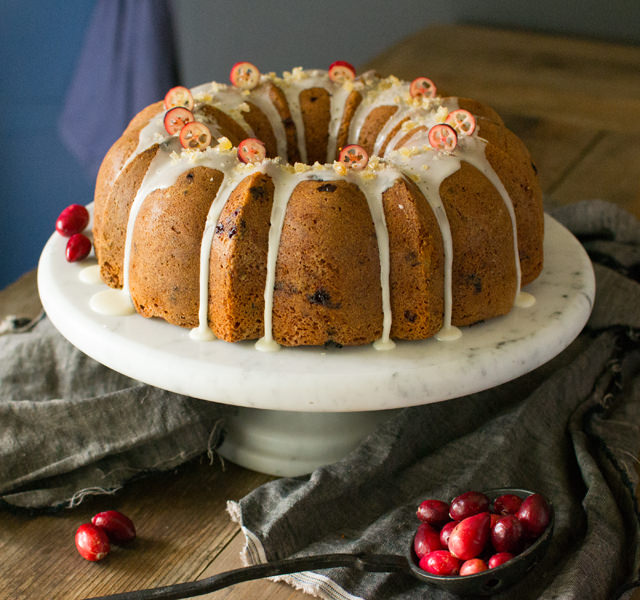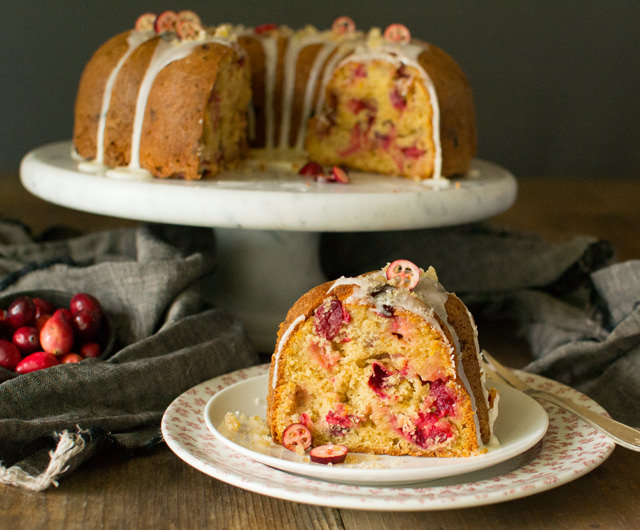 var _gaq = _gaq || []; _gaq.push(['_setAccount', 'UA-44220881-1']); _gaq.push(['_trackPageview']);
(function() { var ga = document.createElement('script'); ga.type = 'text/javascript'; ga.async = true; ga.src = ('https:' == document.location.protocol ? 'https://ssl' : 'http://www') + '.google-analytics.com/ga.js'; var s = document.getElementsByTagName('script')[0]; s.parentNode.insertBefore(ga, s); })();
FOLLOW:
SHARE: