SHARE: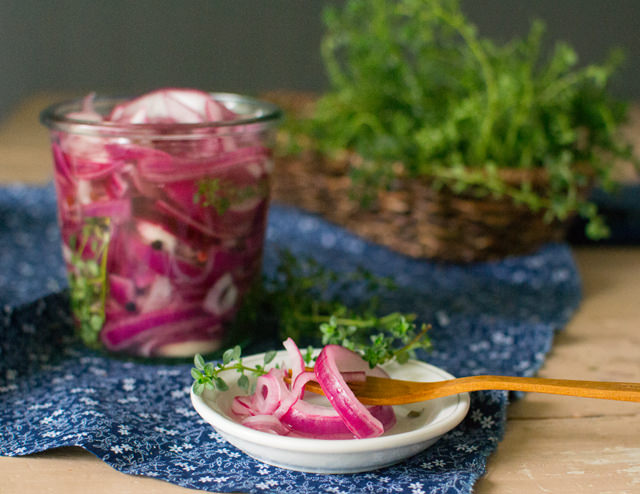 A Savory Opinion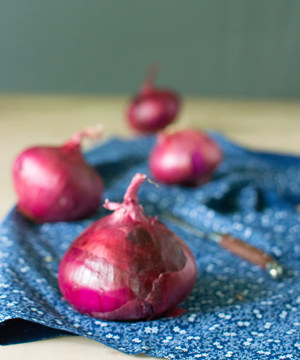 "Because the day had been hot, Lee set a table outside under an oak tree, and as the sun neared the western mountains he padded back and forth from the kitchen, carrying the cold meats, pickles, potato salad, coconut cake, and a peach pie which were supper. In the center of the table he placed a giant stoneware pitcher of milk."
East of Eden, John Steinbeck
Inspiration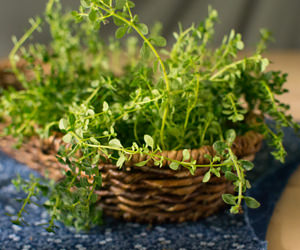 Onions, garlic and shallots are constant companions in the kitchen. My savory cooking would be very dull without assistance from alliums. Pickled Red Onions bring bright, fresh notes without much effort. Making a quick refrigerator pickle yields a huge boost of flavor from combining the savory notes of the onion with the zippy flavors of a pickle. All this amazing flavor without any fat or cooking. And they last for a week in the refrigerator. My favorite way to enjoy the Pickled Red Onions is on sandwiches, burgers, tacos and salads. Anything that needs a spark of flavor will benefit from the Pickled Red Onions.
Essentials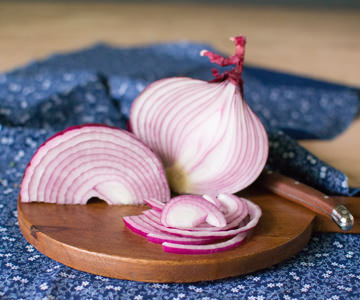 This recipe has infinite possibilities. There are so many variations, even in the way the onion is prepped. Red onions are a favorite, yellow or white can be used. Sweet onions, such as Maui or Vidalia are wonderful. The vinegar can be switched too. Champagne or rice wine vinegars will yield a mellower and sweeter pickled onion. Apple cider vinegar works too. Regular white vinegar is too sharp and best saved for other uses. The sugar and garlic are optional, but advised. Even the peppercorns and herbs can be changed. I used lemon thyme because it is a favorite and what needed pruning in the garden.
| | |
| --- | --- |
| | Ingredients |
| 1 | red onion |
| 1T | fine grain sea salt |
| 1t | sugar |
| 1 clove | garlic, cut in half |
| 1t | whole peppercorns |
| 3 sprigs | fresh thyme or lemon thyme |
| 1C | white wine or champagne vinegar |
Slice the red onion into 1/8-1/4 inch wide rings, and cut rings in half if desired. Place the sliced onion in a large bowl and sprinkle with the salt and sugar. Toss the onion to cover all the slices with the salt and sugar. Let the onions rest for 30 minutes.
When the onions change from crisp to limp pack them in a glass jar with a tight fitting lid. The onions don't need to completely fill the jar. Pour any accumulated liquid from the bowl into the jar too. Nestle the onions tightly into the jar with the garlic, peppercorns and thyme. Pour enough vinegar into the jar to fully cover the onions and refrigerate. The onions can be used as soon as they are made, but will have a mellower and more complex flavor after being in the jar for a few hours. Overnight is even better. The onions will keep in the refrigerator for up to a week.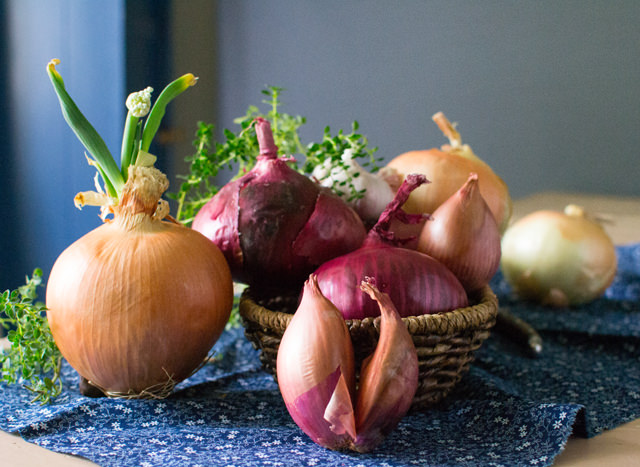 var _gaq = _gaq || []; _gaq.push(['_setAccount', 'UA-44220881-1']); _gaq.push(['_trackPageview']);
(function() { var ga = document.createElement('script'); ga.type = 'text/javascript'; ga.async = true; ga.src = ('https:' == document.location.protocol ? 'https://ssl' : 'http://www') + '.google-analytics.com/ga.js'; var s = document.getElementsByTagName('script')[0]; s.parentNode.insertBefore(ga, s); })();
FOLLOW:
SHARE: