SHARE:
var _gaq = _gaq || []; _gaq.push(['_setAccount', 'UA-44220881-1']); _gaq.push(['_trackPageview']);
(function() { var ga = document.createElement('script'); ga.type = 'text/javascript'; ga.async = true; ga.src = ('https:' == document.location.protocol ? 'https://ssl' : 'http://www') + '.google-analytics.com/ga.js'; var s = document.getElementsByTagName('script')[0]; s.parentNode.insertBefore(ga, s); })();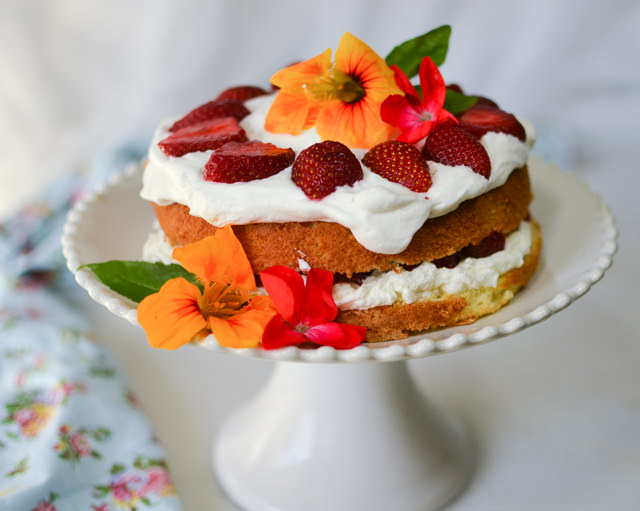 A Secret Garden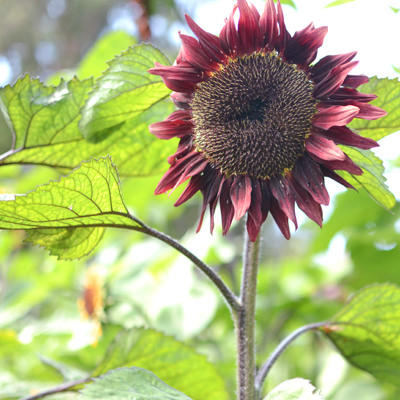 "Our species is the only creative species, and it has only one creative instrument, the individual mind and spirit of man."
East of Eden, John Steinbeck
Inspiration
A whim and curiosity to learn more about growing herbs and edible flowers led me to Jacobs Farm in Pescadero. I had purchased their exceptional organic products at Whole Foods and my local Nob Hill grocery store. When I attended the Monterey Bay Greenhouse Growers open house in June I brought home samples of their edible flowers and made my first batch of tangy infused vinegar. It was on a trip to Gidzich Ranch in Watsonville for olallieberries that I saw Jacobs Farm company sign along a back road and thought about visiting.
Jacobs Farm began in Pescadero in 1980 and has continued to expand it's organic herb and edible flowers to include sixty products with seven growing locations between Watsonville and Pescadero in central California. Marina Pace, Director of Marketing, graciously offered to give me a tour of the original farm. Pescadero is seventy five miles north of my home in Salinas. I drove west and then north hugging the coast. White and frothy as beaten meringue the summer fog billowed in soft peaks my the entire trek up the coast. When I turned off the coast highway to drive east into the tiny town of Pescadero I found sparkling sunshine!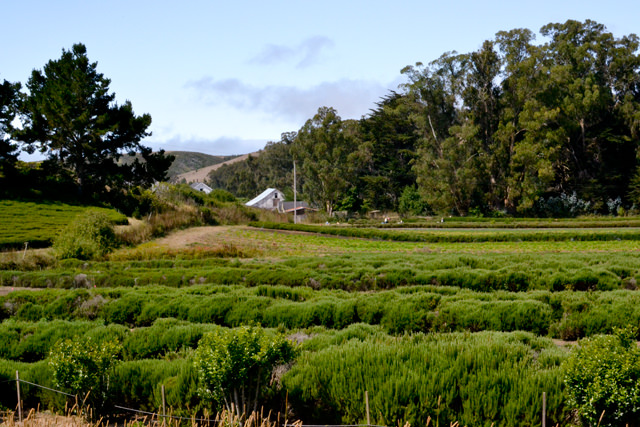 Along a eucalyptus and oak studded country road I drove past an ancient cemetery, rural homes and farms until I reached Jacobs Farm. The gates of Jacobs Farm opened into an enchanted valley. For a fleeting moment I was Mary discovering The Secret Garden as I crossed the bridge into the farm. The iridescent sunshine sparkled on the sunflowers that boldly announced their companions of zinnia, calendula and borage. Nasturtiums wove their graceful tendrils around the limbs of the taller plants. Delicate violas hid their shy faces among the larger plants. Flowering chive garlic stood at attention, remaining unperturbed as the morning progressed. And the hedges of sturdy rosemary stood guard, keeping an ever present watch on their flowering friends. Time stilled. I stopped and breathed in the heady warm scents of the garden and recalled a child who once daydreamed of a magical secret place.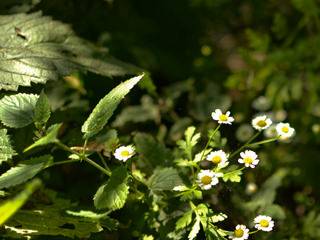 "And the secret garden bloomed and bloomed and every morning revealed new miracles." The Secret Garden, Frances Hodgson Burnett
The farm is nestled between soft rolling hills; framed on one side by a creek and it's natural riparian zone. Rows of lush herbs and voluptuous flowers are the landscape of the hilly farm. Rosemary, spearmint, peppermint, borage, lemon balm, lemon verbena, bay, sorrel, chamomile and more are intermixed with an array of edible flowers. Rows of potatoes and carrots were being grown to share with the employees of the farm. A small crew was harvesting rosemary on the day of my visit. The piney scent lingered in the warmth. I could have stayed all afternoon.
Essentials
Beguiling edible flowers, lemon verbena and lemon balm came home with me. I stopped at Harley Farms Goat Dairy and purchased velvety goat cheese and crumbly fresh ricotta. Further south, I couldn't resist stopping at Swanton Berry Farm for crimson hued organic strawberries. I have never seen such ruby red berries. Returning home my car was perfumed with sugary strawberry goodness and pungent lemon scented herbs. All the gifts of serendipity.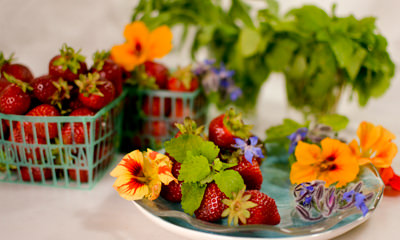 Gatherings my ingredients and new to me cookbooks I stumbled upon Warren Brown's "Cassata Cake" in United Cakes of America. Reminiscent of wisps of coastal fog a billowy meringue is folded into the sunny yellow sponge cake batter. A custard filling with fresh ricotta, a hint of citrus and ruby red berries was a whimsical tribute to my coastal trip. It was meant to be. A sophisticated and not too sweet cake, worthy of a late summer celebration. The Cassata Cake recipe can be found here; the changes I made to the recipe are below.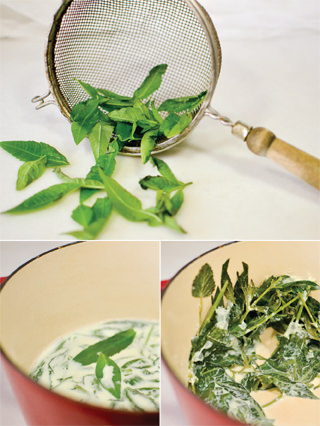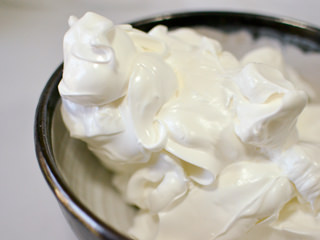 Cassata Cake recipe adaptation
Instead of citrus oil I used freshly picked lemon verbena. The sweet refreshing lemon verbena imparts a mild citrus flavor to the cake and filling. I was very pleased with my ingredient substitution. Combine 2 cups of milk with 2 cups of loosely packed lemon verbena leaves and stems in a saucepan. Gently bring the milk to a boil, simmer five minutes. Steep for thirty minutes and then drain. Cool before using. This yielded enough milk for both the cake and the custard filling.
I also made two cakes, rather than one large one. Instead of three 9" cake pans, I used two 8" pans and one 5" pan. I cut all the layers half and filled them with the ricotta filling and sliced ruby berries. I am glad I made two smaller cakes instead of one large one. My mom was overjoyed when my daughter and I shared the small cake with her.
In the original recipe sweetened whipped cream is piped on the top and sides of the cake for a formal presentation. I filled each layer with the lemon verbena and ricotta filling and then buried juicy crimson berries in the creamy filling. I couldn't bring myself to frost any more than the top of the cakes with the whipped cream. A rustic cake was more fitting for a day along the coast and to decorate with edible flowers. Serving the cake with more sliced strawberries could only be a good thing.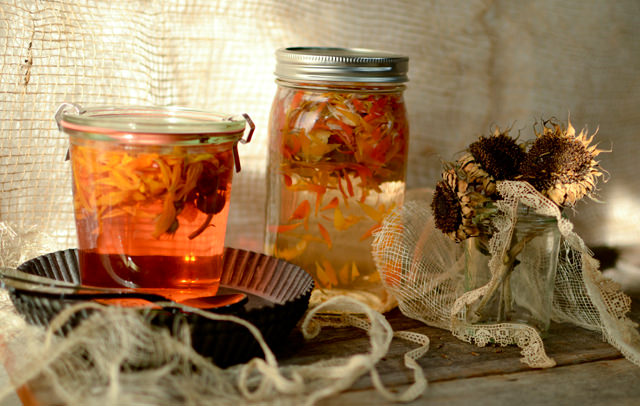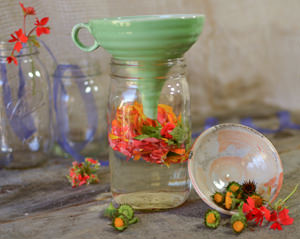 With the remaining herbs and flowers I made infused or flavored vinegar. The first time I infused the vinegar I used plain distilled vinegar. I found the distilled vinegar was so intensely astringent the flavor of the flowers and herbs was overwhelmed. This time I used white wine vinegar. I kept filling jars until the entire gallon of vinegar was used which found me foraging in my yard for roses, lavender, geraniums, fuchsias, thyme and sage. And just because I could, I added dried lavender buds to one jar. I really wanted to have purple vinegar in my pantry. Once the vinegar steeps, the plant matter is discarded, leaving infused or flavored vinegar. I am excited to have infused vinegars to use through the winter months to add a boost of flavor and color to my salads and cooking. This is such a gratifying project. It doesn't take much time, is fun, is not expensive and the outcome is sure to be excellent. A gentle reminder to use organic herbs and edible flowers which are free of pesticides and herbicides.
Clean the herbs and flowers. A salad spinner is helpful. If you wish, gently remove and use just the petals of the flowers, discarding the stems and centers of the flowers. Do not use any damaged or decaying pieces of plant matter.
Sterlize the jars in boiling water. Scald the lids with boiling water.
Lighty fill the sterilized jars with flowers and herbs one-third to one-half full. Do not pack the jars, the vinegar must easily cover all the plant material.
Fill the jars with vinegar.
Let the vinegar filled jars steep in a cool shaded place for at least ten days.
Using a cheesecloth lined strainer, strain out the plant material and discard.
Store the strained, infused vinegar in clean, sterilized jars.
The infused vinegar will keep for three months if stored in a cool dark place. Stored in the refrigerator it will last six months or more. At any sign of mold or other signs of decay discard as with any other food product that has spoiled.
This is not a sponsored post. The opinions are my own. I was given some wonderful herbs and edibile flowers to share with you.
FOLLOW:
SHARE: