SHARE:
var _gaq = _gaq || []; _gaq.push(['_setAccount', 'UA-44220881-1']); _gaq.push(['_trackPageview']);
(function() { var ga = document.createElement('script'); ga.type = 'text/javascript'; ga.async = true; ga.src = ('https:' == document.location.protocol ? 'https://ssl' : 'http://www') + '.google-analytics.com/ga.js'; var s = document.getElementsByTagName('script')[0]; s.parentNode.insertBefore(ga, s); })();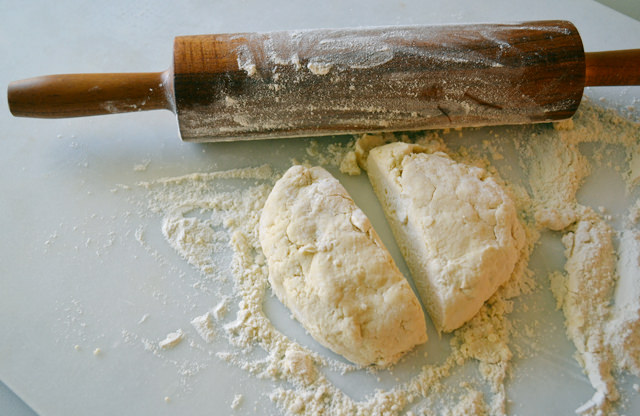 A Trip to the Orchard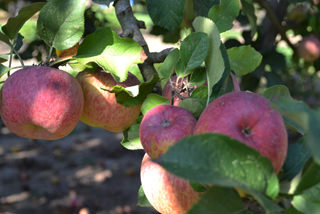 "Look, Samuel, I mean to make a garden of my land. Remember my name is Adam. So far I've no Eden, let alone been driven out." It's the best reason I ever heard for making a garden, " Samuel exclaimed. He chuckled. "Where will the orchard be?" Adam said, "I won't plant apples. That would be looking for accidents." "What does Eve say to that? She has a say, remember. And Eves delight in apples."
East of Eden, John Steinbeck

Inspiration
Autumn arrived. We felt it ease into our days. The bright late afternoon sun gave way to crisp nights and mornings. By the first week in November, the Indian summer was gone. A longing for apples, pumpkins, pears, and all manner of things warm and comforting replaced our sandals and juicy ripe tomatoes. Hazy thoughts of apple pie came into focus. Childhood memories of trips to the orchards of Pajaro Valley mingled with the remembered scent of ripe apples and the warmth of cinnamon. As a young child a bushel of apples seemed daunting to me. I knew I would be standing on a stool and peeling, until the box was empty!
But my task was always rewarded with my Mom's irresistible apple pie or when she was pressed for time, an indulgent apple crisp.
A trip to Gizdich Ranch during apple harvest was a welcome to autumn and share with Athena a fellow blogger and photographer. When we arrived, the early morning fog was retreating into a bright sunny morning. After spending time in the orchard we had a slice of warm apple pie and a very difficult time deciding what type of apples to bring home for our own cooking adventures. I choose Newtown Pippins and Pinovas to make traditional apple pie. Then I made apple butter and made these hand pies!
Essentials
I just discovered hand pies. I had a great time making them. I used my favorite pie crust recipe. Your favorite crust will certainly adapt to this recipe. Once you have the crust and your favorite apple butter, these go together very quickly. Using apple butter as a filling ensures you have a concentrated burst of apple flavor in each bite and makes the folding and shaping of the hand pies very easy. I highly recommend adding the ginger. Just a bit really complements the apple butter.
Inspired and adapted from Pies and Tarts by Martha Stewart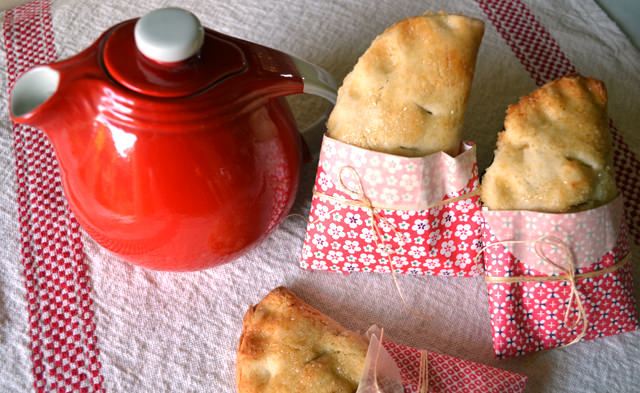 | | |
| --- | --- |
| | Crust |
| 2 1/2 C | all purpose flour, more for rolling out the dough |
| 1 t | salt |
| 1/2 C | cold butter |
| 1/2 C | cold vegetable shortening |
| 1/2 C | ice water |
| | Filling |
| 1 C | apple butter, homemade is best |
| 2 T | candied ginger, optional |
| | To finish |
| 2 T | ginger syrup, or milk |
| 2 T | sugar |
Prepare the crust dough: I use my food processor. Whirl flour and salt in the food processor with blade attachment to mix. Cut cold butter and shortening into cubes. Add the butter to food processor. Pulse until butter is the size of large peas. Do not over mix. Add the shortening and pulse a few more times until the size of large peas. In increments add enough cold water through feed tube until the dough starts to come together. Do not over mix. Pour dough out on floured work surface. With as little handling as possible bring dough together into a ball. Wrap in plastic wrap. Place the dough in the refrigerator to chill for 1 hour, prior to rolling out.
Preheat oven to 375°. Line a large sheet pan with parchment.
Prepare hand pies: With a floured rolling pin, on a floured work surface roll out the pie crust dough in a large circle. As needed, add small amount of flour to the surface when rolling out the dough. Roll out dough until it is approximately 1/8″ thick. Cut the dough into 4 1/2″ circles. Gather the scraps together and roll out again to make more hand pies. I used the rim of a bowl as my template. In the middle, front half of each circle of dough place 2 T of apple butter. Spread the apple butter a bit, but leave a 1/2″ edge for sealing. Sprinkle each pie with a bit of candied ginger. Moisten the edge of each pie with cold water. (I found my fingertips were more accurate than a pastry brush) Fold the unfilled edge of the pie over the filled side. Push only the moistened outer edges together, and seal with your fingers. I used cookie cutters to cut shapes from the dough scraps to decorate my hand pies; totally optional. The backs of the decorative elements are brushed with water and gently pressed onto the hand pies. Lightly brush the tops with ginger syrup and a sprinkle of sugar.
Bake: For 15-20 minutes. The hand pies will puff a bit and be a light golden brown on the edges when done.
To plate: Cool the hand pie for a thirty minutes prior to eating. The apple butter is hot!
FOLLOW:
SHARE: