SHARE:
var _gaq = _gaq || []; _gaq.push(['_setAccount', 'UA-44220881-1']); _gaq.push(['_trackPageview']);
(function() { var ga = document.createElement('script'); ga.type = 'text/javascript'; ga.async = true; ga.src = ('https:' == document.location.protocol ? 'https://ssl' : 'http://www') + '.google-analytics.com/ga.js'; var s = document.getElementsByTagName('script')[0]; s.parentNode.insertBefore(ga, s); })();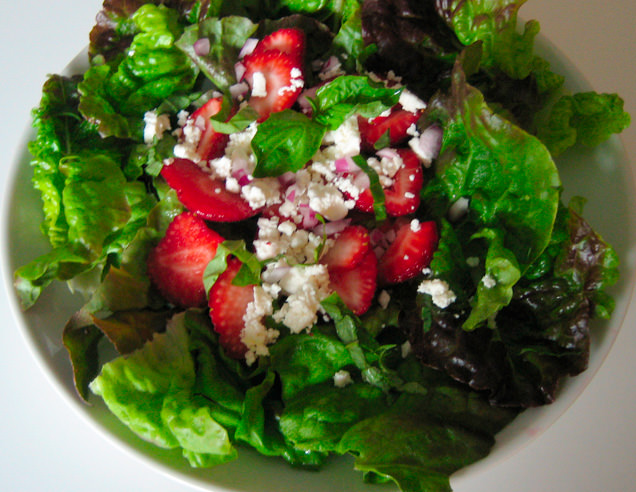 Serves 4–6
"There was always some little delicacy, very special and good—foie gras or a tossed salad, pastry bought at Lang's Bakery, just across Main Street."
East of Eden, John Steinbeck
About
The Salinas Valley is just inland from Monterey Bay. The mouth of the Valley begins at the Pacific Ocean in Moss Landing. From this ocean portal, the fog pushes up the valley and settles into the cradle of Salinas located on the valley floor. A cooling moist blanket of fog envelopes our early summer. The traditional summer months of June and July are more foggy than sunny. Perfect for growing lettuce and strawberries. Our summer is late, beginning in August. September is our most consistent summer month. By the first week in November, it becomes cooler and we know fall has arrived.
A Simple Salad
This is a simple salad, celebrating the flavor of the lettuce and berries of the early summer in the Salinas Valley. I used organic lettuce and strawberries freshly harvested from our local farm stand, The Farm. They were grown nearby, right outside the city limits of Salinas. The berries were sweet and bright red; the lettuce still lush and moist from today's harvest. This is peak harvest time in the Salinas Valley and time to savor our early summer with a simple salad.
| | |
| --- | --- |
| | Salad |
| 1 head | red leaf lettuce |
| 1 basket | fresh strawberries |
| 4–6 T | feta or goat cheese, crumbled |
| 4–6 t | very thinly sliced red onion |
| 8–12 | fresh basil leaves |
| | Dressing |
| 6 T | olive oil |
| 2 T | balsamic vinegar |
| 2 T | seedless strawberry jam, or rasberry jam, or honey, or maple syrup |
| | salt and pepper to taste |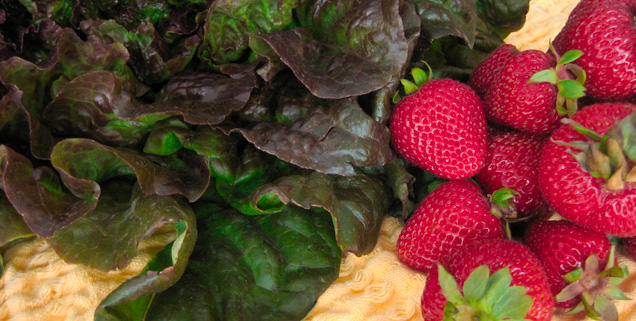 Prepare produce: Gently wash, and dry the lettuce. I use a salad spinner. Tear into large bite size pieces and arrange on 4-6 individual serving plates. Rinse, core, and slice strawberries. Distributing evenly, scatter berries on top of lettuce on each plate. Leave a random border of lettuce showing around the edge of the plates.
Garnish: Sprinkle the top of the berries of each salad with 1T crumbled cheese, then a scant sprinkling of 1t very thinly sliced or chopped red onion. Finish the salad with a light sprinkle of finely chopped basil and a garnish of a whole basil leaf.
Dressing: Wisk together until thoroughly mixed olive oil, balsamic vinegar, jam and salt and pepper to taste.
To serve: Drizzle dressing over the salads just prior to serving.
The salad can be made ahead and kept in the refrigerator for several hours. But add the dressing just prior to serving. Adding grilled chicken transforms the salad into a meal.
FOLLOW:
SHARE: