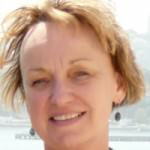 Seasonal delights, favorites we crave, everyday recipes, celebration specials, and lots of baking for pleasure. And I must divulge, there is Max, our rescued cat. We find him perfect, quirks and all.
I am Deborah Ryan. I enjoy cooking and I delight in the creative process—being in the moment, focused on my creation. I experience joy in the process, thrill in my accomplishment, and love in sharing. This path leads me to the intermingling of cooking with crafting.
"He discovered that cooking was something you couldn't learn. You had to feel it."
—East of Eden, John Steinbeck
I got excited about cooking again when I realized I now had time to cook and plan and shop. I had time to try new recipes and perfect my ideas. While I was working full time I had missed out on cooking trends and fashions. New cookbooks, The Food Network, blogging, cupcakes, the locavore movement had been in my peripheral vision. Shoved aside for the daily routine and catching up on the weekend. I missed the process; I was always in a hurry. I missed the delight of a new recipe, a new ingredient, serving a surprise, an old forgotten favorite. Was it good? Shall I make it again? What needs tweaking? I want distinctive fresh flavor and preparation worth the results. This is what I have to share with you. I've tested all the recipes I am sharing: mine and my favorites. I want to eat well! Everyday! Preparing food is a gift to share to delight and sustain.
var _gaq = _gaq || []; _gaq.push(['_setAccount', 'UA-44220881-1']); _gaq.push(['_trackPageview']);
(function() { var ga = document.createElement('script'); ga.type = 'text/javascript'; ga.async = true; ga.src = ('https:' == document.location.protocol ? 'https://ssl' : 'http://www') + '.google-analytics.com/ga.js'; var s = document.getElementsByTagName('script')[0]; s.parentNode.insertBefore(ga, s); })();