Foraging—The Serendipity of the Find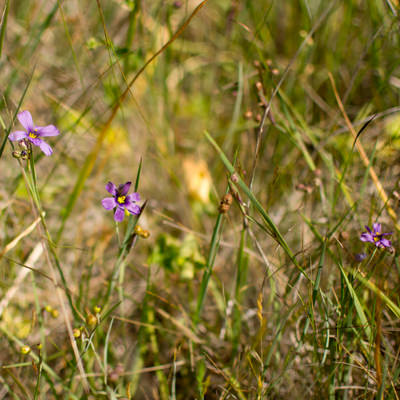 "Kate could make pretty floral arrangements using only the blossoms from weeds she picked in fields."
East of Eden, John Steinbeck
Inspiration
Last weekend we went to Elkhorn Slough Reserve for a foraging walk. Under the guidance of Bree Candiloro, a stewardship specialist at the reserve and Dr. Keith Rayburn, a physician who has studied natural medicines we identified thirty-five plants that were used by the Ohlone Indian tribe. Many of the plants served multiple purposes: food, medicinal and utilitarian. Our curated walk took us to areas normally off limits to visitors, from bright sun dappled open spaces, a field lush with natives grasses and then under a canopy of native California oaks we found the vibrant green growth of a forest. We located the ultra hip stinging nettle and after the walk tasted stinging nettle pesto. I was able to bring home some nettles and used them in Lasagna with Stinging Nettle, Asparagus and Peas. Once the nettles are cooked they lose their potent sting and have a mellow grassy, herbaceous taste. It's really quite amazing to find that so many plants native to California have uses that were discovered centuries ago by the Ohlone Indian tribe.
Foraging for food as a concept is fascinating. I've bartered or traded for food on occasion; but usually I spend money to obtain food. The more I've learned about foraging the more I wondered–where can you forage? In the United States all land is either owned by a governmental entity or owned privately. I have read articles about foraging ethically and about outlawing foraging. If I were a land owner or concerned about preserving a park, reserve or other open space I can understand the opinion that foragers are trespassing and stealing. It's easier and faster to go to the farmers market for stinging nettles, ramps and unique mushrooms than finding a spot to forage but certainly not as much fun.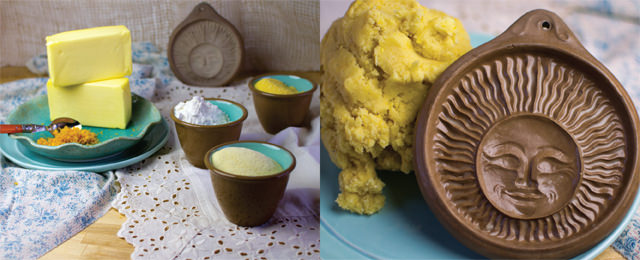 Essentials
Foraging speaks to the desire of being thrifty and using what is readily available, in season. The serendipity of the find is exciting. And in some ways we all forage or search for treasures: the unblemished fruit at the grocery store, the freshest bread at the bakery, the best Chocolate Chip Cookie recipe, the least expensive fuel for our cars, the magazine without crumpled pages. One of my favorite foraging adventures is a trip to the thrift store. I might find a cookbook or more kitchen gear or I might come home empty handed. A few weeks ago I found a stoneware cookie mold in the image of the sun. I was going to tuck it away with my cookie cutters but with so much sunshine instead of our usual fog I thought it fitting to give it a try. A Google search revealed the the sun mold was once a part of a four piece collection and is no longer being made. I couldn't believe my luck but wished I had the complete set of four molds. One cookie takes twenty-five minutes to bake and ten minutes to cool before unmolding. I reused the mold while it was still warm otherwise I would have been baking into the night!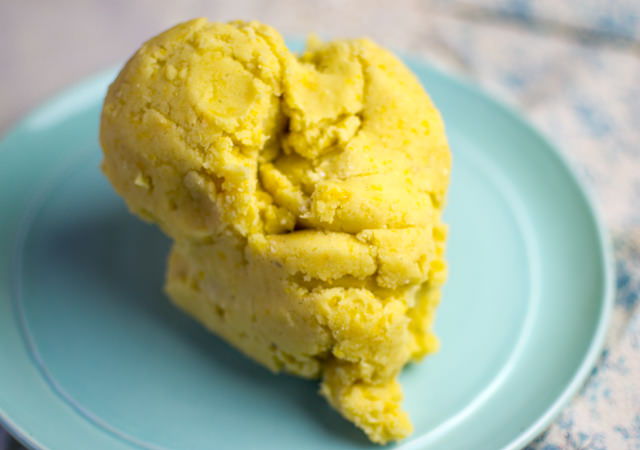 A crisp, buttery shortbread cookie with tiny bursts of crunch from cornmeal is reminiscent of a sunny spring day. I adapted a recipe from Martha Stewart for my Citrus Shortbread with Cornmeal cookies. I wanted a naturally yellow shortbread cookie dough to fill my sun mold. The pale yellow semolina flour can be replaced with regular flour as in the original Martha Stewart recipe. Use finely milled cornmeal or your shortbread will have a grainy texture. I also used a sunny yellow Irish butter in the recipe. Shortbread is all about the butter; use the best quality you can.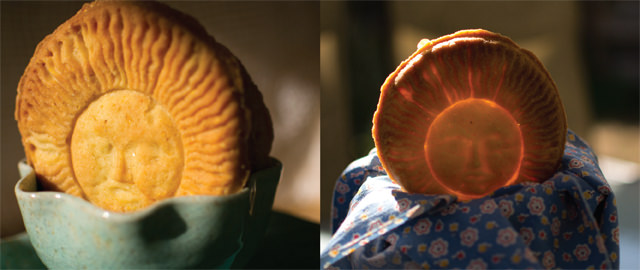 | | |
| --- | --- |
| | Ingredients |
| 1C | unsalted butter, room temperature |
| 2/3C | powdered sugar |
| 2t | vanilla paste OR vanilla extract |
| 2t | lemon zest |
| 11/2C | all purpose flour |
| 1/2C | semolina flour |
| 1/4C | finely ground cornmeal |
| 1t | salt |
Preheat oven to 350°. Line a sheet pan with parchment, set aside.
In the bowl of a stand mixer mix fitted with the paddle attachment mix the butter and powdered sugar until light and creamy, approximately 2-3 minutes. Add the vanilla and zest, mixing to combine. Add the flours, cornmeal and salt and mix throughly, stopping to scrape down bottom and side of the bowl.
If using a cookie mold fill 3/4 full of dough, spreading evenly across the entire mold. The shortbread must be throughly cooked in the middle for the cookie to release from the mold. The sun mold I used took 25 minutes. The shortbread will be a toasty brown around the edges of the mold. Let the mold cool for 10 minutes then turn over and tap the edge of the mold against the table or counter to release the cookie. Cool throughly on a wire rack.
Alternately, roll the dough into two logs and then wrap in plastic or wax paper and chill throughly. Cut the chilled logs into 1/3" thick cookies and place on the prepared cookie sheet. Bake cookies 18-20 minutes. When done the cookies will have lightly browned edges and the middle will be set. Cool on tray for 3-5 minutes, then remove cookies to wire rack to finish cooling.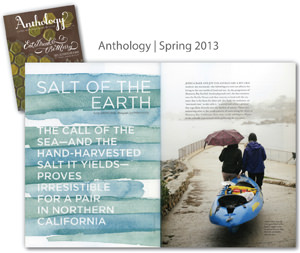 I am excited to share that an article I authored is published in the Spring issue of Anthology magazine. Salt of the Earth is the story of Joy Colangelo and Jessica Baer who gather salt water from Monterey Bay for their product, Monterey Bay Sea Salt. Athena's lyrical photographs meld with my story to tell the tale of the mermaids of Monterey Bay. I hope you enjoy the article!