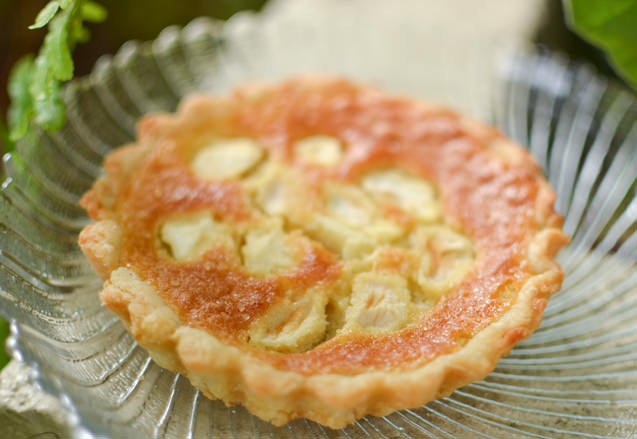 Little Lady Apples
"And people found happiness in the future according to their present lack."
East of Eden, John Steinbeck
Inspiration
Balance and moderation, always the mantra for a life well lived. Each New Year we tip the scales to and fro, searching for the elusive equilibrium. We make resolutions and establish new habits but sometimes life reminds you how precarious that balance can be.
Caught in the vortex of holiday mania we were out shopping for a new washing machine when I found Little Lady apples at a fruit stand in San Jose. I had never seen them before and vacillated on their purchase. I had no idea what to make with them but they were so darn adorable I bought a pound. Shopping for a major home appliance during the holidays is daunting. Walking past the newest computers, cameras and televisions you head over to the home appliance section and wistfully gaze at the shiny new stoves on the way to the laundry area. Searching for something needed instead of wanted certainly moderates the season of excess. And then I got sick, days on end sick. And then our almost ancient plumbing gave up two days in a row. The Little Lady apples waited patiently while the entire household teetered off balance.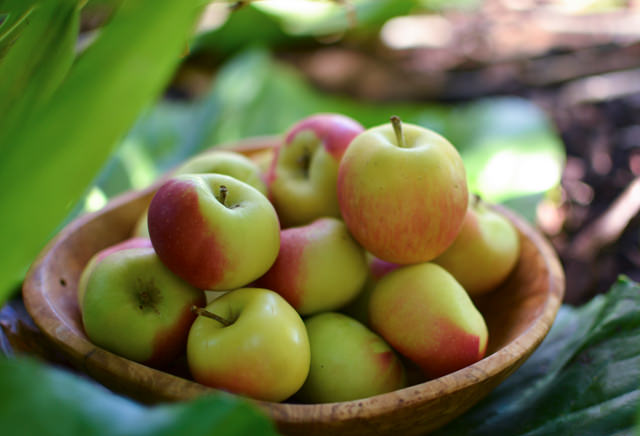 Equilibrium restored; it feels good to be back on the tightrope once again. I am surprised at how much I am enjoying the new washer and dryer. And words can't begin to express how much I enjoy being well and having our home's plumbing operational! Whew! And then as the craziness dissipated I learned that recipes I had submitted had been chosen as winners in two separate contests. Both my recipes featured desserts that were made with healthy ingredients and were easy to prepare. It just might be time for me to rethink my butter and sugar obsession!
I won first place in the pie category of the Healthy Holidays contest by Attune Foods with my recipe for Light and Easy Cranberry Pie with Erewhon Graham Crust. The appealing graham crust cradles a very light yogurt pie topped with a festive ornamentation of cranberries. My Maple Apple Crisp recipe won second place in the Clean Eating magazine "I Can't Believe It's Clean!" baking contest. It's an amazing dessert. I was challenged in creating a recipe without any refined sugar or all purpose flour that offered the satiety that only a dessert can bring. The recipe can be found in the January-February issue which is on newsstands now.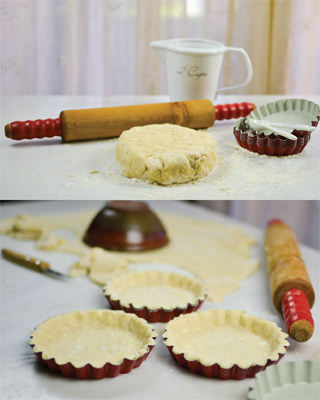 Essentials
The Apple Almond Tarts can be made with any type of baking apple. Pears would be sublime. The tarts are not overly sweet. The elusive almond flavor adds delicate balance to the mildly sweet winter fruit. I found the Little Lady apples best attribute to be their demeanor. Short and squat, no more than one and a half inches in diameter they arrive dressed in a cheery wardrobe of chartreuse and vermillion. Their mellow flavor intensified after cooking. Perched atop a pillow of creamy almond filling the succulent bites of Little Lady make for a beguiling dessert. The tart crust is a bit fussy but worth every a bit of buttery patience when preparing. Composed in good part of almond flour/meal the dough requires chilling to be handled without incident. Leave enough time to chill the dough and the recipe is easy. My spoiled taste testers we unanimous in "you can make this again." A compliment I hold in high regard!
Ingredients for tart dough
11/2C/170gr
all purpose flour
1C/100gr
almond flour/meal
2T/32gr
sugar
1
lemon, zested
1t
salt
1C/226gr
cold unsalted butter
1t
almond extract
1/2C
ice cold water
Ingredients for tart filling
7oz
almond paste
1
lemon, zested
1t
almond extract
1t
vanilla extract
3
eggs at room temperature
2
apples or pears, peeled and sliced thinly
2T
sanding or coarse sugar, optional

In the bowl of a food processor pulse the flour, almond meal, sugar, lemon zest and salt to combine. Cut the butter into pieces and place in the food processor. Pulse 10-15 times until the butter is the size of small peas. Through the feed tube add ice cold water just until the dough begins to form into a ball. Take care not to add to much water or over process the dough. Wrap the dough in plastic and chill at least one hour before rolling out.
With a floured rolling pin, roll out the chilled dough on a lightly floured surface, approximately 1/8" thick. If the dough becomes too soft, stop and chill for thirty minutes before proceeding. Cut the dough and line the tart pans without stretching the dough. Gently press the dough into the contours of the tart pans. Chill for thirty minutes before baking. I made eight 4" tarts.
Wipe out the bowl of the food processor. Add the almond paste, lemon zest, almond extract and vanilla extract. Pulse a few times until the almond paste breaks up. Add the eggs one at a time, processing until thoroughly combined and smooth.
Heat the oven to 350°. Fill the chilled tarts 2/3 full with the prepared filling. Arrange apple slices on top of the filling and lightly sprinkle with sanding sugar. Bake for 25-30 minutes until the filling has puffed and the tart crust is golden brown and ever so slightly pulled away from the edges of the tart pans. Cool for fifteen minutes before gently removing from the tart pans.