var _gaq = _gaq || []; _gaq.push(['_setAccount', 'UA-44220881-1']); _gaq.push(['_trackPageview']);
(function() { var ga = document.createElement('script'); ga.type = 'text/javascript'; ga.async = true; ga.src = ('https:' == document.location.protocol ? 'https://ssl' : 'http://www') + '.google-analytics.com/ga.js'; var s = document.getElementsByTagName('script')[0]; s.parentNode.insertBefore(ga, s); })();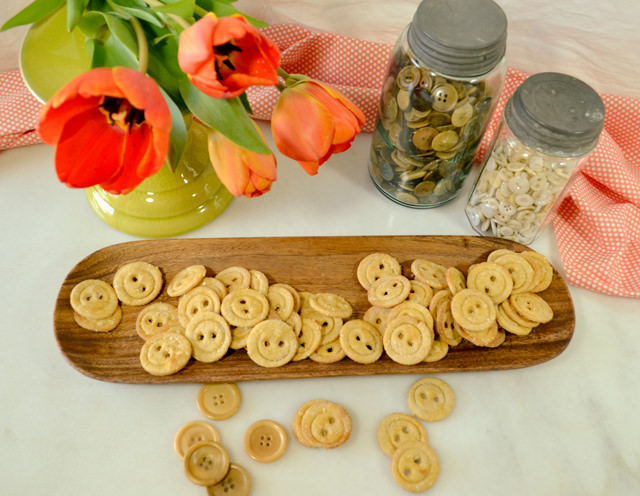 A very satisfying cracker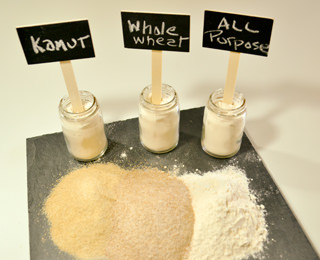 "That year the rains had come so gently that the Salinas River did not overflow. A slender stream twisted back and forth in its broad bed of gray sand, and the water was not milky with silt but clear and pleasant."
East of Eden, John Steinbeck
Inspiration
Desserts may be the mania and excitement of a sparkling amusement park ride but whole grains are the fuel for after the glitter fades and still shimmering, we make our trek home. I have a whole grain recipe to share with you. It holds your attention with a natural sweetness and a bit of crunch. It is worthy of being your snack during that long car ride home from the amusement park.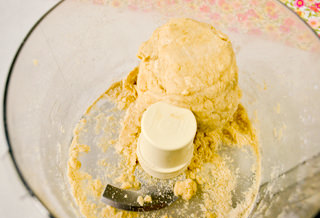 Essentials
Do you know Kamut? I made the introduction last fall and have been baking with this heirloom whole grain flour since then. Kamut is the trademarked name for khorasan wheat, an organic grain with a protein content of 12–18%. Kamut may be used easily in recipes calling for other whole grain flour but merits standing alone in recipes that allow its exceptional flavor to shine. These crackers are a perfect platform for Kamut's sweet, nutty, buttery flavor. If pressed, I would say these crackers are most similar to the commercially produced Wheat Thins. But these taste better, are easy to make and are a healthy alternative to store bought crackers. Why are store bought crackers so expensive? Crackers are easy to make and the ingredients inexpensive. These crackers are versatile and can be cut large or small. I made them two different ways; in the shape of buttons with sea salt and as rustic crackers topped with sesame seeds. Although I adore the look of the buttons, I prefer the taste of the rustic crackers with natural and black sesame seeds. Do you have preference?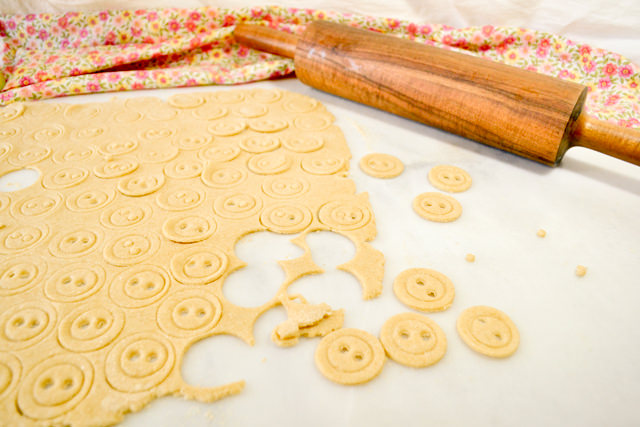 Ingredients
1 C (145g)
Kamut flour
1 C (135g)
A/P flour
1/2 t
baking powder
1/2t
salt
3 T
olive oil
1 T
honey
2/3 C
2% milk
1
egg
sea salt flakes OR sesame seeds, optional
Kamut flour, for rolling out the crackers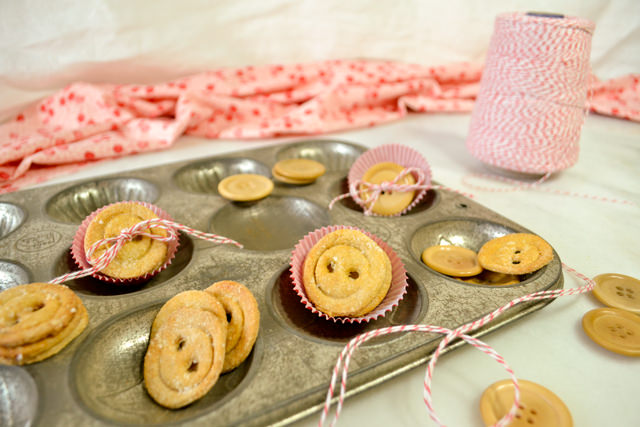 In the food processor whirl together the flours, baking powder and salt. Pour the olive oil into the dry ingredients, pulse a few times until the olive oil is no longer in big clumps but resembles tiny peas. Stop to scrape down the sides of the food processor bowl as necessary. Add the honey and the milk. Process until the dough forms a ball. Form the dough in a flattened disc and wrap in plastic wrap. Refrigerate at least one hour prior to baking. Alternately, the dough can easily be mixed by hand; a food processor is optional.
Preheat the oven to 350°. Line a sheet pan or large cookie sheet with parchment paper, set aside. Prepare an egg wash by beating the egg with 1T of water, set aside.
On a surface lightly floured with Kamut flour roll out the dough as thinly as possible. It takes a bit, but with patience the dough will yield to your gentle pressure. I rolled until my dough was roughly 14 x 14″. While you are working keep the work surface and your rolling pin lightly floured.
To make the button crackers I used a 1-1/2″ round cookie cutter. In a flurry of inspiration I took apart my bulb turkey baster and used the wide end of the plastic tube to indent the inner ring or imprint on the buttons. Flour your implement of choice and press firmly to indent, but not enough to cut through the entire cracker. I then used the other, smaller end of the baster tube to punch out the button holes. (It's nice to find another use for that bulky thing that resides in the drawer all year!) Place the buttons on the prepared baking sheet. Lightly brush with the egg wash. If desired, lightly sprinkle with flaked sea salt. Bake for 12–15 minutes until golden brown. Turn the crackers over and bake another 5 minutes. The crackers are done when they are a deep brown and are crisp. Watch them while baking as they will quickly become over baked. Remove from the oven and finish cooling on a baking rack. Cool completely before storing.
Roll the scraps of dough into a ball, add 1t or more of milk if necessary. Form the dough in a flattened disc and wrap in plastic wrap. Refrigerate the scraps at least one hour prior to baking.
More buttons can be made with the leftover dough, but I decided to make a batch of rustic crackers with sesame seeds instead of salt as the topping. Roll out the dough as above, as thinly as possible. To move the sheet of dough to the sheet pan, roll the sheet of dough over your rolling pin and place on a parchment lined baking sheet. (I used the same sheet pan, after it had cooled.) Score the dough in 1 to 1-1/2″ rows. Brush the dough with egg wash and sprinkle with sesame seeds. Bake as the above for the Button Crackers. When cool, break into cracker sized pieces.
This is not a sponsored post and the recipe and opinions are my own.