var _gaq = _gaq || []; _gaq.push(['_setAccount', 'UA-44220881-1']); _gaq.push(['_trackPageview']);
(function() { var ga = document.createElement('script'); ga.type = 'text/javascript'; ga.async = true; ga.src = ('https:' == document.location.protocol ? 'https://ssl' : 'http://www') + '.google-analytics.com/ga.js'; var s = document.getElementsByTagName('script')[0]; s.parentNode.insertBefore(ga, s); })();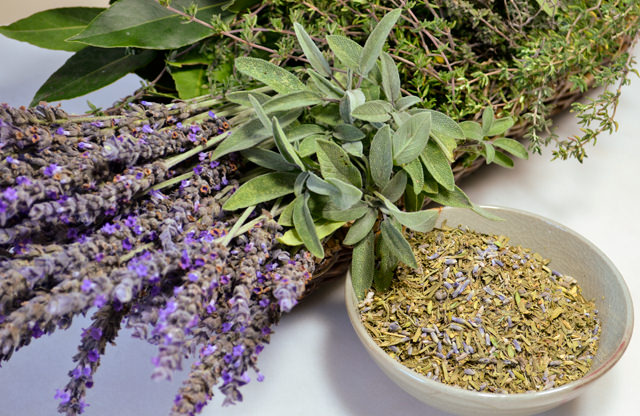 DIY Inspiration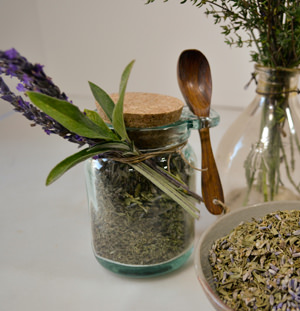 "It was a pleasant afternoon. Fremont's Peak was lighted pinkly by the setting sun, and Faye could see it from her window. From over on Castroville Street came the sound of jingling horse bells from an eight-horse grain team down from the ridge. The cook was fighting pots in the kitchen."
East of Eden, John Steinbeck
Inspiration
Herbes de Provence is one of our favorite herb mixes—especially for the boneless, skinless chicken breasts that we keep on hand for making a quick dinner and lunches of salads or sandwiches. I usually purchase Herbes de Provence as a mix and wanted to make my own blend. And having an herb mix already packaged as a gift would be a nice addition to my stash of jams. I decided to mix a batch with enough for my own use and for gifts. I chose to order all the individual herbs from My Spice Sage and was pleased with the quality and cost of the herbs. Shipping was free and fast. Penzey's is another popular on line and retail outlet that is a good source. I do not recommend purchasing the herbs individually at grocery store quantities as is not cost effective for this DIY project. Working with larger than the usual amount of herbs was a fragrant adventure in my kitchen. Opening the packets of herbs and inhaling the pungent aromas transported me to warm summer afternoons of harvesting sage, thyme and lavender in our garden. The lavender alone was intoxicating! Quite a sensory treat on a winter afternoon and a much needed break from cookie and candy making.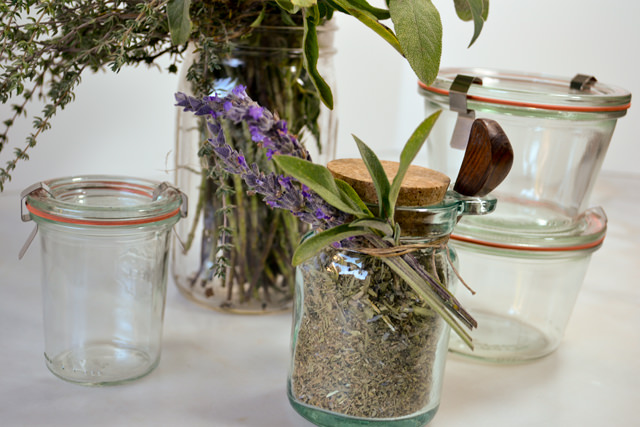 Essentials
I found many variations on the kind of herbs and their ratios for Herbes de Provence and chose a blend that I found appealing. I wanted to include lavender, but not basil or rosemary. Developing your own mix is part of the DIY temptation. This recipe makes about 2 cups; enough for your pantry and gift giving. It is an exceptional gift for anyone who cooks; a great little item to grab from your pantry for a last minute gift. Especially when an appealing little jar is creatively embellished. I found this recipe to be the perfect amount for my food processor. Just enough to process, without dried herbs flying about when you open up the processor lid. It's easy enough to make another batch or two. Thus far, I have made 4 batches. I dug about in my crafting, fabric stash to embellish the jars. Serendipity, without a plan or template.
| | |
| --- | --- |
| | Herbes de Provence Adapted from Saveur |
| | Herbs |
| 9 T | dried tarragon leaves |
| 4 1/2 T | dried savory leaves |
| 3 T | dried sage leaves |
| 3 T | dried thyme leaves |
| 3 T | dried lavender buds, food grade |
| 3 T | dried marjoram leaves |
| 1 T | fennel seed |
| | Embellishment with DIY Postage Stamp hang tag |
| 1 | postage stamp, postmarked and torn from the envelope OR hang tag of your choice |
| 1 | eyelet, optional |
| 6″ | carpet thread, string or thin ribbon for DIY hang tag |
| 1″ | strip of fabric, 18″ long torn from the selvage of the fabric |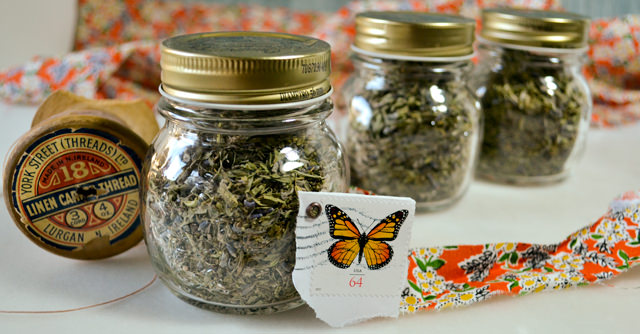 Measure all the herbs into the bowl of a food processor. Pulse 5 times. Herbs should be roughly chopped; not pulverized. Do not over process as you will have ground herbs.
Store in airtight containers. Canning jars are the perfect place to store your Herbes de Provence. The herb mix will last up to 6 months.
Embellishment tag: Choose a postage stamp for the hang tag, picking one to suit the occasion and the person receiving the gift. For my son, I chose a Star Wars stamp. Star Wars was his favorite growing up. I imagine his smile when he reads the tag. (Oh, mom…)
For my brother and his wife I found a Corgi, their favorite dog. I placed an eyelet in the corner of the stamp to make an opening for the string, but punching a hole will work just fine. If you wish to write on either the front or back of the tag, do so now prior to attaching to the jar.
Embellishment fabric tie: Pick a fabric to coordinate with the herb mix and the postage stamp. Tear a 1″ wide strip that is 18″ long from the selvage of the fabric. Make a 1" wide cut, by cutting 1″ deep into the fabric along the selvage. Hold onto both pieces and rip off the 1″ wide strip. If your fabric piece is not cut on the grain of the fabric, tearing will result in an uneven strip. You can either trim the strip to 1″ or tear another strip. The second strip will tear evenly, as you will now be tearing on the grain of the fabric. Cut or pull off the long strings and discard.
Decorate the jar: Tie the fabric strip in a bow around the jar lid jar, trim ends to a casually pleasing length. Thread the string though the eyelet and tie the hang tag under the fabric bow. Jar complete!
This is not a sponsored post and the opinions are my own.